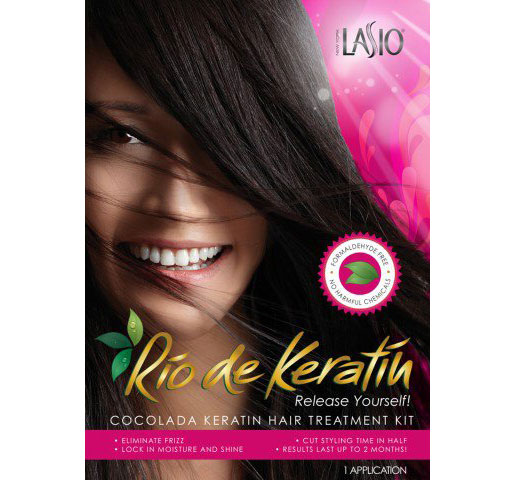 We've been contemplating the up-coming holiday season. Life's about to get even more hectic and keeping up with your beauty regimen often becomes even more difficult. Maybe you don't have as much time for regular blow-outs at the salon (or never did) or are just having a harder time getting there; even more likely, you hate the hours sitting in your stylist's chair for an expensive smoothing treatment. We just discovered another option: Rio de Keratin. It literally allows you to "Release Yourself" with an affordable, do-it-yourself, at home cocolada "hair smoothing" treatment keratin kit.
New from LASIO®, Inc, the well known professional hair care company that provides superb products and services, this is a great way to get silky, smooth, and manageable hair in an affordable way. Most importantly, it is formaldehyde-free and contains no harsh ingredients.

We did some homework since we didn't know that much about the brand or this product. I actually brought the kit to the salon to double check the ingredients and then did a strand test to ensure compatibility. A must. The kit comes with a coconut infused shampoo, frizz-fighting cocalada keritin treatment, and a dandruff destroying Jojaba infused conditioner along with the the ever important wide-tooth comb and application gloves.

It was easy to use. The directions, in English and Spanish, are detailed in a simple-to-follow pamphlet. Step 1: Prepare your hair. Step 2: Apply the treatment. Step 3: Blow Dry Step 4: Flat Iron. Step 5: Processing Time: Allow 24 hours for the treatment to "set" before your next shampoo. Step 6: Wash hair with the "Beach Shampoo" and "Take Me Away Conditioner".
It can be used year round and lasts up to 2 months. Each kit allows for 2 applications for 120 days of silky, smooth, and manageable hair. As we discovered, this is actually BIG NEWS since it really is the first at-home formaldehyde-free keratin product in the marketplace. The bonus is the treatment's ability to lock in moisture and shine, cut styling time in half and eliminate frizz. The Rio de Keratin® Release Yourself Keratin Kit retails for $34.99 and is sold in select online stores and via the Rio de Keratin website at www.riodekeratin.com.
So go ahead, release yourself. I did. Life just got a little simpler and easier.
xo
NJ, The Brunette