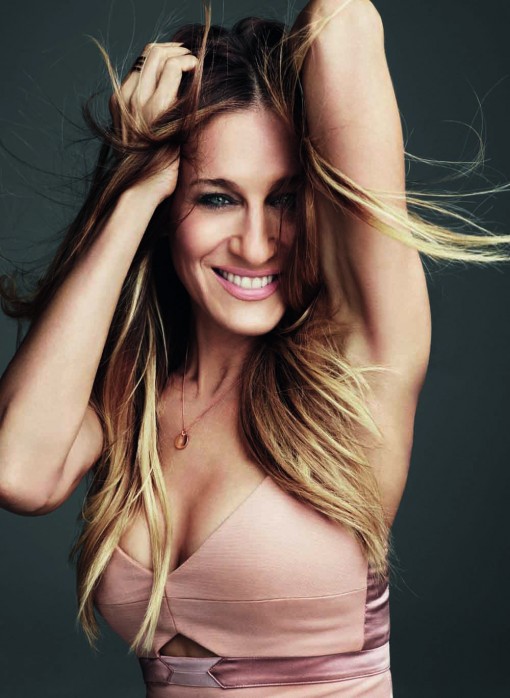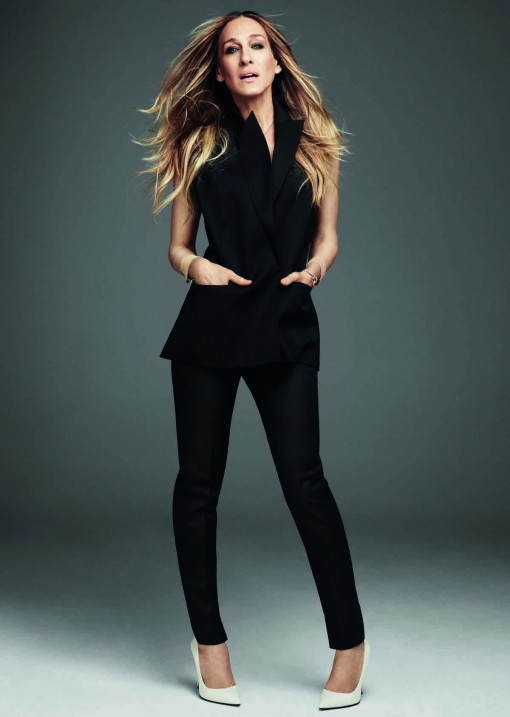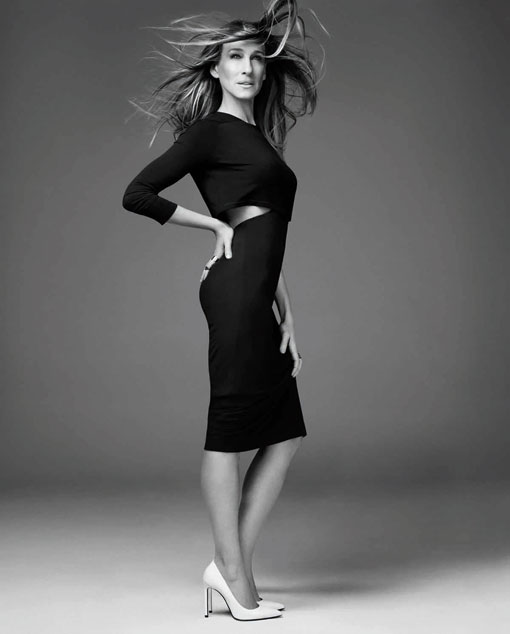 Sarah Jessica Parker photographed by Alexi Lubomirski. Photos courtesy of Net-A-Porter.
We're big fans of Sarah Jessica Parker and online shopping powerhouse Net-A-Porter. So when they joined forces for this week's edition of NET-A-PORTER's digital magazine, The EDIT, we couldn't take our eyes off the photos or the outfits. SJP is modelling some of our favorite designers – Balmain, Dolce & Gabbana, Saint Laurent and Victoria Beckham – and talking about parenting, shoes and politics. Favorite topics at the office, lunch, dinner or curled in front of an iPad.
We agree with her sentiments. Parker declared she is "a huge fan of Hilary Clinton. "I mean this with all sincerity. I will be very, very sad if she doesn't choose to run [to be America's first female president]. I think she has so much to offer and is equipped to do it well, to be thoughtful, reasonable, strong, authoritative, empathetic."
This statement turned out to be a natural segue-way to the subject of strong women and talk of Sex and the City. SJP said "I think it certainly encouraged women to share more candidly. I don't know if it empowered women. I hesitate to say whether we were the pioneers or whether we gave voice to something that was there, but I recognize there was a connection." As The Carrie Diaries, a prequel to Sex and the City, premieres on HBO, Parker admits its "odd" to have another actress play the role she brought to life.
Of course, we still want to get her look. So let's break it down. From the top. Sarah Jessica is styled in a dress by Victoria Beckham; necklace by Monica Vinader; Jacket top by Theory; trousers and shoes by Saint Laurent; and, Dress by Haider Ackerman; shoes by Saint Laurent. All available at net-a-porter.com.
By the way, alongside acting and running her own production company, Sarah Jessica Parker has a bustling family life that revolves around her husband of 15 years, Matthew Broderick and their adored children, James Wilkie, ten, and three-year-old twin girls Tabitha and Loretta whose arguing about clothes leaves her "stunned." She herself admits, "I wear seven percent of what's in my closet. I have more pants, more jeans and more corduroys than I ever imagined I'd own in my life." And what about shoes? Parker explains the extra inches are a rarity these days as years of high heel-wearing has taken its toll. "For ten or so years, I literally ran in heels. I worked 18-hour days and never took them off. I wore beautiful shoes, some better made than others, and never complained."
Well, I have three things in common with Ms. Parker. My love of fashion, parenting twins and being known for my initials. Not in that order! See if you have any parallel interests too. Read the full interview in the latest issue of The Edit.
xo
NJF (Nancy Jane Falk), The Brunette