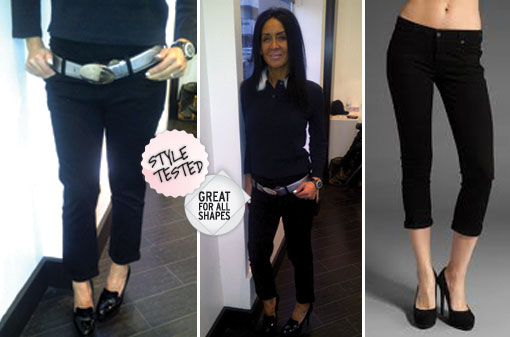 I received a very special package filled with new denim styles from 7 For All Mankind. I was so excited to try all of them but I grabbed their brand new the skinny Cropped and Rolled because it's been so hot in LA lately (so sorry to mention this to everyone in cold climates). They're my new favorite, favorite jeans. They're a low rise, cropped second skin legging jean and I wear-tested them for three consecutive days. They held their shape, were beyond comfortable and worked with everything. They're intended to hit a few inches below the knee so depending on your height the look may vary.
They are perfect for any figure from petite (that's me, The Brunette, above) to long-legged gals and girls with real curves (that's me again) and absolutely true-to-size. The best part is they are so comfortable, fashionable and sophisticated. They work casually, with a dressy heel (love that look) along with great tops or blazers. They're great for work, weekends or dress-up. Style-wise, I took Astrid's advice and paired them with silver (or you can use pewter) and a Prada 3/4 sleeve polo shirt with a white fur collar and left the motorcycle jacket in the car. Best of all, even though they're a skinny cut they actually make you look skinnier! I must have had 10 people stop me on the street to ask about these jeans. I can't remember the last time that happened (if ever). If you are looking for super skinny then try their Gwenevere.
The washes are just as beautiful from the clean black to an indigo with gold stitching. I have a feeling these might sell out so track them down at Macy's, Revolve Clothing or Neiman Marcus or their website at 7forallmankind.com.
– NJ, The Brunette