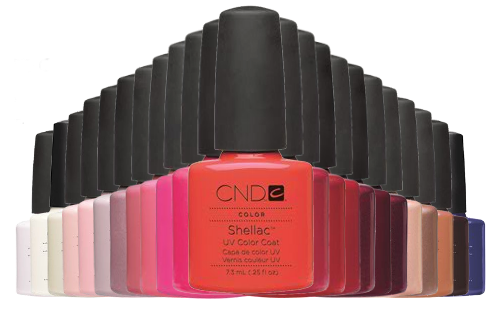 We thought it was time for a "gel" tutorial. At a time when nail polish is being hailed as the new lipstick and sales of the product are growing faster than those of its recession-indicating predecessor ( i.e. lipstick), the company CND has revolutionized the market with its chip- and dull-proof Shellac Power Polish.
Leave it to girl-power CEO, Jan Arnold, to spend five years developing Shellac, which guarantees a perfect manicure for 14 days with zero dry time (UV dryers are used in between the layering of polish coats to instantly dry nails). The product has been featured on "The Today Show" and in The New York Times; O, The Oprah Magazine; and Ladies' Home Journal, as well as its share of "best of" lists in beauty magazines.
Kathryn, The Blonde, is a gel polish devotee because it's the perfect solution for cutting down on weekly manicures, saving time while easing your budget. The red featured above is literally a virgin red from Shallac's partnership with Virgin Atlantic. The twist is that somehow it is really named siren-red "Wildfire" Shellac making it the official nail color for Virgin Atlantic flight attendants, as well as an "upgrade option" for first- and business-class passengers enjoying manicures at the airline's Clubhouse lounges at Heathrow and Gatwick airports.
Shellac manicures are offered at more than 17,000 salons worldwide and prices typically range from $25 to $45 and pedicures from $40 to $60, depending on the location. While this may sound like a lot, especially during a downturn, as Jan Arnold says, "Nails are appealing to today's modern woman because regardless of dress size or budget, you can always have perfect nails." We are in violent agreement. Call Nail Design in Beverly Hills at 310-278-3881 to try a gel manicure.
NJ, The Brunette