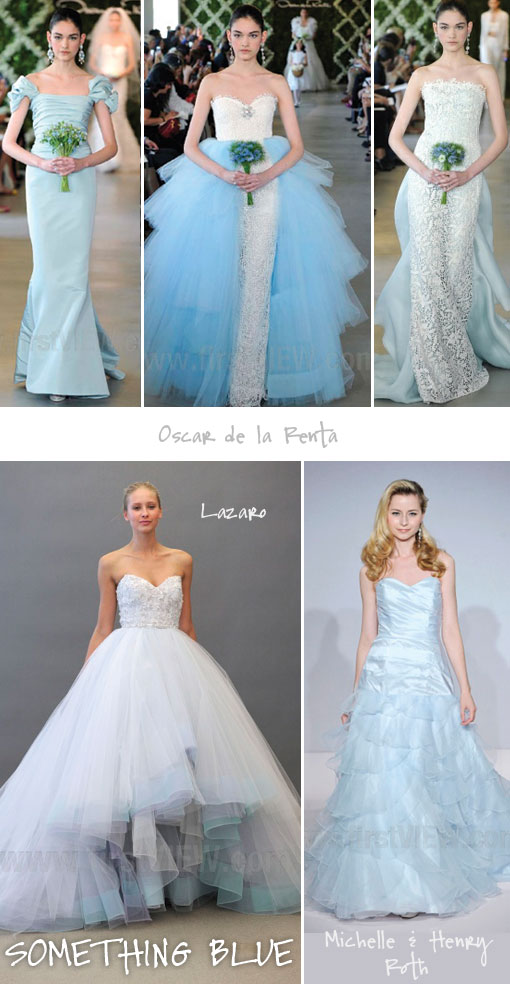 One of the most memorable trends on the Spring 2013 bridal runway was designers incorporating the "something blue" into the gown. While Oscar de la Renta used hues ranging from light aqua to baby blue, Lazaro and Michelle & Henry Roth opted for very pale ice blues. My favorite of the group is the lovely Lazaro ball gown; it has just the right amount of color, yet still looks bridal.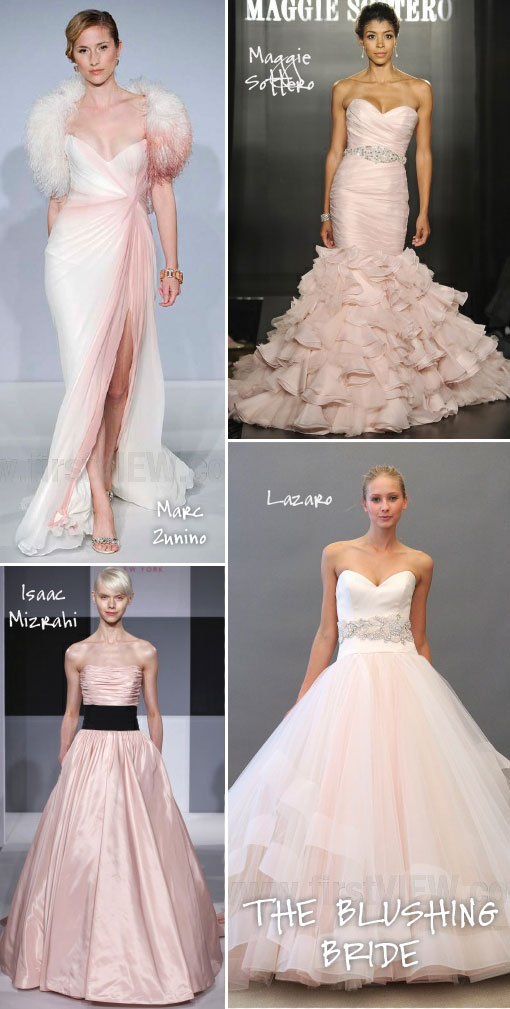 Over the past couple seasons, we began seeing blush and pink colored gowns (Vera Wang was the first). For Spring 2013, they're back and lovely as ever. From glamorous mermaids and sheaths to princess-like ball gowns, these hues looked great on any silhouette. My personal favorite was the stunning white/pink ombre gown by Marc Zunino. I'm not a pink girl, but I have to admit that if I hadn't already purchased my gown, I would be hunting this one down for myself.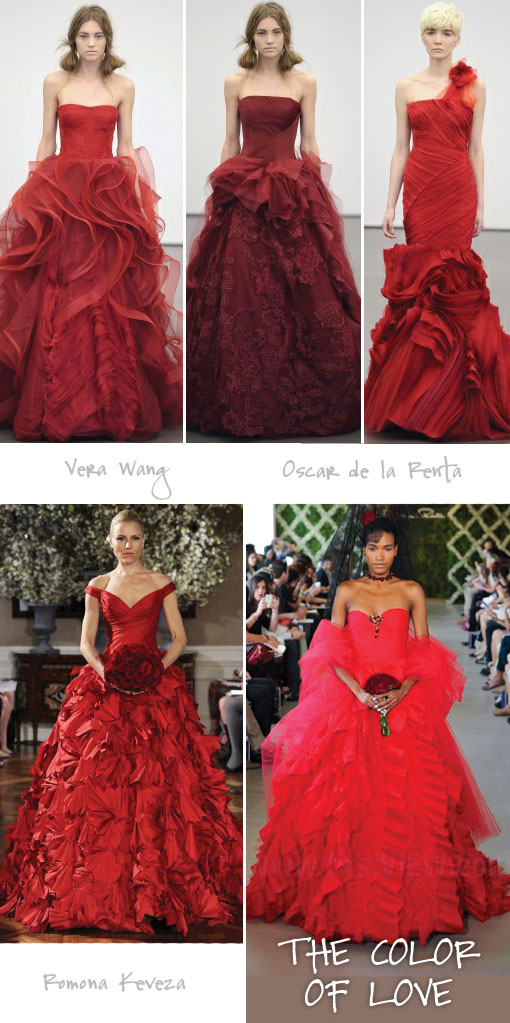 Over the past few seasons, Vera Wang has truly pioneered the use of unconventional colors in bridal. This year's choice was the red, the color of love and romance. We saw a lot of Wang's signature romantic details such as ruffling and layered tulle used against a palette of crimsons and cardinals. And another note about this trend: many Eastern cultures consider the color good luck!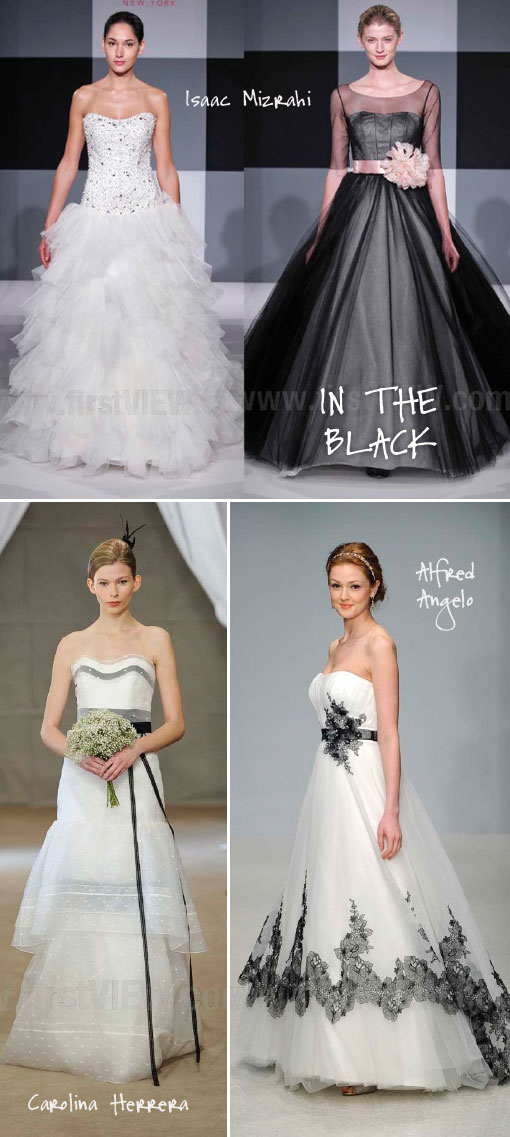 We've been seeing more and more touches of black on the bridal runway for a awhile now. Isaac Mizrahi covered the spectrum, from his version of the all-black ball gown to subtle touches of black embellishments on the bodice, while Carolina Herrera and Alfred Angelo opted for black trimmings.

One of my favorite necklines is a one-shoulder neckline because it is flattering on just about anyone. Plus, it just looks so chic. One-shoulder wedding gowns made their way onto the Spring 2013 runway in a big way. One of the standouts was Sarah Jassir's lace gown; it's a contemporary take on the traditional long-sleeve lace gown.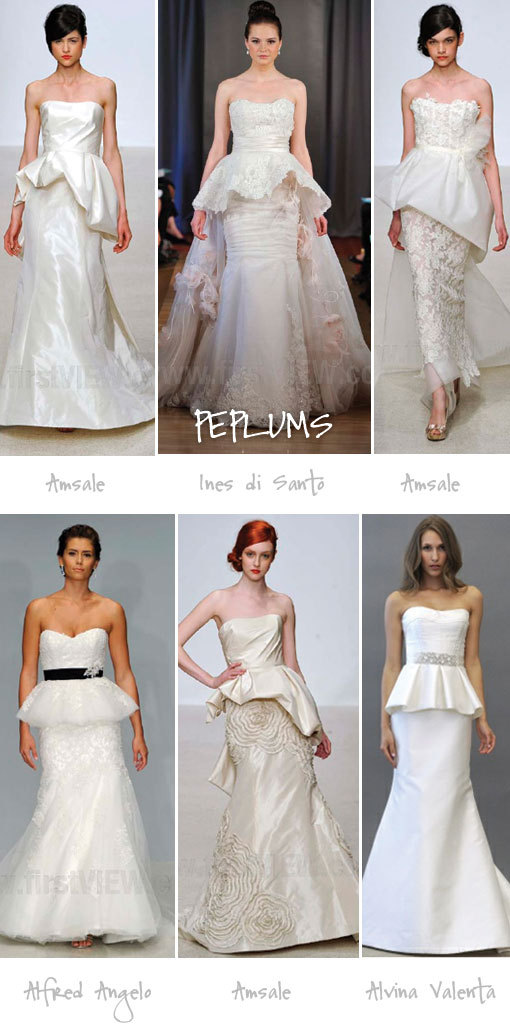 So this one isn't too surprising, right? We've been seeing peplums everywhere: tops, skirts, dresses. And now, peplums have been incorporated beautifully into a variety of bridal styles: dramatic, understated and elegant, romantic, the list goes on. I personally love the trend because it creates such a great hourglass shape. Perfect for the day when you want to look your absolute best.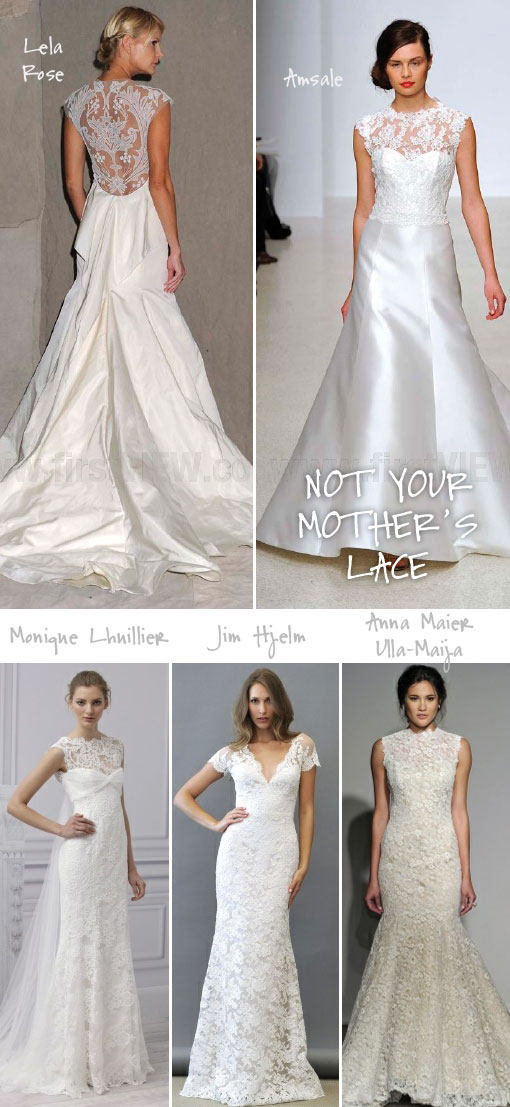 Lace wedding gowns have truly made their comeback on this season's bridal runway. Not only are we seeing lace on modern silhouettes, but lace patterns have really gotten a contemporary refresh from the classic chantilly lace. How gorgeous is that portrait-back Lela Rose gown?? Also, last season's illusion necklines are back and, this time, with lace.
ALL PHOTOS BY: FIRSTVIEW.
– Ashlee, Brunette Contributor