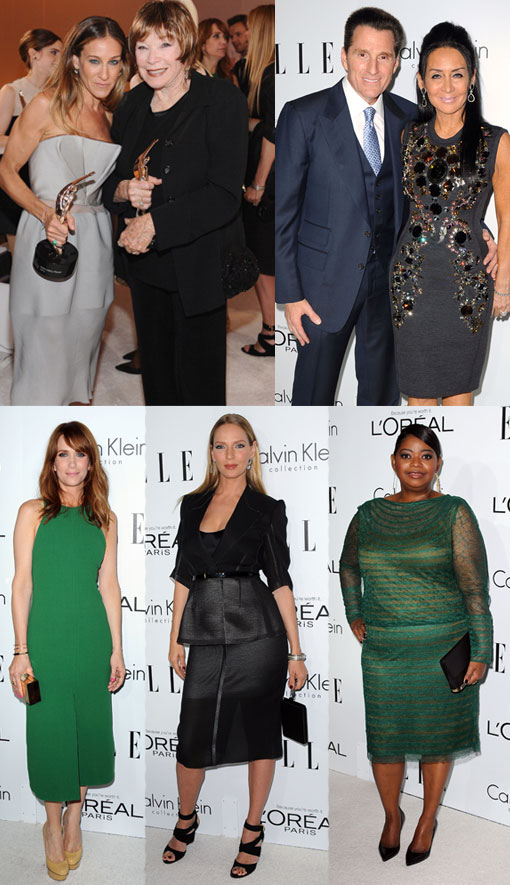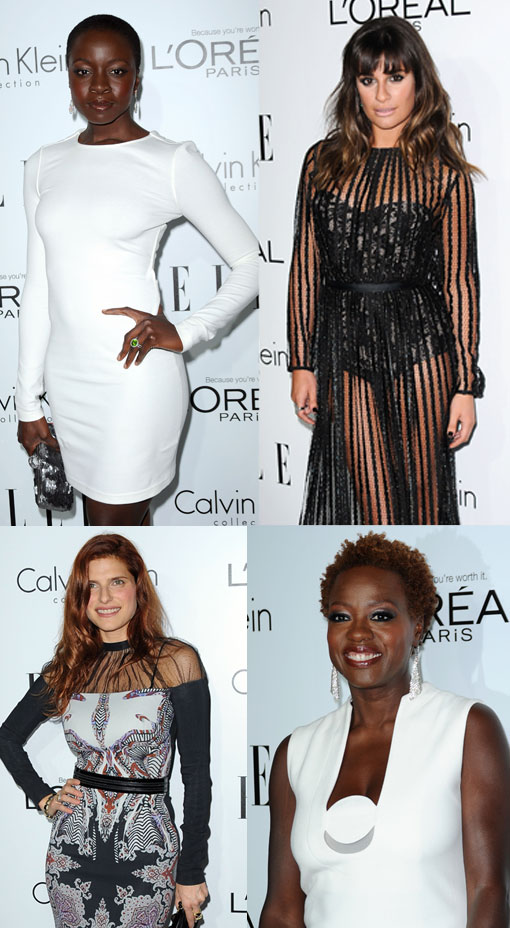 Icons Sarah Jessica Parker, Legend Shirley MacLaine, Mark and Nancy Jane (NJ) Goldston; Icons Kristen Wiig, Uma Thurman, and Octavia Spencer;Dania Guria and Lea Michele;Lake Bell, Viola Davis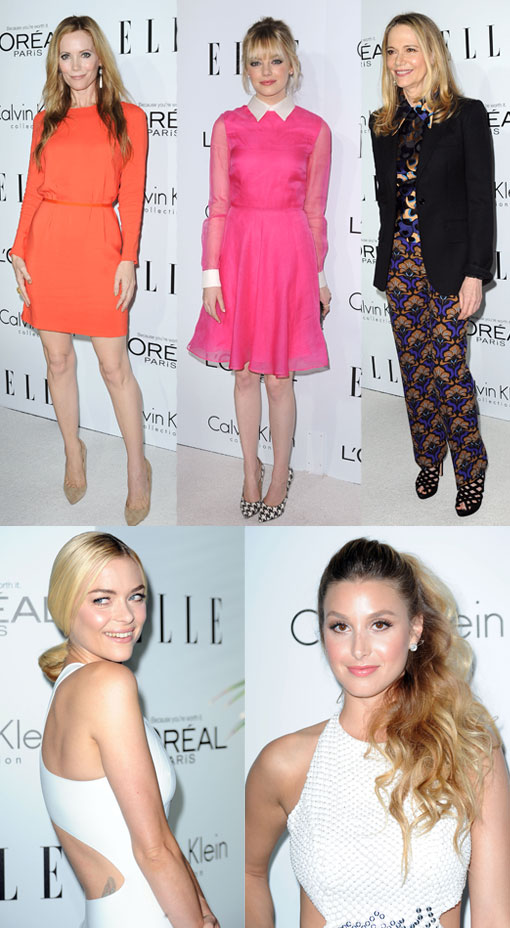 Above: Leslie Mann, Emma Stone, and Peggy Lipton; Jamie King and Whitney Port
Above: Elle Fanning and Alison Janey; Krysten Ritter and Julianne Hough; Emerging Icon Emma Watson and Icon Susan Sarandon and Anna Kendrick. Below: Rachel Zoe and Cate Blanchett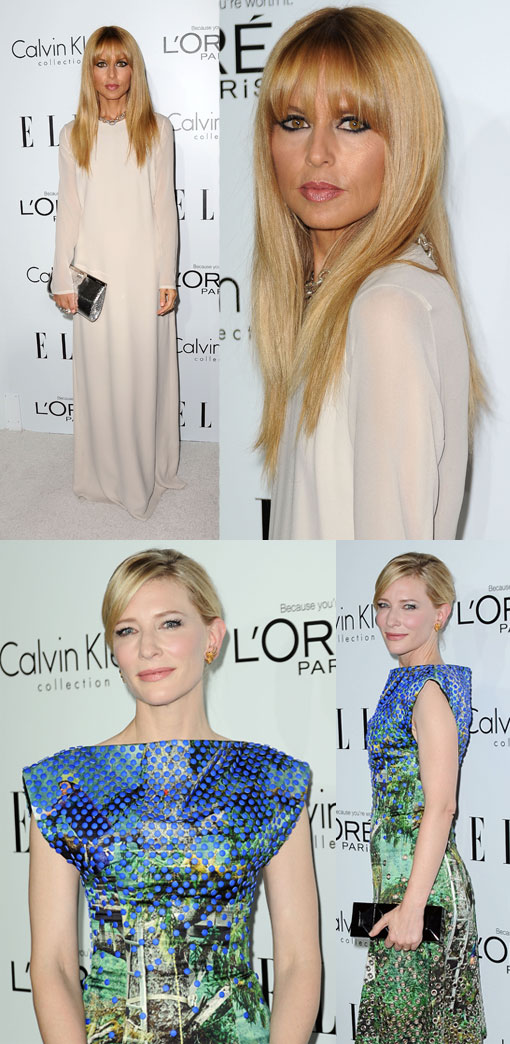 Above: Rachel Zoe and Cate Blanchett. All Photos: Andreas Branch for Patrick McMullan and AP Images
Fashion took center stage as did nine glamorous Hollywood stars who were the special honorees for the 19th Annual ELLE Women in Hollywood Celebration Monday night at the Four Seasons Los Angeles. Emceed by the spectacularly funny and well prepared "Community" star Joel McHale, ELLE Magazine honored Icons Susan Sarandon, Kristen Wiig, Uma Thurman, Sarah Jessica Parker, Octavia Spencer, Cate Blanchett, Spotlighted Emma Watson, Emerging Icon Elle Fanning and Legend Shirley MaClaine. They all walked the white carpet along with a bevy of beauties, many of whom were also presenters, from Julianne Hough, Lea Michele (in a very a sheer dress and lace bodysuit) Lake Bell, Leslie Mann, Anna Kendrick, Krysten Ritter, Jamie King, Emma Stone, Rashida Jones and her Mod Squad mother, Peggy Lipton.
Sleek evening wear ranged from Sarah Jessica Parker and Emma Watson in Calvin Klein Collections to emerald greens, brilliant whites, brights and dramatic little black dresses with nipped waists, peplum and sheer on the trend radar. I found myself on the white carpet and breathed a sigh of relief that my Lanvin jeweled dress, from the Fall 2012 10th anniversary collection, was the perfect choice for this special evening.
Once inside it was an intimate evening by Hollywood standards. The room was bedecked in white carpeting, walls and tables accented with beautiful vibrant pink floral arrangements. The evening unfolded with presenters from Robert Pattinson, Leslie Mann, Emma Stone and Alison Janey (as a hilarious duo) and others highlighting each honoree's career including a short cinematic retrospective. What made the evening so special was the amazing camaraderie, respect and out-right admiration for all of the women in the room for each other.
Besides Calvin Klein Collections dressing many of the stars, David Yurman jewelry sparkled on many of the celebs including including Sarah Jessica Parker. Presenting sponsor L'Oreal even provided special lipsticks and mascara in gift bags.
A memorable party and celebration that rivals the Oscars, ELLE is girl power in action. To read more about it, pick up the latest edition of ELLE on newsstands. Another amazing night on the West Coast.
xo
NJ Goldston, The Brunette