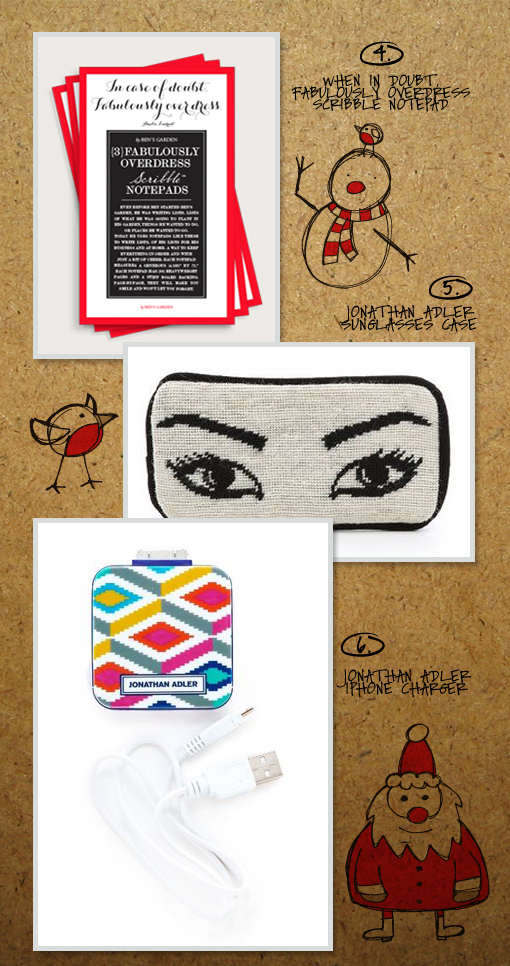 (1) We scoured the internet and found five super stylish Cyber Monday deals that make perfect gifts. All under $50. First up, pick your favorite color or someone else's and slip you phone into a stunning PANTONE Universe iPhone Case, $34. They're almost sold out so grab one while you can.
(2) O.k. Who doesn't have a beauty emergency? You can add a little sparkle to anyone's stocking with this kit, which comes with just about everything a girl could possible need in case of an emergency. Choose from eight color pouches that come with hairspray, clear nail polish, nail polish remover, an emery board, lip balm, earring backs, clear elastics, mending kit, safety pins, double-sided tape, stain remover, deodorant towelette, pain relievers, a tampon, breath freshener, dental floss and adhesive bandages. Glitter Minimergency Kit, $15, at Pinchprovisions.com. Also available in "Studmuffin Silver" , Chameleon and "Candy Striper".
(3) Lists. Lists. Lists. We heard a rumor that actually writing something down is making a comeback. We love the "When In Doubt Fabulously Over Dress Scribble Notepad Set". It's a great way to keep track of some of your outfits. Just $14.
(4) Get on the snake trend, and add a little fun to your set of keys with this acrylic snake key-chain from See by Chloe. Also great if you want to commemorate 2013 as The Year of the Snake. Shopbop.com
(5) If you scratch your specs or sunglasses (which I do all the time), safely tuck them away in a padded glasses case from Jonathan Adler. This case is easy to find in your bag with the bold eyes accent on the wool front panel. Signature "JA" logo embroidery details the velvet back panel. $42.
(6) Finally, if your on the go, and who isn't, Jonathan Adler has two iPhone charger options. The Stepped Diamond-patterned "On The Go" for $28 and for $38 a "Positano Hexagon" pattern.
Get clicking!
xo
NJ Falk, The Brunette