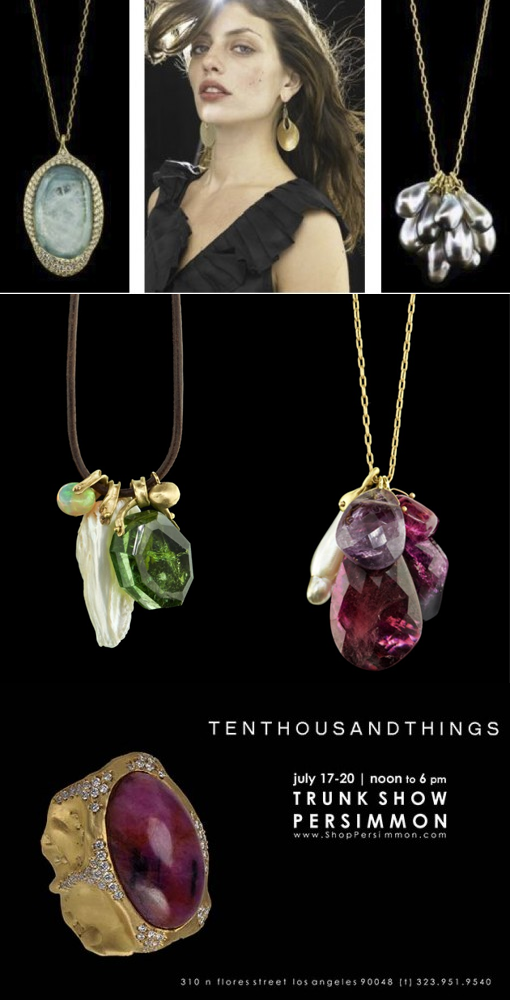 We're trunk show junkies and it's their very first time in LA! The creators of TEN THOUSAND THINGS have just brought their 20th Anniversary Collection to Persimmon and it's here until July 20th. Recognized as some of the most celebrated jewelry creators of today, CFDA Designers David Rees & Ron Anderson are fixtures in the New York fashion scene along with their pioneering store in NYC's meatpacking district.
This year, TEN THOUSAND THINGS was featured in V Magazine's 16-page spread "Let Love Adorn You", for Charity Buzz, where Ron & David's loyal clientele, such as Christie Turlington, Kristen Stewart, Cyndi Lauper and Susan Sarandon modeled their favorite pieces.
The Blonde and The Brunette are stopping by to personally experience some of their infinite creativity channeled into very feminine, organic, and elegant styles. They've also brought lots of one-of-a-kind pieces made exclusively for the event.
Join the celebration from July 17th to 20th, from noon to 6pm, PERSIMMON /310 N Flores St. Los Angeles, 90048/323-951-9540. Prices start at $100 and go up to over $10,000.
By the way, the name TEN THOUSAND THINGS is taken from a line of ancient Chinese philosophy: "from one thing begets the ten thousand things." Jewelry is all about karma. These guys have it in spades.
-Kathryn, The Blonde