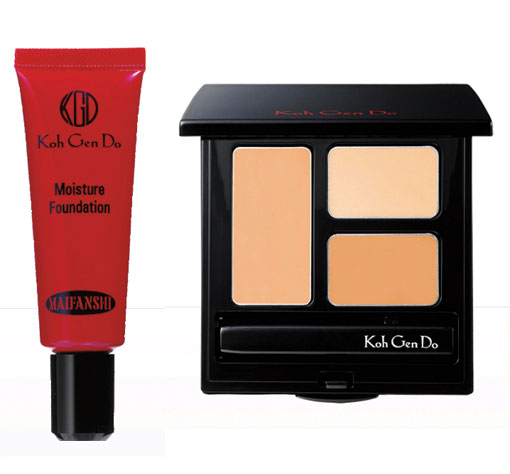 I love discovering magic in a bottle especially when a product actually works and lasts all day long! These products are it and my latest discovery. Koh Gen Do uses new advanced skincare and cutting edge technology to create foundations and concealers that achieve high definition looks and make it easy to apply base makeup like a pro. Here's the run down on their two key items that can radically improve your look.
Koh Gen Do Moisture Foundation $62. This foundation is light and fills in any uneven texture on the skin or under the eyes. It is on the expensive side, but it's so concentrated you literally need a pea size for the entire face because it blends extremely well.
Koh Gen Do describes it as a "Mineral makeup cream foundation that turns into liquid foundation when applied with the 60% water encapsulated into the formula. This gives you the superior coverage of a cream foundation and a smooth, sheer finish like a liquid foundation in one product. With the advanced technology in Japan, and taking 3 times the amount of time normally taken to make a foundation, we have created a foundation that fits perfectly on the skin creating a pore less, smooth impression, yet gentle to the skin."
For the extra critical coverage, use Koh Gen Do Moisture Concealer $54. This concealer has a creamy texture which allows for easy application and doesn't look cakey or thick. Our special B & B Beauty Tip: Use this concealer over their foundation to conceal discoloration as it hides all the red and blue under your eyes as well as any sun spots and red spots on your skin! Bottom line, this is a concealer that covers discolorations, dark circles and primes your eyelids, all in one palette. Love it!
If you're wondering how it works, Koh Gen Do does a great job of explaining the science behind their concealer . "Gentle moisturizing botanical ingredients to take care of areas prone to dryness, such as under the eyes, where concealers are usually most needed. The smooth, soft texture (of our concealer) applies evenly, allowing sheer layering that fits perfectly onto your skin with long wearing results. Koh Gen Do Moisture Concealer also includes pearl powders for great coverage. The pearl powders and pure mineral pigments camouflage blemishes, freckles and general discolorations of the skin and deflect the redness that lighting can intensify. For all skin types, it will leave your skin looking natural without cakiness while giving increased coverage".
You know I tested it and if I didn't work, I wouldn't be writing about it.
Enjoy!
-Kathryn, The Blonde