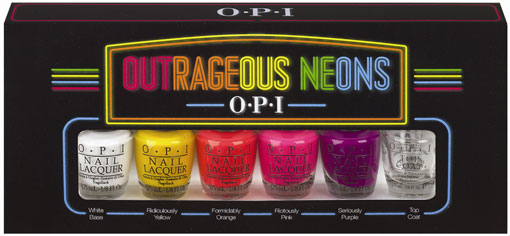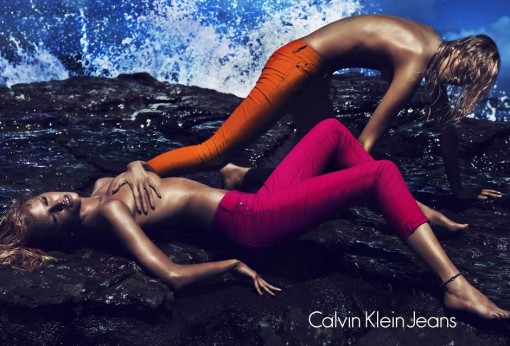 Photos Courtesy of OPI and Calvin Klein
Neon, in almost any form, is the searing trend for summer 2012 and OPI recently announced its new Limited Edition Outrageous Neons, the brand's first neon lacquers. It's a mini pack, including four limited edition neon shades, a neon white base coat, and OPI Top Coat. The four fluorescent hues include vivid shades of yellow, orange, pink and purple. Why not also add matching neon jeans and combine the two looks? Calvin Klein has some of the sexiest neon denim colors around and coincidentally they perfectly synch with the OPI shades.
If you are interested in the neon polishes, The Blonde & The The Brunette thought you should know one additional tidbit. The OPI lacquers in this mini-set are formulated with new, FDA-approved neon pigments which create a more dazzlingly vibrant look. The four new shades are "Ridiculously Yellow" which is apparently so yellow, it's beyond understanding, however, I think I get it; "Formidably Orange", a powerful , gob-smacker of an orange; "Riotously Pink", which might create one, and "Seriously Purple", if you love purple…it's really purple!
A small note: we've yet to spot the OPI Neons at retail or online, but this limited edition mini pack promotion is scheduled to hit professional salons and stores this month including Beauty Brands, Beauty First, Chatters, Dillard's, JCPenney, Pure Beauty, Regis, Trade Secret, and ULTA, for $19.95 ($24.95 CAN) for each mini pack. If you spot them, let us know. The Calvin Klein, skinny crop jeans (above) are $69.50 and still available along with the power stretch jeggings alternative look in a variety of neon shades.
xo
NJ, The Brunette