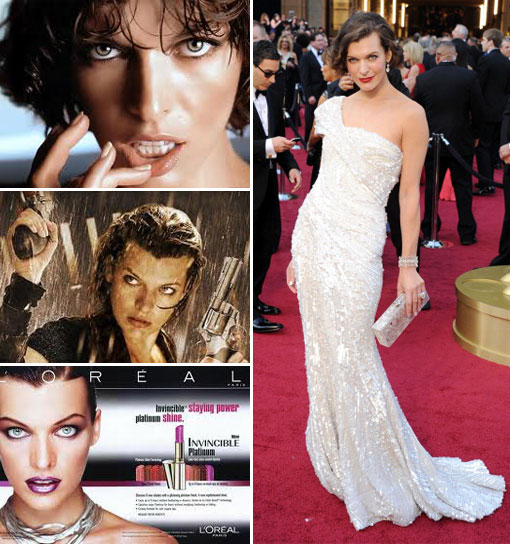 Milla Jovovich, the multi-talented super model, cover girl extraordinaire, L'Oreal spokesmodel and star of the Resident Evil franchise spoke with The Blonde & The Brunette recently about some of the exciting moments that are happening in her professional life right now. It's always fun for us to get a glimpse into what happens behind the scenes and we love sharing it with our readers.
B&B: Milla, first, thank you for your time. The Blonde & The Brunette, as well as our readers, appreciate you giving us insights into your work, style and beauty secrets. How would you describe your personal style?

Milla Jovovich: Eclectic, I suppose, and comfort-driven. With the exception of heels, which I love, but sometimes comfort is thrown out the window for the right pair of heels.

B&B: What are the one or two things in your wardrobe that are your "go-to" pieces that always make you feel great?

Milla Jovovich: For the moment, a great pair of denims and jersey tees with a feminine cut.

B&B: Do you have a favorite fashion trend for Spring?

Milla Jovovich: I never really pay attention to trends.

B&B: Let's switch gears and talk about your special fashion moment on the Academy Awards Red Carpet. Congratulations on making everyone's Best Dressed list. It's quite an achievement. You epitomized Hollywood glamour in your magnificent, one-shoulder, vintage white Elie Saab gown. The hand-embroidered embellishment was superb and worked perfectly with your great make-up. Take us behind the scenes and explain the process of how your Oscar look came together. Why this gown? We know you probably saw lots of dresses but how did end up with this choice?

Milla Jovovich: I was looking for something that shimmered. I really wanted to glow and was looking for a gown that was classic with a twist which I believe Elie Saab's gown captured perfectly.
B&B: Tell us about your hair and make-up decisions?

Milla Jovovich: Again, I wanted to evoke a modern twist on old Hollywood Glamour and I used L'Oreal makeup and we collaborated closely on how to achieve the perfect look for the evening. That's why we chose to go with a defined lip and a retro, yet modern take, with the hair.

B&B: Let's talk jewelry. Our readers LOVE jewelry! It was important to balance the gown with the jewelry. What did you love about the choice of Jacob & Co?

Milla Jovovich: That the stones were incredible and that the jewels complimented the gown. The ring I chose was spectacular and the ear rings were simple yet stunning. The diamond cuff was detailed but, again, classic.
We'll be speaking with Milla again as she reprises her role as Alice in Resident Evil: Retribution set for release on September 12, 2012. You can also follow Milla and her latest projects on her website.

NJ Goldston, The Brunette