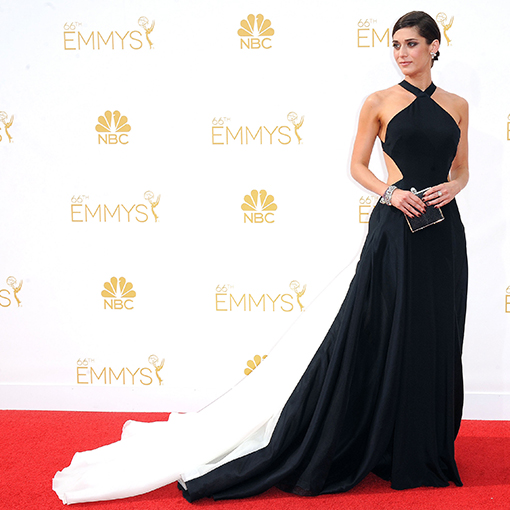 So the annual 66th Emmy Awards happened last night, and it was the talk of the town. It was a star spangled night as red and white ruled the roost with stunning navy's adding just as much drama. Black, which is typically a Red Carpet no-no, looked smashing on Lizzy Caplan, Debra Messing, Jessica Paré, and Julianne Margulies.
Key trends included sexy gowns that played off svelte waist's (and I'm going to add even more sit-ups to my workout routine because I love this look) with daring cut-outs, sheer paneling, and lace details often paired with bold jeweled bracelets. Honestly, there really wasn't a misstep except for Lena Dunham. More on that in a minute.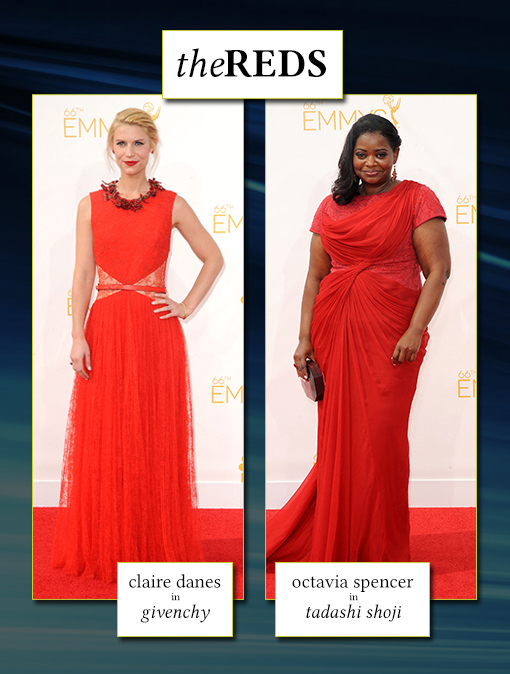 Red turned out to be the color of the night but once again Lena Dunham went with more versus less. Many in teh media even calling her an "over-baked cupcake."That's too bad as Valli is normally one of my favorite designers. At the opposite end of the spectrum, Sarah Hyland got it so right. The slightly revealing midriff with a ball gown skirt and clean lines was sheer perfection plus age appropriate.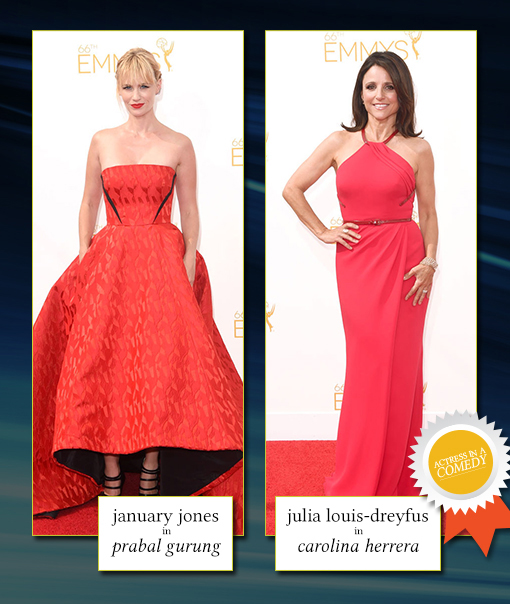 Emmy winner Julia Louis-Dreyfus, who is never a miss,went with a slinky, form-fitting Carolina Herrera with a super sexy back. Stunning. What more can we say.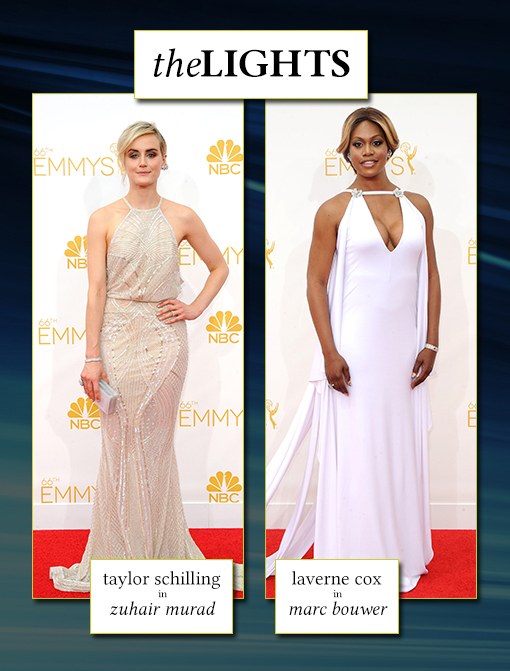 Whites were equally exquisite and the variety from numerous designers played out beautifully on this bevvy of celebs. The different necklines and draping made each gown sexy and equally unique.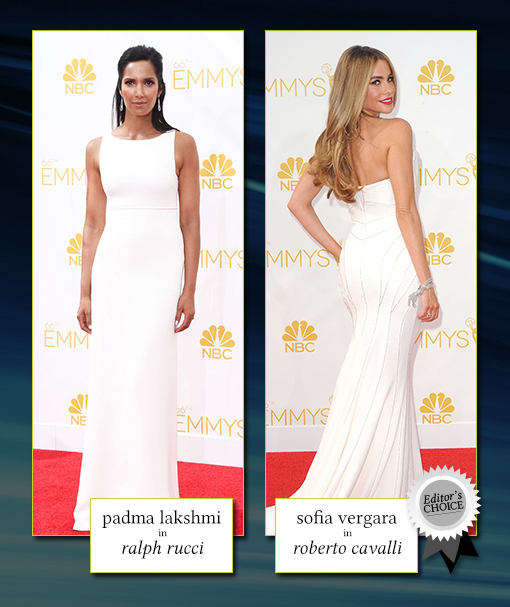 However, our vote goes to Sofia Vergara for looking breath-taking (as usual) in her body hugging Roberto Cavalli gown. While Taylor Schilling and Laverne Cox, both from Orange is the New Black, both looked beautiful with their simple swept back hair.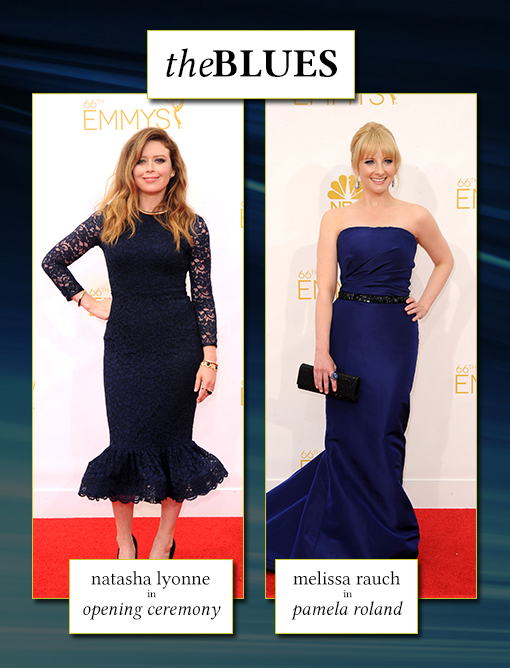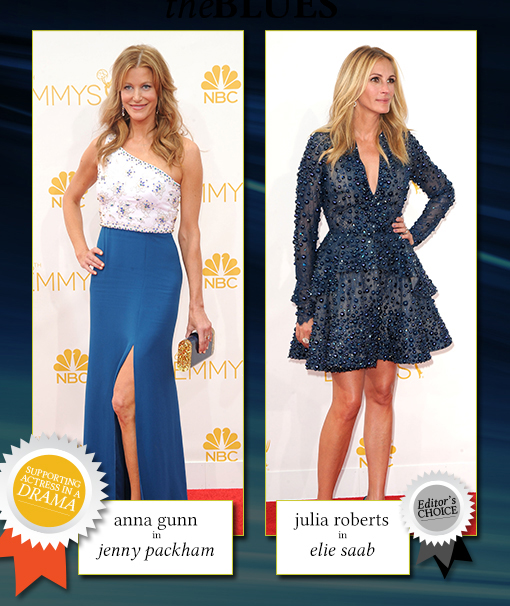 We also loved the blues but Julia Roberts wore one of my all time favorite dresses – ever. When you have legs like that, why not show them off with a plunging neckline and a flirty skirt? This Elie Saab is sheer perfection.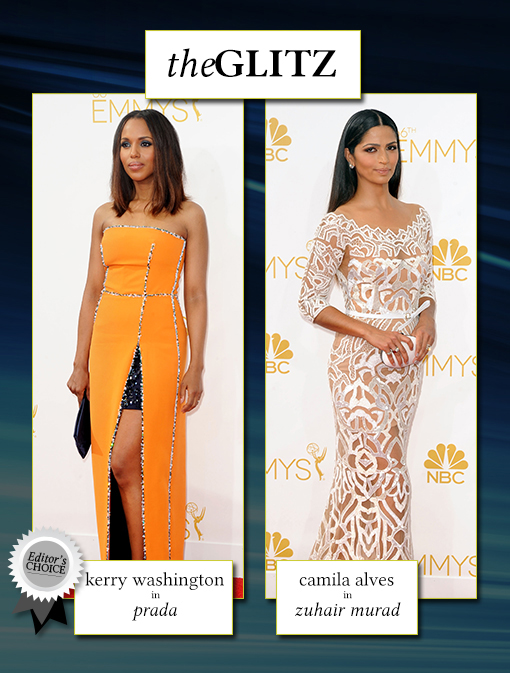 It's no secret I'm a Prada fan and I love this daring orange number on Kerry Washington with the black jeweled underskirt and sequined trim. This may be a tie for my personal favorite but I always go for fashion forward. Camila Alves can also do no wrong. The hair the body, the everything.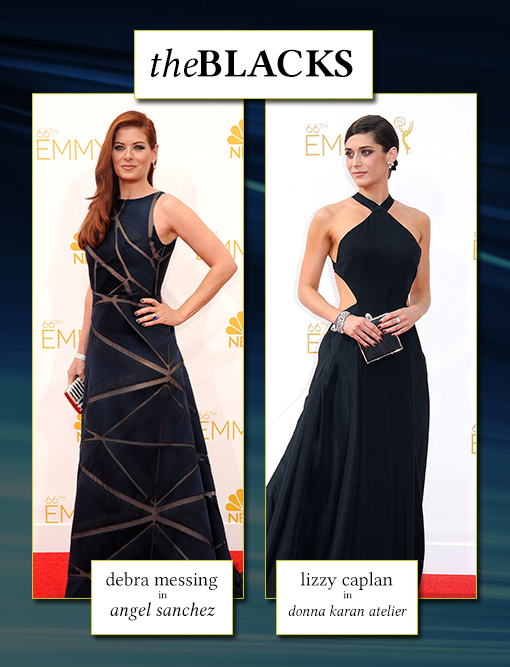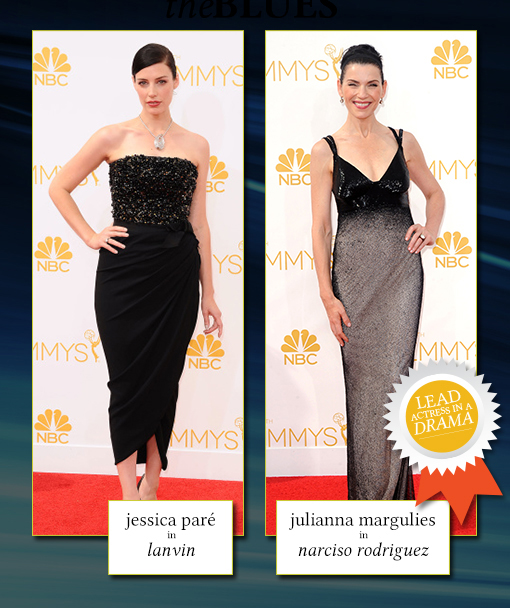 Photo on left : courtesy of Lanvin. All other photos : courtesy of Patrick McMullan.
Finally, I just love, love Lizzy Caplan in the the Donna Karan Atelier and wish that number was in my closet and and I had somewhere to wear it. I'd say, it was a win-win. One of our favorite Red Carpets in a a long time.
With Love From Hollywood,
NJ Goldston, The Brunette, David Soriano and Lauren Cheek