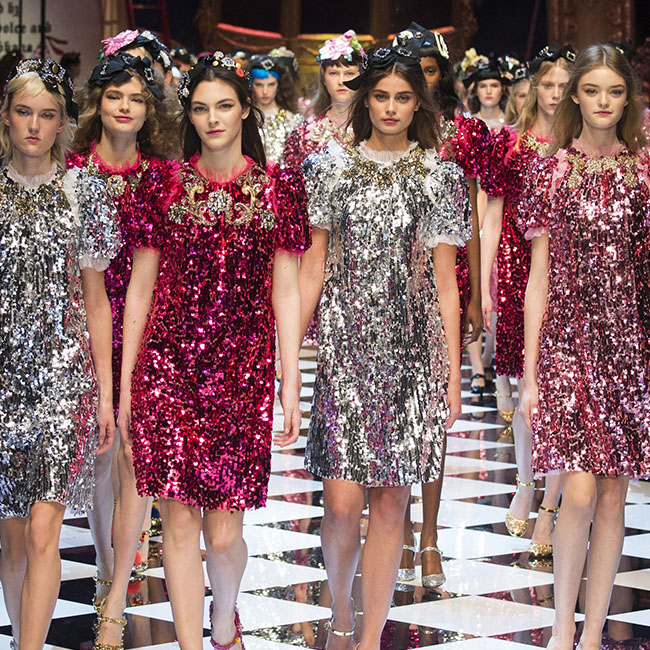 After a month long onslaught of fashion weeks from New York, London, Milan to Paris, the state of fashion is all over the map. Although I did the shows digitally this time, I know the drill. Or used to. Now, there's quick fashion, social media galore, and your favorite top bloggers in a look you can't get. Just because you see it on social media doesn't mean you can buy it. I don't know about you but that is really, really beginning to bother me. As we all know, for major design houses, ready-to-wear, albeit important, is the major backdrop to sell handbags and perfume (as the key by-product), with the fashion industry and the economy both in turmoil, e-tailers and retailers are on tight buy budgets. Hence the often slim, uninspired retail choices.No matter. Here's my quick guide to the Fall 2016 Runway shows including my five favorite collections. I'm personally still focused on an elongated silhouette, lingerie dresses, and stunning evening gowns. You decide. What will you be wearing or won't?
Top 5 Collections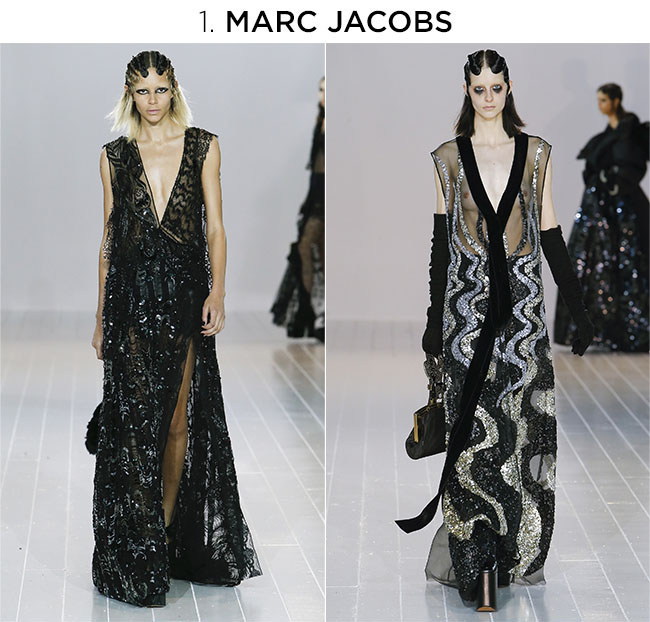 I would love, love, love to wear either one of these looks to The Met this year. The Theme is "Manus x Machina: Fashion in an Age of Technology." The upcoming exhibition focuses on the dichotomy between handmade haute couture and machine-made fashion. My guess is we are going to see this embodied in complex gowns that utilize intricate fabrics and embellishments in a modern way. Please come home to my closet. Pretty, please.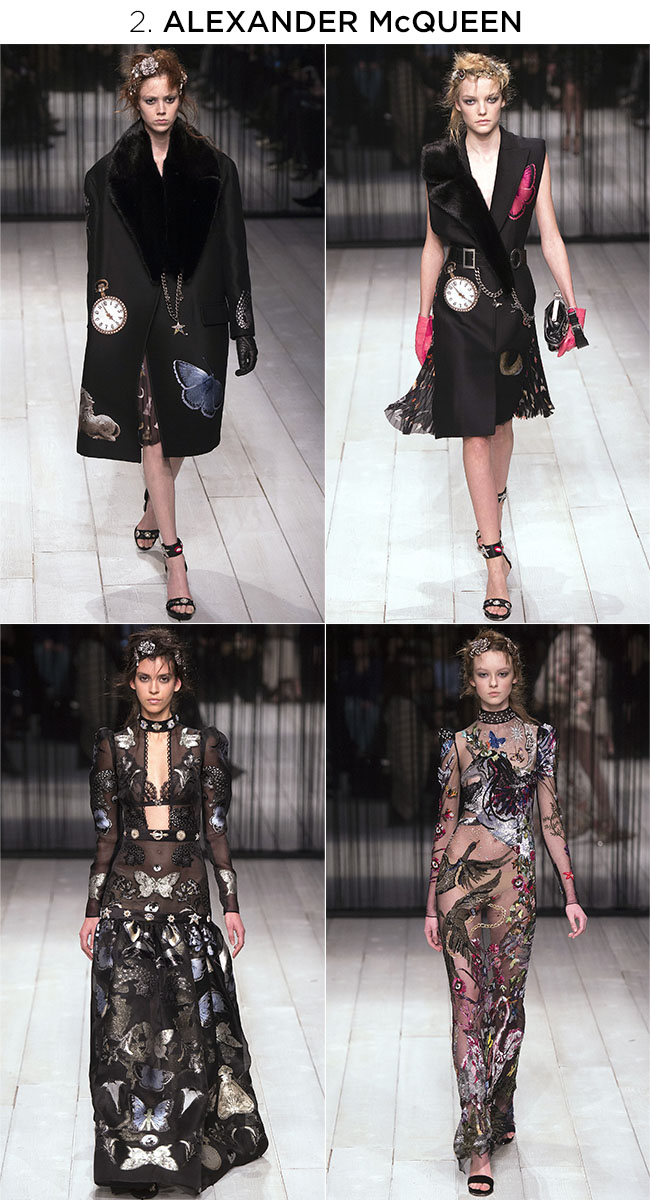 Even if thees dresses and gowns never show up in the store and are simply Instagram dreams, they are magical.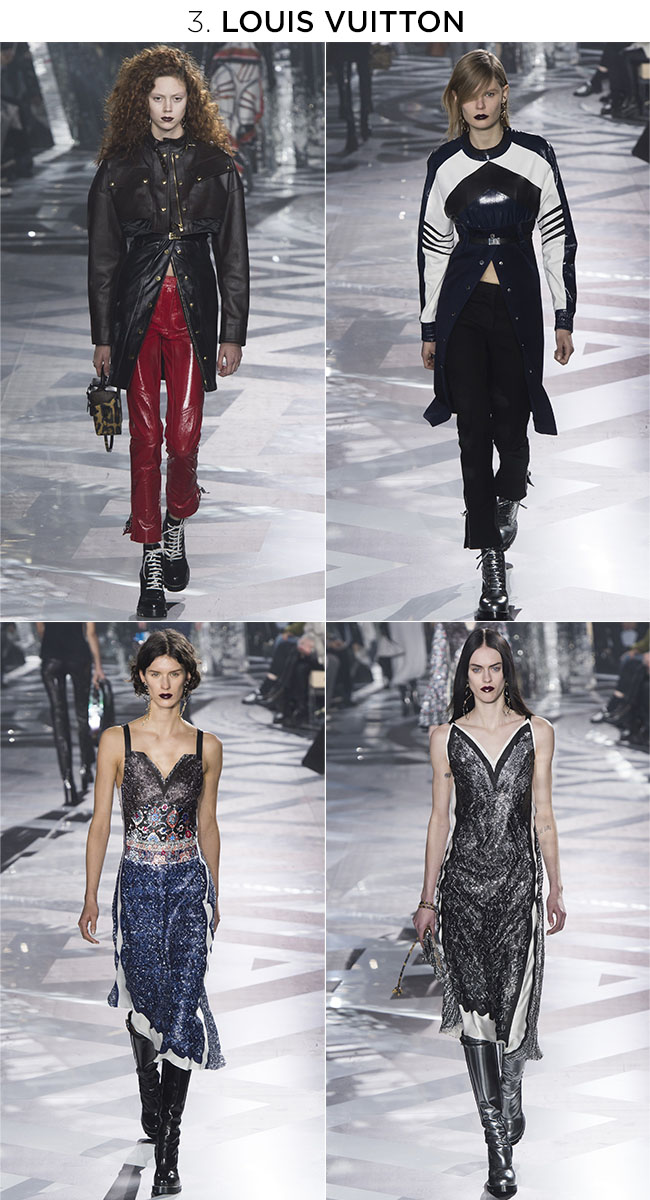 You know I'm a fan. The collections keep moving in the right direction. More sporty for day and beautiful options for evening. This time I'm besotted with the leather looks and lingerie dresses.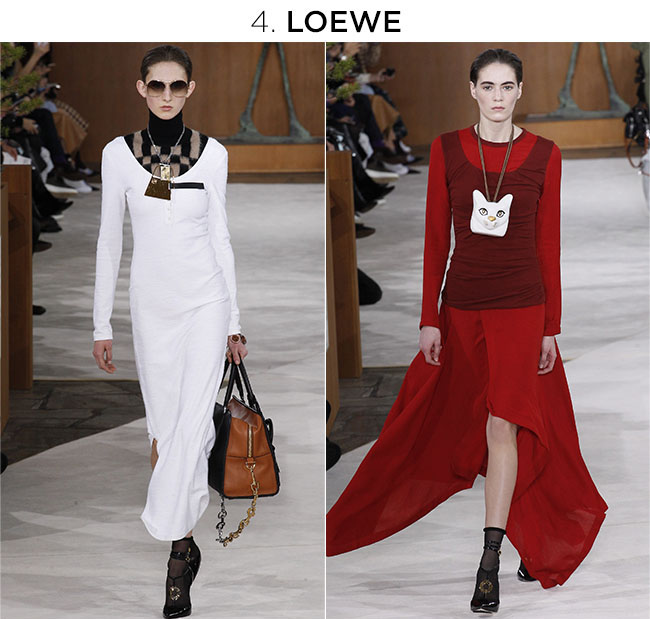 Love J.W. Anderson and anything to do with knits and strong, wearable, eloganted silhouettes. Day to night. That's all any of us want.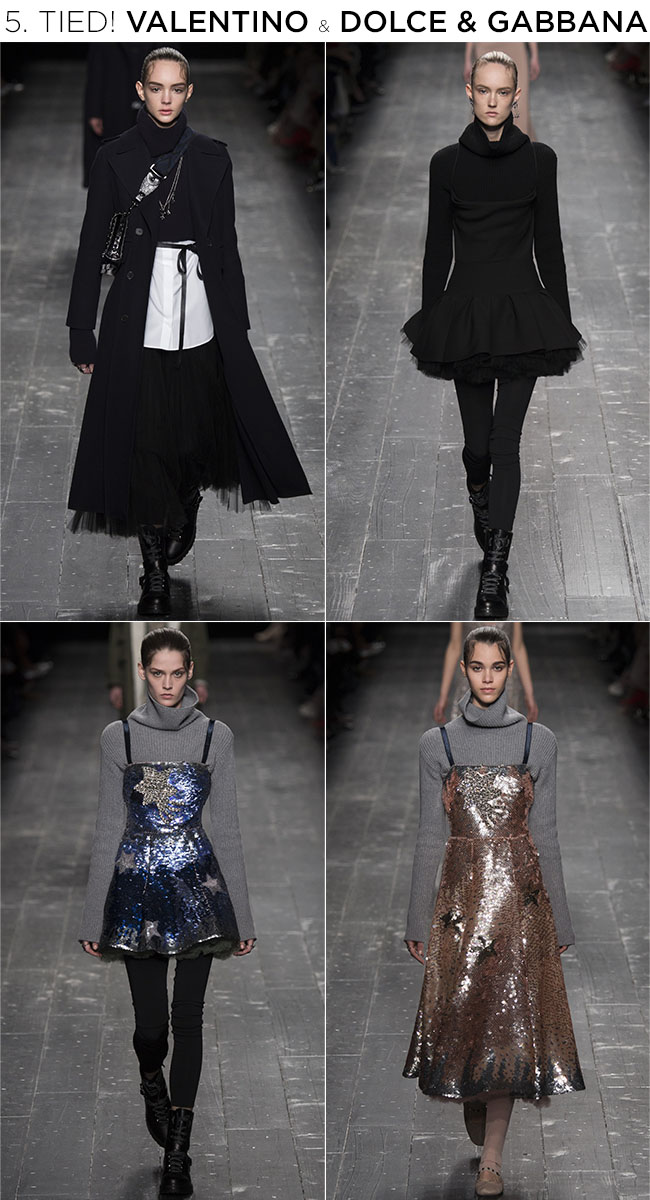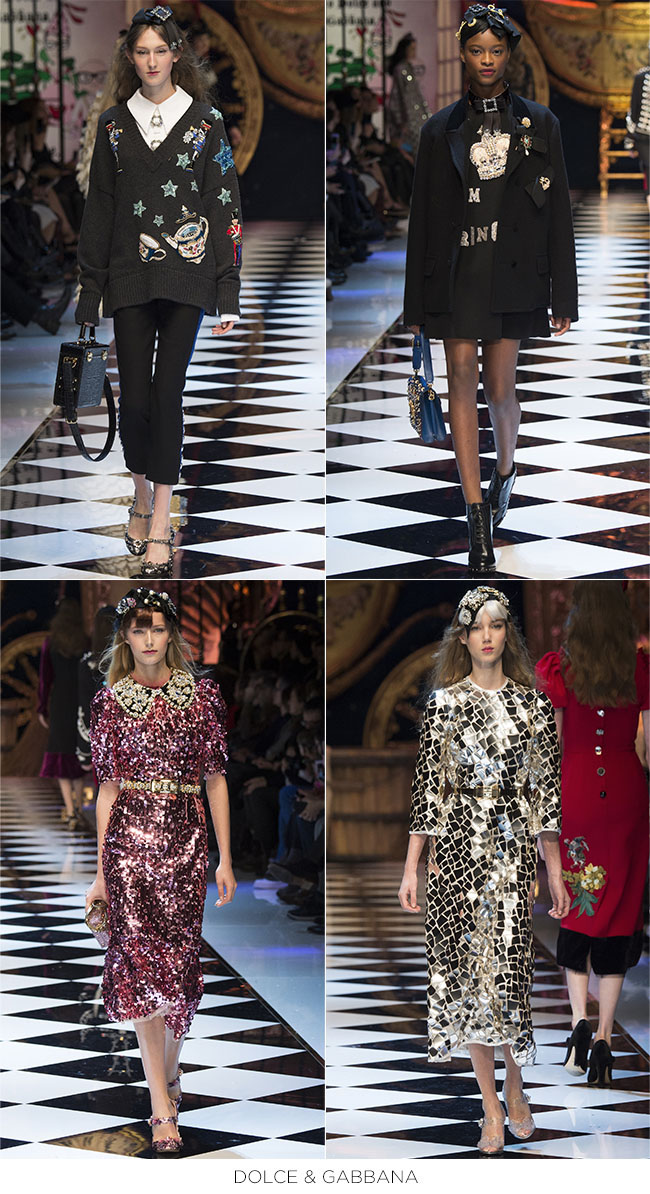 As a dancer, along time ago, the latest Valentino ballet/modern dance-inspired collection resonated with me along with the ravishing evening wear. Apparently only New York and LA women consistently buy a clutch of dresses that really get worn, but these are certainly worthy. We will be sure to see my friend, the lovely Erica Pelosi, in any one of these creations. While, the strong LA contingent, who just indulged in pre-Oscar Pajama Party hi-jinks, will certainly be spotted in a few of these Dolce & Gabbana beauties.
Top Trends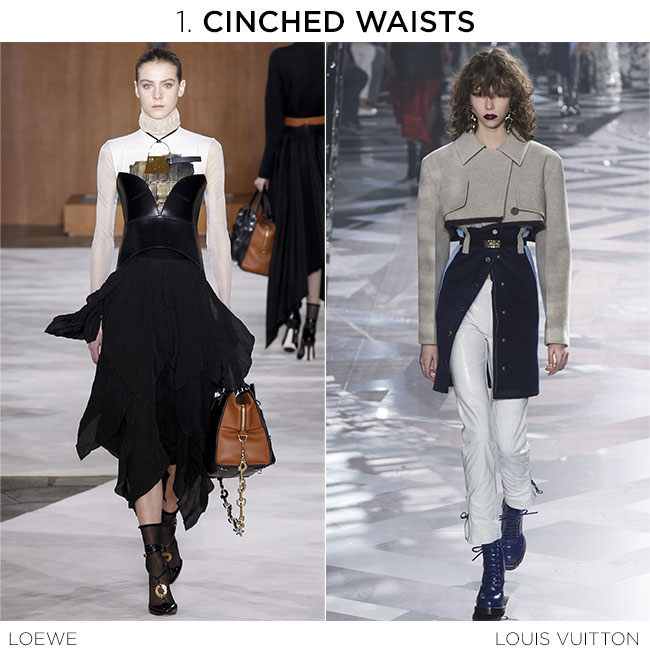 Maybe this is the influence of the Kardashian sisters relentlessly cinching their waists, but it's time to do a lot more sit-ups. Get going!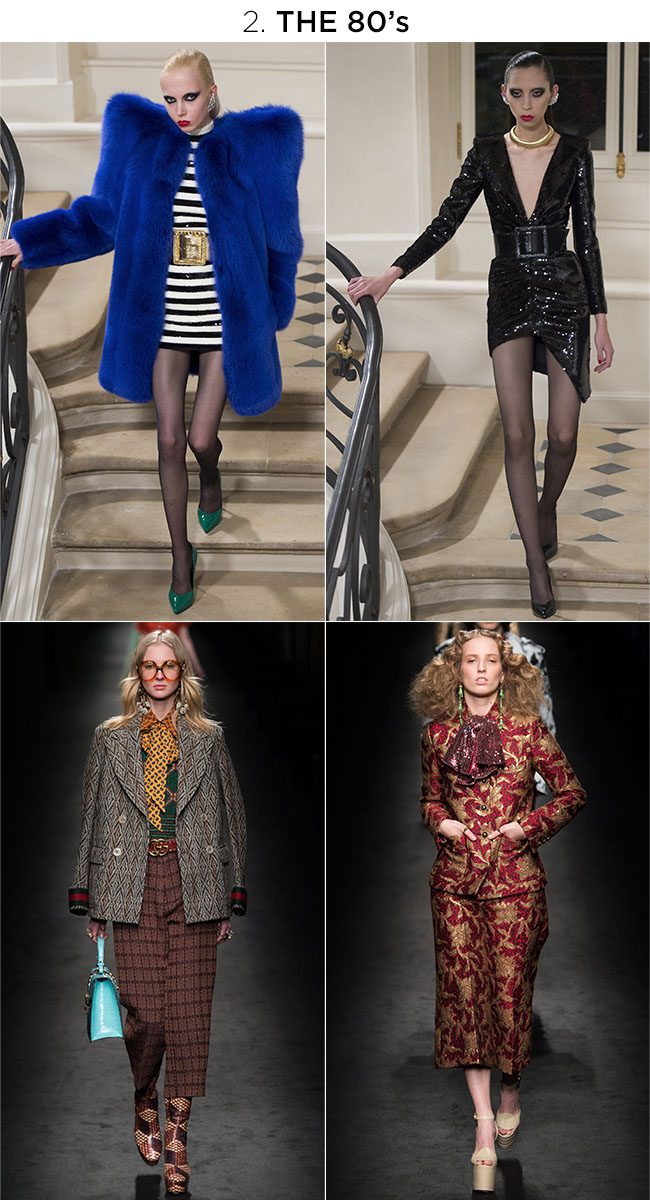 Not sure how the 80's have made a comeback and I'm not even sure I like the look. But if you do, Saint Laurent nailed it along with Gucci, and, Ralph Lauren.You decide. Are you up for big shoulders?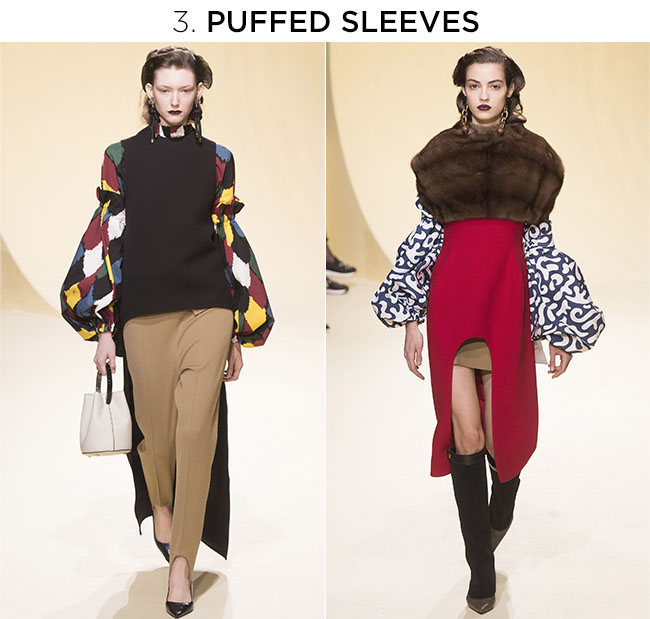 You need to be very tall to make this work. Marni did it beautifully.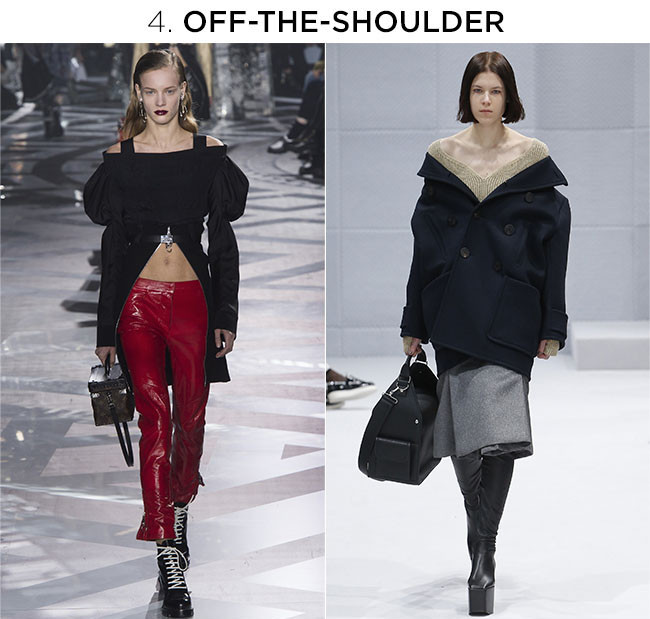 Sexy. Very Sexy. May be cold in winter but who cares. Two of my favorite looks were at Louis Vuitton and Balenciaga.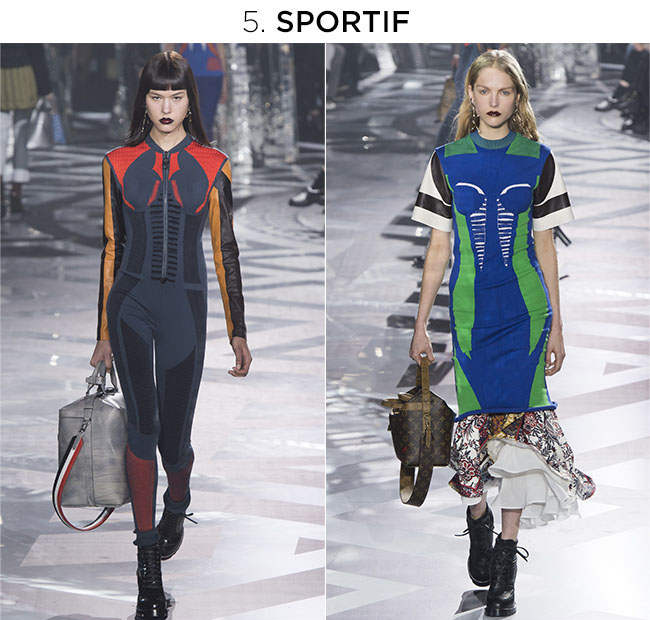 We saw it at Louis Vuitton, and all over New York Fashion Week, but luxe casual is here to stay.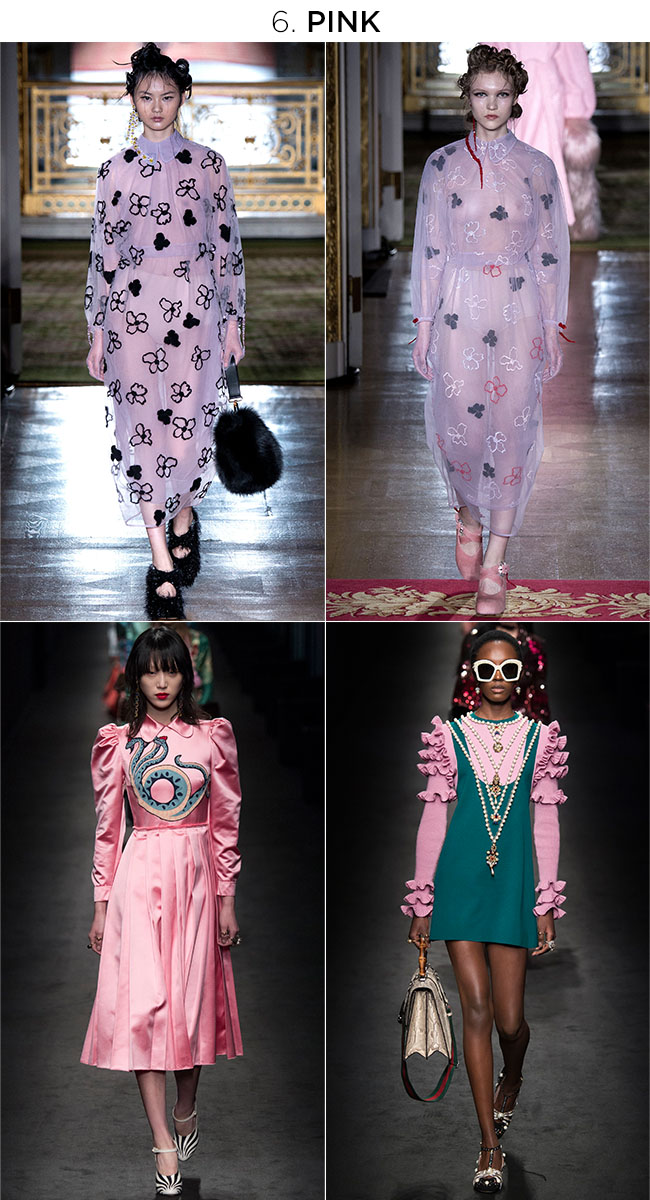 I would love to bring rose quartz into my wardrobe. Although it's the Pantone color of the year, I don't see buyers embracing it—yet. Another beautiful trend which is just an Instagram dream. Simone Rocha did it so beautifully.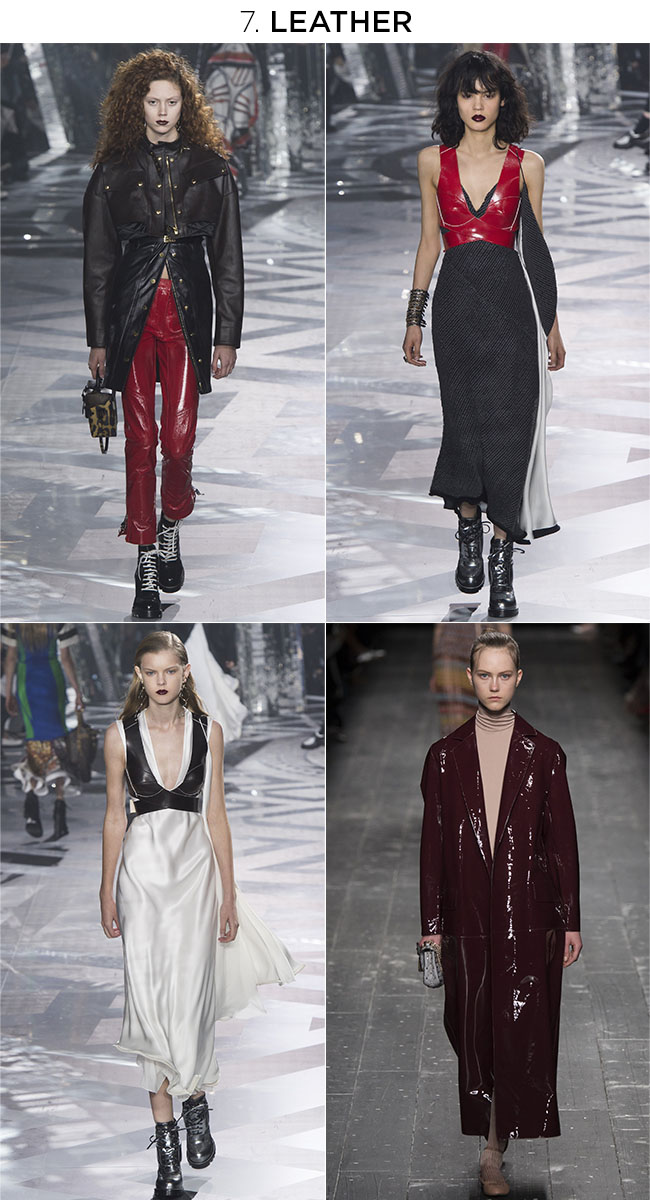 A great year-round look and a home run in the layering department.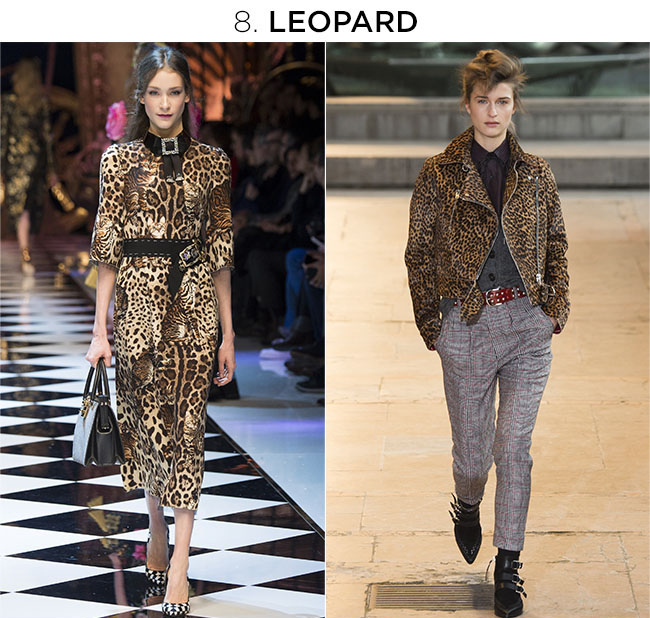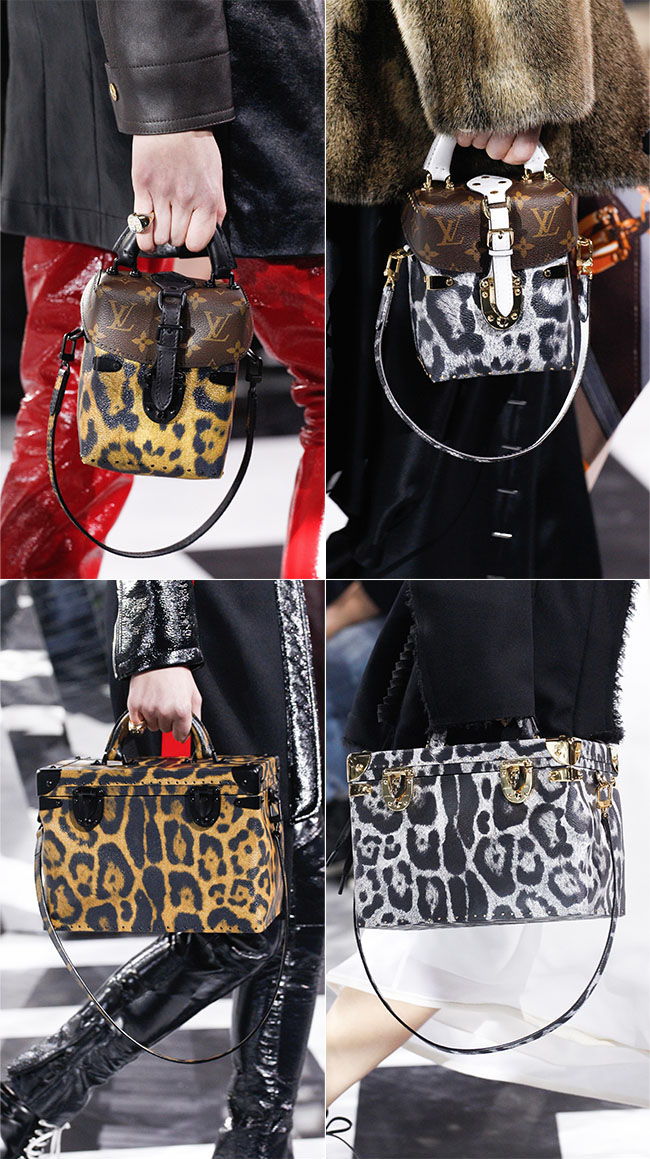 Leopard prints showed up in new ways. Louis Vuitton translated it into slick mini-trunks and a new miniature bag shape with a central buckle.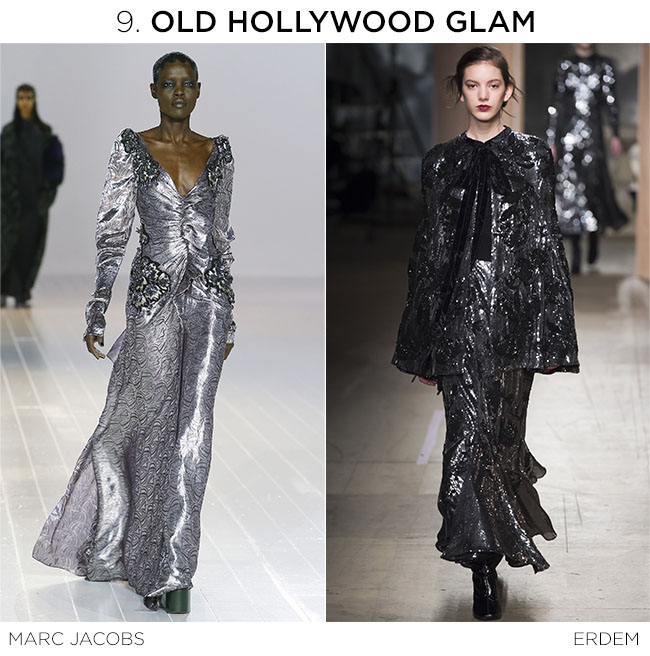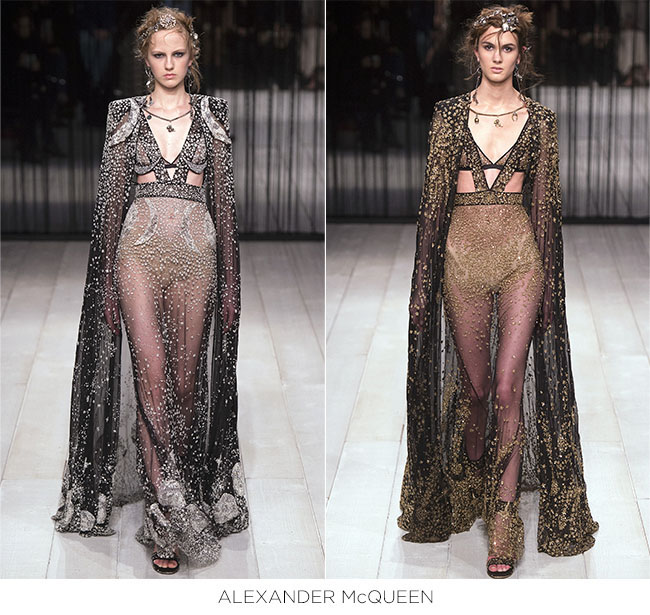 Although gowns were few and far between for most of the collections, the undercurrent was definitely Hollywood Glam. If only there was somewhere to wear all these beauties!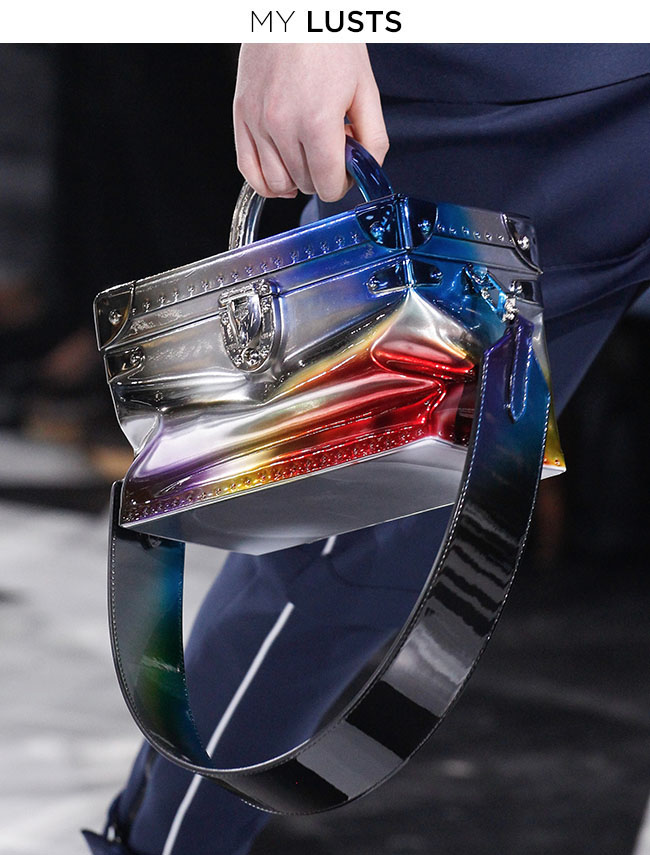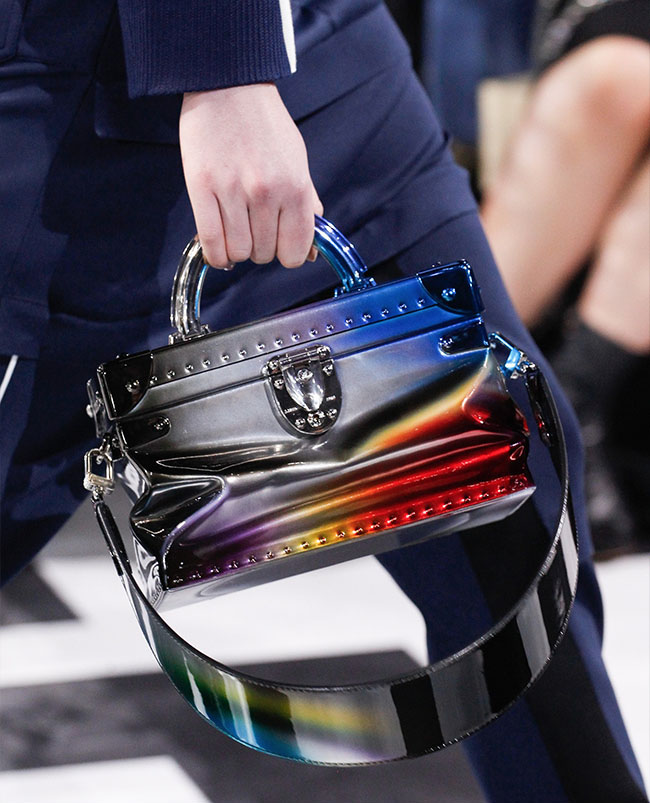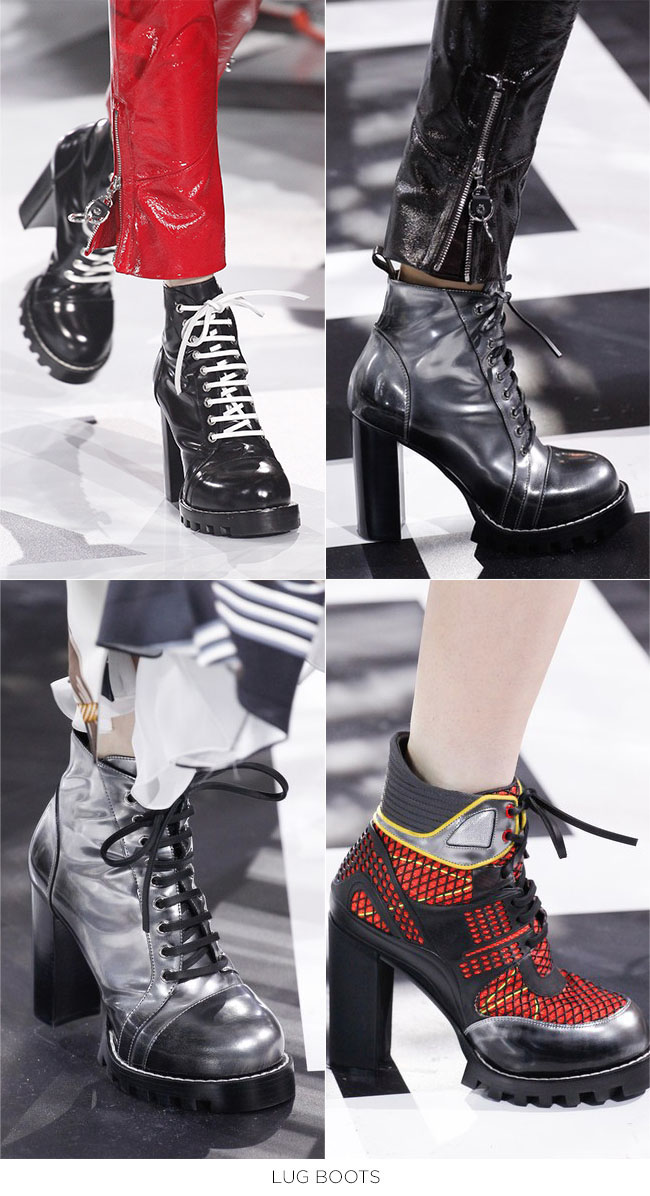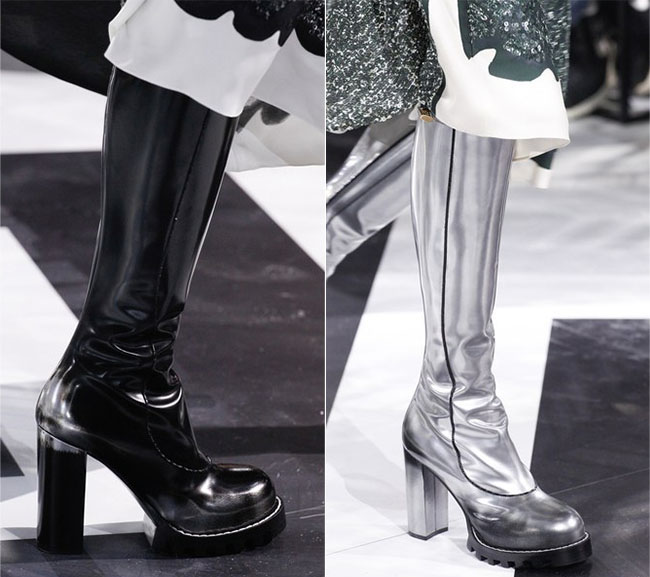 My personal lust is for the mini-mirrored Louis Vuitton trunk handbag and any pair of their runway booties or boots. Put my name on the list.
With Love From The Digital Runway,
NJ Goldston