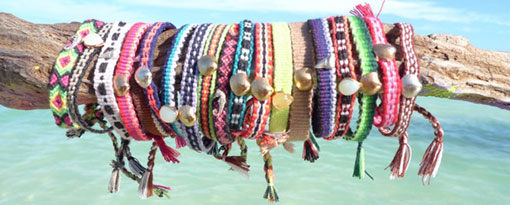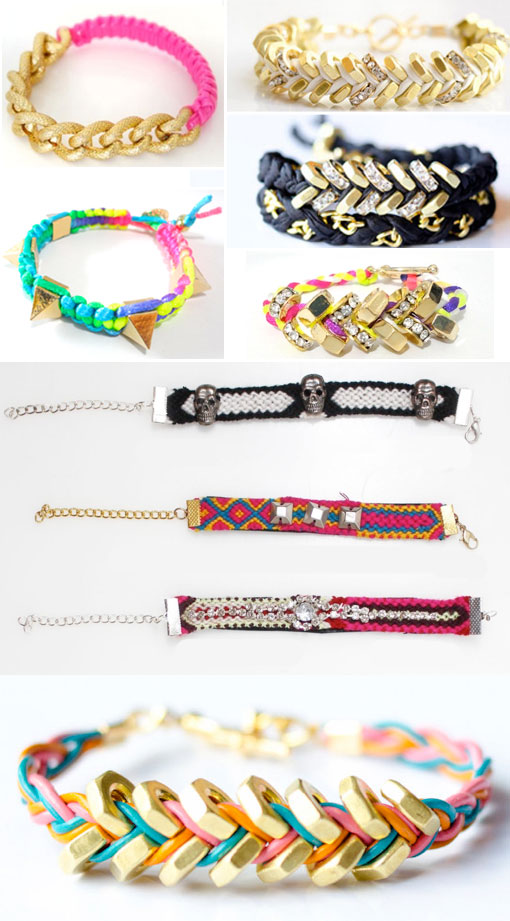 The Blonde and The Brunette came across this trendy-chic jewelry line of embellished bracelets with rhinestones and charms modeled after the current friendship bracelet trend. It seems especially perfect for summer style as well as another great shower or bridesmaid gift idea. The collection was created by fashion designer Andrea Barna and her business partner, Kollene McGinley, who've had their previous jewelry lines carried by the likes of Fred Segal Ron Herman, Henri Bendel, Ice.com. Intermix, and Bloomingdales. But this time, the name says it all. Threads of Friendship. Unique in their design and message, they represent a symbol of friendship, support, and unity between you and your friends.
You can embrace yourself and circle of friends with everything from their very hot, hot neon's to the Diamond Dust embellished friendship line. The bracelets are intended to create a sense of solidarity, linking individuals together, and $2.00 from the sale of each bracelet is donated to the Best Buddies charity and the Walkabout foundation.

Best Buddies is a nonprofit dedicated to establishing a global volunteer movement to create opportunities for one-to-one friendships, integrated employment and leadership development for people with intellectual and developmental disabilities (IDD) and The Walkabout Foundation is dedicated to promoting the awareness of paralysis and disabilities and improving conditions wiht limited access.
You'll also see them featured in People Magazine's August Issue as well as the July Issue of BOP Magazine. The celebrity quotient includes everyone from Eva Longoria, Brooke Burke, Def Leoppard, Kelly Bensimone from Real Housewives of NYC, Ireland Baldwin, Kyndra Mayo from MTV's series Laguna Beach, and Sabi the music artist touring with Britney Spears. The bracelets are available on the Threads Of Friendship website. Prices start at under $50.
Share the love.
xo
NJ, The Brunette