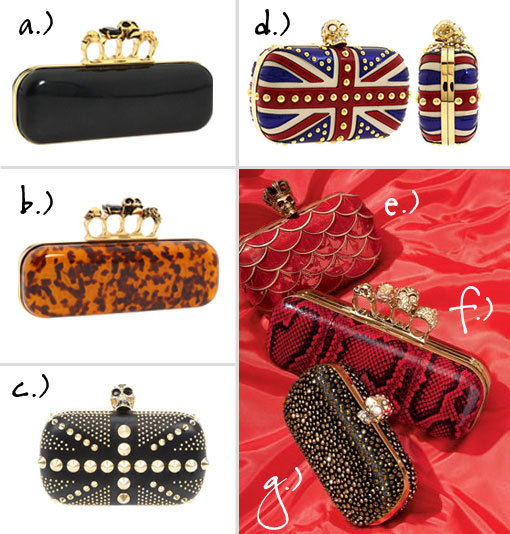 These Alexander McQueen Clutches need no introduction. They are To. Die. For.
I hardly believe anyone needs convincing to run out and get their hands on one of these. Whether you're a rocker chic or not, McQueen has designed a clutch for every woman's mood, style and occasion. We are particularly in love with the "Knuckle Duster" Clutch. We just can't get enough of the originality the McQueen brand continues to displays with this! This Winter, you have no excuses not to SPLURGE & trust us, this is NOT a splurge you will be regretting tomorrow.
a.) Knuckle Box Clutch Black ($1,789.00)
b.) Knuckle Duster Clutch Tortoise ($2,149.00)
c.) Jack Box Clutch ($1,208.00)
d.) Brittania Studded Clutch ($1,954.00)
e.) Skull Box Clutch ($2,265.00)
f.) Python Knuckle Duster Clutch ($2,350.00)
g.) Strass Satin Skull Clutch ($2,145.00)
Available at Neiman Marcus, Nordstom, Saks Fifth Avenue and Bergdorf Goodman store locations.
– Jadan, The BnB "It" Girl