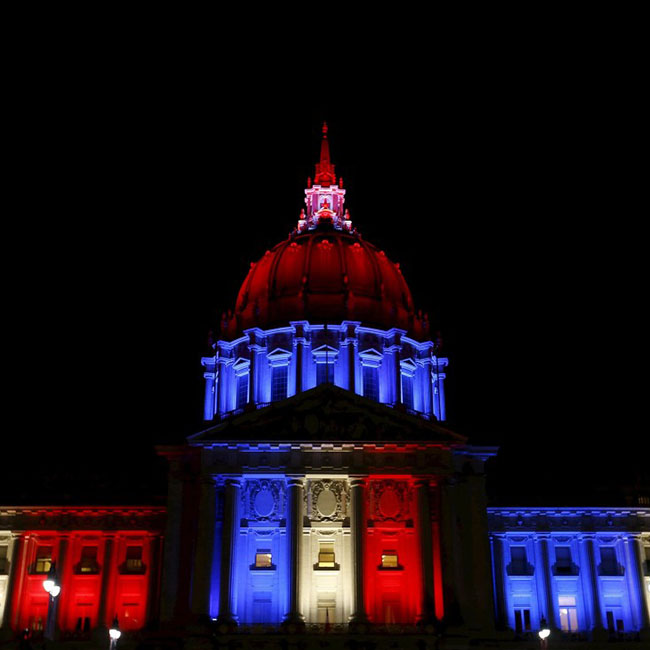 As the sun rises in one of the most beautiful cities in the world, we want to pause, honor the City of Lights, remember those who have been lost and honor their memories by never forgetting. We also want to echo the words Bono expressed yesterday. "These people (the terrorists) will not set our agenda. They will not organize our lives for us." There is deep importance and significance in this statement. It is the modern paraphrasing of the British stance during World War II, "Stay Calm and Carry On" created in preparation for the Second World War and the widely predicted air attacks on major cities. We are now facing a new version of an old threat. A great evil against humanity. Well, they want to intimidate us and change our way of life. We must be strong together. We must say united. We must carry on. We are and will; but, today we reflect and send the City of Paris and France our love and thank everyone once again for the great hospitality shown to our team during Paris Fashion Week.
We are not alone with these sentiments. All over the world , vigils were held around the globe this weekend as many of the world's iconic buildings from the Tower Bridge in London to the Sydney Opera House were lit up in the colors of the French tricolor — to show solidarity in the wake of Paris attacks as the Eiffel Tower stayed dark.
In the fashion world, we are also paying tribute and showing support in our own creative ways. Be sure to find your own way.
Tomorrow we will move forward. Carry on. But today, we pause to pay tribute.
#PrayForParis
The Blonde and The Brunette Team