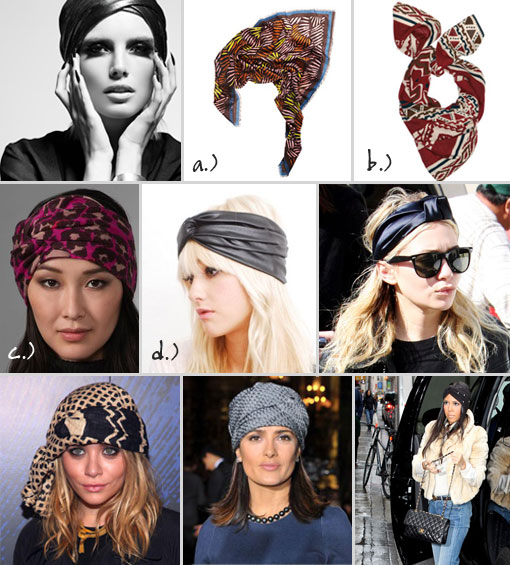 NEW LOOK ALERT! We're noticing turban's have been popping up around town quite a bit lately.
"To DO" or "To DON'T?" I'm going to guess many of you are not a fan of this look, which is very understandable, considering the western culture is BIG on hair. BUT I must say, with a turban up top, look how much emphasis is left to put on the beauty of their faces!
Ashley Olsen in a 'demi turban' which has become really popular with celebrities. It is a turban feel without requiring a full commitment to the extreme look. Ashley again steps on to the red carpet for the YSL Belle D'Opium fragrance launch wearing a tribal-print scarf tied around her head, this time, with the ends hanging loose at the sides. Supermodel Kate Moss rocks a silver turban with matching ensemble and manages to own it. Go Kate! Salma Hayek showed up to the Stella McCartney show wearing a form-fitting blue dress, over-the-knee boots…and a turban! Kourtney Kardashian decided to step out in style by wearing a bedazzled turban of her own.
Some of our favorites here at The Blonde and The Brunette!
– Jadan, The BnB 'It" Girl