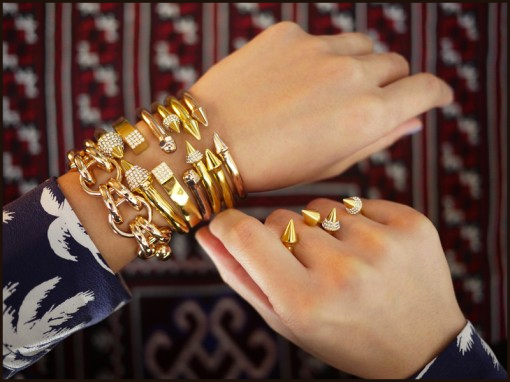 It's Fashion Week and the glam factor is in full swing. I'm on board and it feels like once a week I fall head over heels in love with a new jewelry line. This week, Vita Fede has stolen my heart with their weighty hinge bracelets and glamorous gold jewels. Born in Italy and made in LA, I couldn't resist showcasing some of my favorites from their line. They, quite simply, make an outfit and that's pretty important this week as we make our way to shows and fashion events.
Time for the quick back story. Vita Fede literally translates to 'Life' and 'Faith,' two things that connect people everywhere, and, like VF designs, continue to evolve without losing the essential elements that define them. It's jewelry with attitude.
For founder and designer Cynthia Sakai, this means taking inspiration from life all around her to create jewels that transition seamlessly from season to season and trend to trend. Her handcrafted jewelry and accessories inspired by art, architecture and culture from the past, present and future. The VF aesthetic combines to create my favorite mix: timeless luxury with a feminine modern twist.
Every piece is designed with both form and function in mind, resulting in truly substantial, sophisticated, wearable works of art. Excellent quality and wearable with any style, Vita Fede has something for everyone and every outfit.
Xx. Jadan Huter