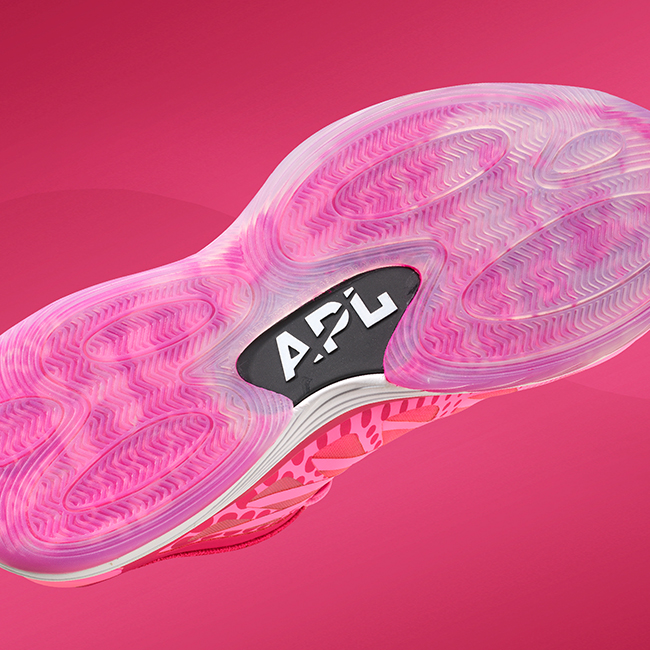 Here's a chance to make a statement with your feet while sending a message from your heart. Breast Cancer Awareness and the fight against this disease is especially near and dear to me. Many years ago my mother and my twin son's grandmother lost her courageous battle with breast cancer. In her memory and for women and their families all around the world, this year we're going pink with Athletic Propulsion Labs series of special edition women's and men's running and basketball shoes.
We particularly love the ultra-stylish (and I plan to wear them with black leggings for my pop of color) special edition pink/pink women's TechLoom Pro . For the man in your life, clue him in on APL's men's TechLoom Pro running shoes, or, if he loves hoops, their Vision Low men's basketball shoes .
APL is generously donating 10% of the gross sales price for each pair of
APL
shoes to the
EIF's Women's Cancer Research Fund
, a charitable program of the Entertainment Industry Foundation (EIF).
We especially love this program because they are on the cutting edge of breakthrough research that is actually making a difference. Another big plus is we've found so many guys who want to go pink to support the women in their lives. Read on for the special details with each of this kicks.

Ladies First!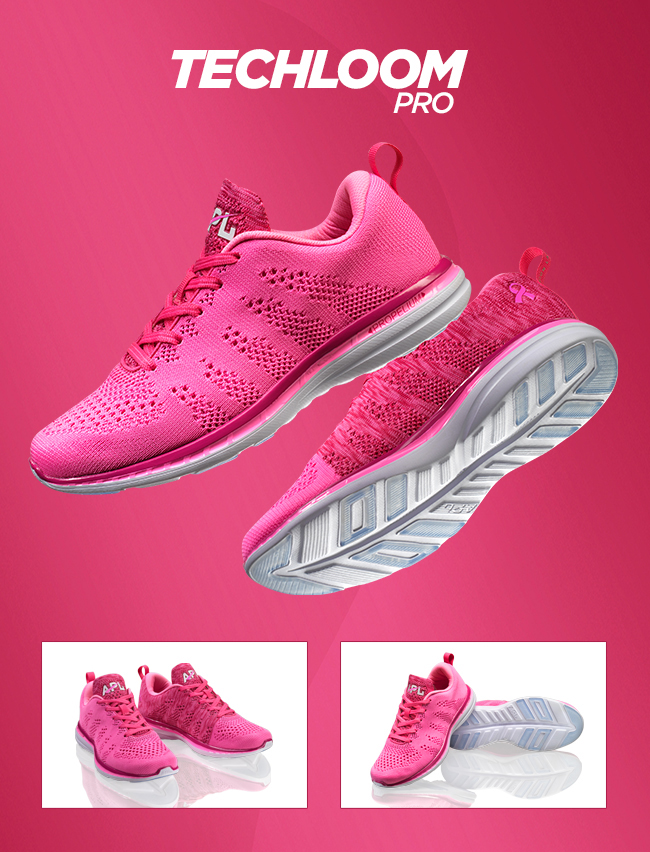 A celeb favorite, APL's Pink/Pink Techloom Pro running shoes utilizes a proprietary woven technology like we've never seen before. In this special edition, bright pink covers the majority of the upper, while the remainder is a melangé of pinks and raspberries making the shoe standout in a crowd. Additional details, which we love, include a pink ribbon logo applied to each heel, and special sock liners stamped with " Hope" and "Cure." They have the exact same shoes for men. If you're a runner, you need to know the shoes feature the company's new Propelium™ midsole/outsole for cushioning, extreme comfort, and clean looks. Click here for the ladies TechLoom Pro and click here to get your fella a matching pair of men's APL TechLoom Pros.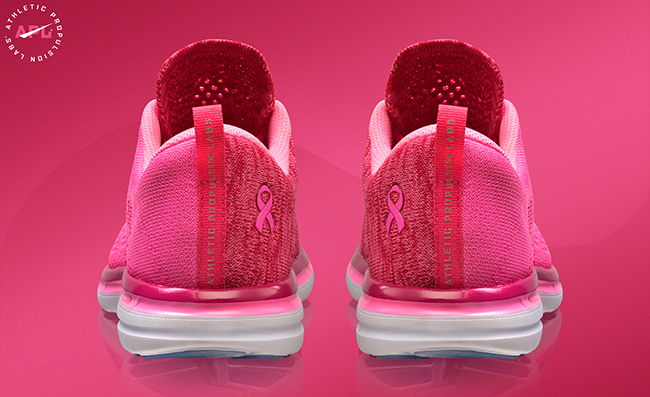 We adore the pink ribbon detail on the women's and men's pink/pink TechLoom Pro running shoe's heel counter.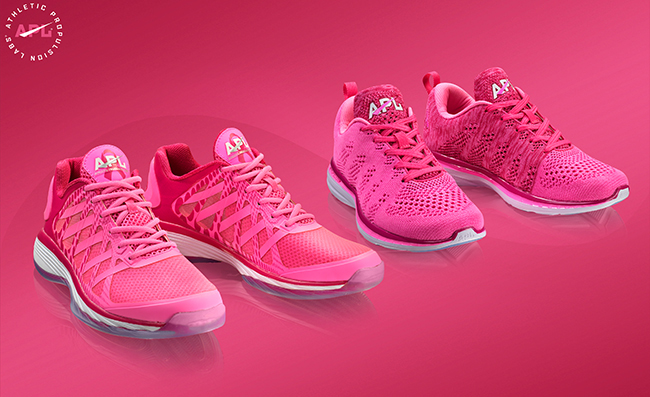 Guys have two choices. The APL Pink/Pink Techloom Pro (on the left) with all the same features as the ladies and The APL Pink/Pink Vision Low Basketball Shoes. The Vision Low's combine a stunning upper with the proven performance of the patented Load 'N Launch technology which can help your fella jump up to 3.5 inches higher. Oh yeah, he might just be able to dunk.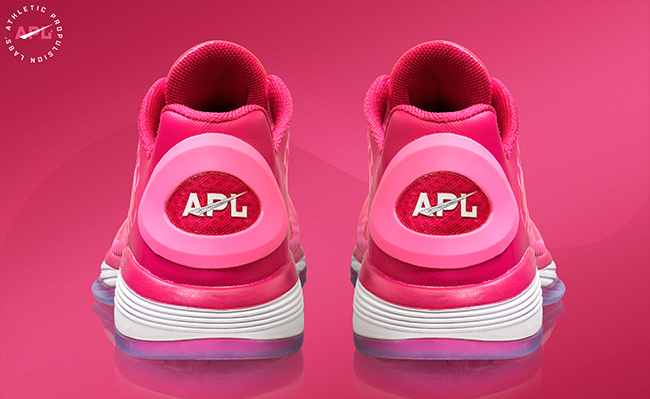 The Vision Low comes with a vibrant pink and raspberry upper accented by a touch of metallic silver, while the clear outsole shows way to a collection of inspirational words including beauty, strength, family and courage to name a few.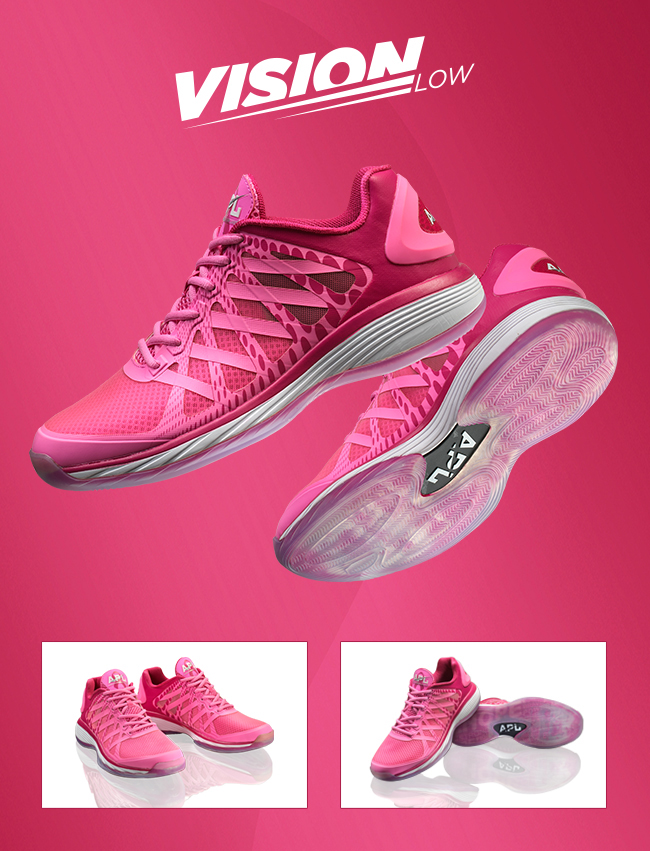 This way we can all support a great cause while staying in shape all year long.
In Loving Memory of My Mother,
NJ Goldston, The Brunette