Happy Wednesday Darlings! I hope everyone had a great week.
There's been been so much going on this week where should we begin?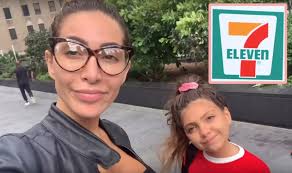 Let's start with Farrah Abraham. She's another one of these people in the news who I don't really know how I know who she is until I remember she was on Teen Mom or maybe she's still on that show? I really don't know as I have never watched the show. She's the one who's most famous for constantly getting plastic surgery done live on TV or on YouTube or anywhere that will feature her, sometimes in front of her child. To commemorate the tragedy of September 11th last week, Farrah created her own tragedy and brought her poor child with her to New York to film a video for the two outlets that allow her to have any screen time, her YouTube channel and personal Instagram page. Just when you thought 9/11 couldn't get worse, Farrah's followers watched it actually get much worse. Farrah, wearing glasses and trying to appear "serious", told the cameras that it was super important for her daughter to learn about and understand what happened on September 11th, 2001 and proceeded to say the following: "Okay, so we wanted to do, since it's gonna be September 11, in honor of the Freedom Towers, and observatory deck and everything, of 7-Eleven, we are going to do this. Wow, look at this guys."
"I think this is gorgeous, beautiful, and in memory of a lot of loved ones, a lot of others lost." "I remember being in fifth grade when September 11 attacks happened, Sophia was not born yet, so I think it's really important that Sophia learns about it, and here we go."
Farrah actually took her kid on an elevator ride at the Freedom Tower and then proceeded to go on and on about the beautiful view and ate fried calamari.
That was the end of her educational video about the September 11th attacks, and truly, I mean this, God bless America.
This past week, it was Prince Harry's birthday. Naturally, The House of Sussex made an Instagram post in Harry's honor wishing him a happy birthday and included a special message for Prince Harry from his wife, Meghan, Duchess of Sussex. The post was a collage that showed Harry throughout various moments in his life; one was of him at his son Archie's christening , one was of his wedding day- you get the idea. There was one picture that stood out to me in particular. It was placed ever so subtly in the top left hand corner. It was a picture of Harry being carried out of a PRIVATE PLANE as a baby, by his mother, Princess Diana. Genius move if I do say so myself. Or just one big coincidence? You tell me.
Lastly, Aaron Carter is all over the news again, this time he's flaunting his gun collection. While showing off his impressive arsenal collection, he is assuring his fans and the rest of the world that no one has anything to worry about. The thing is Aaron, we're slightly worried because in an interview on "The Doctors", which will air this week, Aaron reveals that he was officially diagnosed with schizophrenia and bipolar disorder, manic depression and anxiety. He reveals he is on a list of prescriptions, and in fact, holds up a Ziploc bag full of prescription pill bottles to prove it. You know, in case we thought that he was totally normal and didn't believe him. If you will excuse me from this mess, I just hope someone gets a hold of his collection before anyone gets hurt. This is all just too much. Aaron, get the help you need. Stop going on TV to talk about your real life issues and please get rid of those guns. What happened to mental health checks before a person purchases guns???
I hope you all enjoy the rest of your week.
From somewhere not near any 7-Eleven's and lots of Postmate's deliveries,
Julia Obst