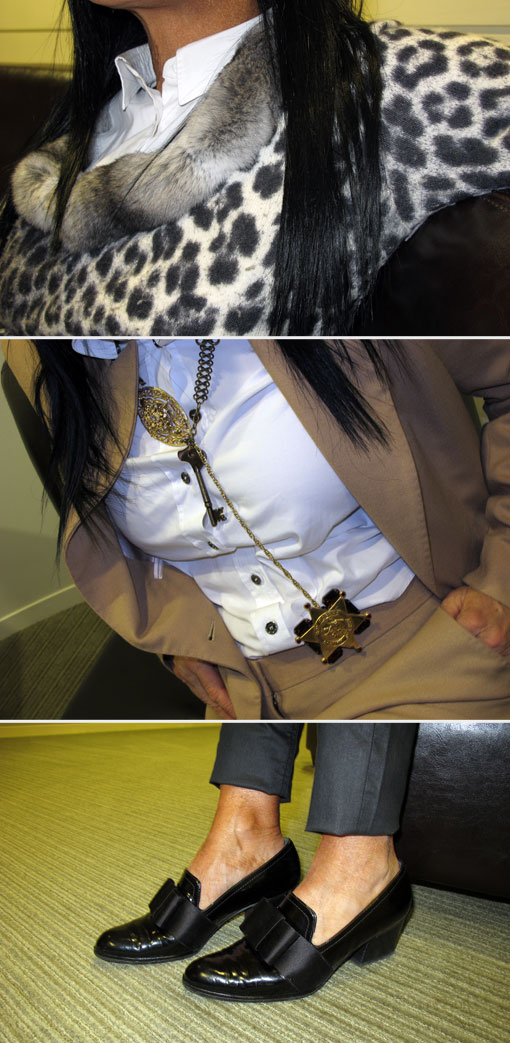 Based on reader comments, we pulled straws and I won (or lost) as our first "what we are wearing" besides to amazing events. Ashlee photographed me several days in a row at our offices (which are in the old Endeavor space which is the original entertainment agency space fictionally portrayed on Entourage). Everyone knows I routinely work a 12- to 14-hour days and only rush home to change for special occasions. So, here I am in the good, bad and ugly and critiquing myself.
Be Professional Option: First up is my wool and cashmere blend camel suit from The Row (from the Olsen twins). This is my go-to look for days filled with serious meetings. However, whatever I choose, it must be comfortable and warm as during the winter days in LA, it's 60° (which is amazing) and at night it is suddenly 30° when the sun sets. For a better price point, try The Limited and their suit collection.
This was an investment piece for this Fall and I wore it that day (and often) to go to an important board meeting and upon closer study, I need a new white shirt (thank you to the dry cleaner!) that fits better, need to straighten up my hair a bit (all the time), a darker lipstick (Kathryn and Astrid, please take me lipstick shopping) and remember to button my jacket for a photo. But I do love the camel and I've never owned anything in that color before. Most of all, this is a professional and comfortable solution that works for a long day. For an accessory, I added my $62.50 "Get Arrested" statement necklace. A girl's gotta have some bling.
Fall "Ready-To-Go Option": For me, it's any one-piece sweater dress with black opaque hose matched with a black platform bootie to elongate my leg. Again, I paired a statement necklace (vintage Louis Vuitton with fur), this time choker length, and my white nails (the opposite of Astrid's signature black nails) are my other constant accessory. Although, lately I have been thinking of changing colors. This look gives me maximum comfort, style and works as the perfect day to evening transition. Revolve Clothing has a great selection of one-piece knits at great price points now.
Lastly is causal Friday. I love Fridays and so does everyone at The Blonde & the Brunette. This is the one day when we really kick back wardrobe-wise.
Casual Friday Uniform: Skinny jeans (and these are Rag & Bone with a leather insert for a bit of fall drama), a spotted, vintage Blumarine sweater with fur trim and my Stuart Weitzman tuxedo stacked flats (well-worn because I love them so and, by the way, lots of their styles are on sale right now) and my trademark Barton Perreira eyeglasses (available at Barney's) along with a fading tan (yes, Kathryn, I need a scrub, if only I can find the time). For dinner, to dress my look up, I just switch to my pumps and I'm ready to go.
So that's real life on the run. Thoughts?
– NJ, The Brunette