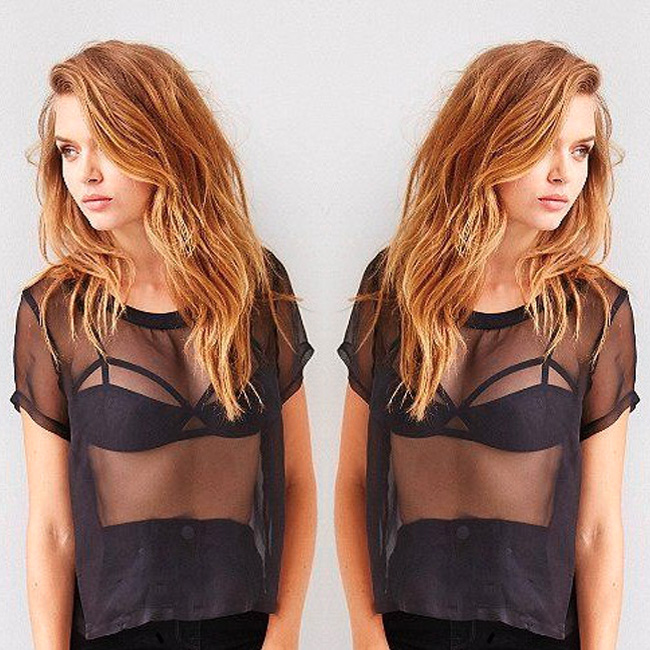 Not since the days of Flashdance has sharing your underwire with the world been such a YES!
On par with trending sheers last season, the visible bra is "in" as we head into fall. It wasn't so long ago, growing up, if your bra straps showed, it meant you were sloppy. If any lace showed, you were automatically trashy. There were actual clips you could wear to make sure your bra wouldn't slide around and show an accidental strap!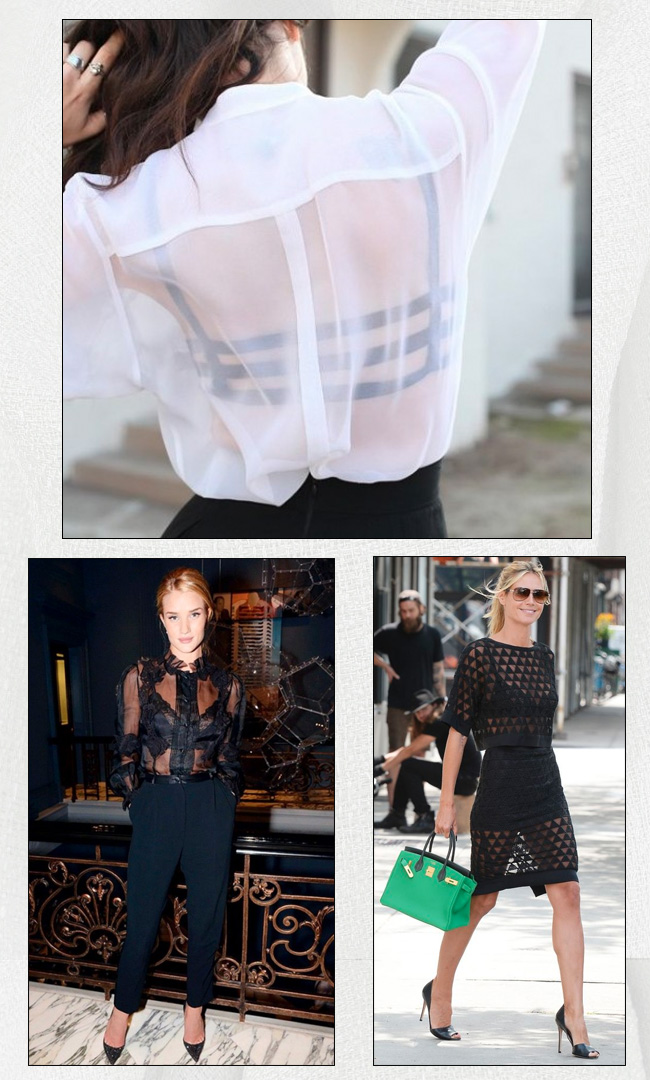 Not so anymore. NYFW drove this home. With all these incredible designers making intimates more beautiful than the pieces we wear over them, this trend was destined to happen. I'm not talking sports bra's and underwires here ladies, I'm talking lacy bralettes, cute cutouts, and standout colors. No longer are the days where someone gasps at the sight of a bra strap, or some lace peeking out from under your blouse. I mean, it's just a bra, and odds are it's more beautiful and has more coverage than the average swimsuit!
So many people have been at odds with this trend in the past, but I don't understand what's the big deal! A lace bra under a semi sheer shirt is such a delicate sophisticated look. What's wrong with feeling a little bit sultry in our everyday lives?
If you've never tried this trend, you can start off by purchasing one of the countless new lace bra's with intricate back detailing. These were designed specifically for backless tops, in order for you to elegantly show off a little skin without having to worry about any nipple mishaps if you were to go braless.
For intermediate wear, pair a fun colored lace bra with a loose button-down, or loose fitting tank top. Let just enough lace peek out of the top, or the armholes. This is my usual go-to, it's flirty and cute, but not too overdone.
If you're a certified sex kitten, pair a lacy bralette with a sheer shirt and voila! Your beautiful bra's get to see the light of day, and you still keep your classy demeanor.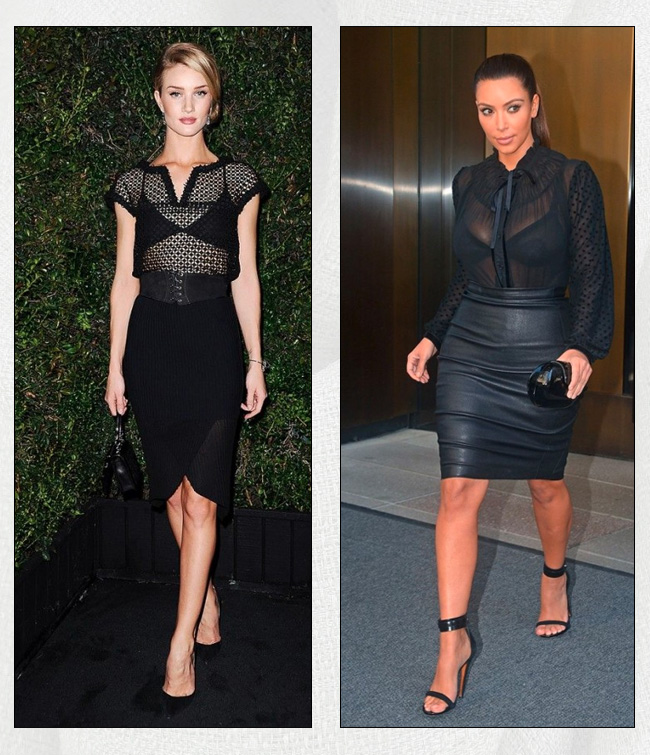 A few BnB Style tips to follow if you Dare To Bare :
1. Make Sure Your Bra Fits : If you're going to bare your bra, make sure the bra fits. It's the bra we want people to notice, not your cleavage runneth over. Keep it classy and clean.
2. Make It Looks Intentional : You don't want people wondering if you meant to do it or not. Never pair anything with your old laundry day bra. If you're going to commit, commit to class!
3. Dare To Bare Lace, And Don't Be Afraid To Match : A lace bra always looks the classiest. Don't pair a light bra under a dark top, it always looks like an accident. Matching your top and your bra, will make you look crisp and pulled together.
4. Pick The Right Occasion : A wedding, school, meeting the President. There is a place and a time for everything, use your head before you dare to bare your bra.
5. Don't Wear A See Through Bra Under A See Through Shirt : If you're going to try and pull this one off, people will wonder why you didn't' just save yourself the hassle and go topless!
Below, I've compiled a few of my favorite bra's to bare. From beautiful lacey bralettes to bra's with captivating backs, no matter how much skin you dare to bare, there's a bra for you!

Xx. Jadan Huter