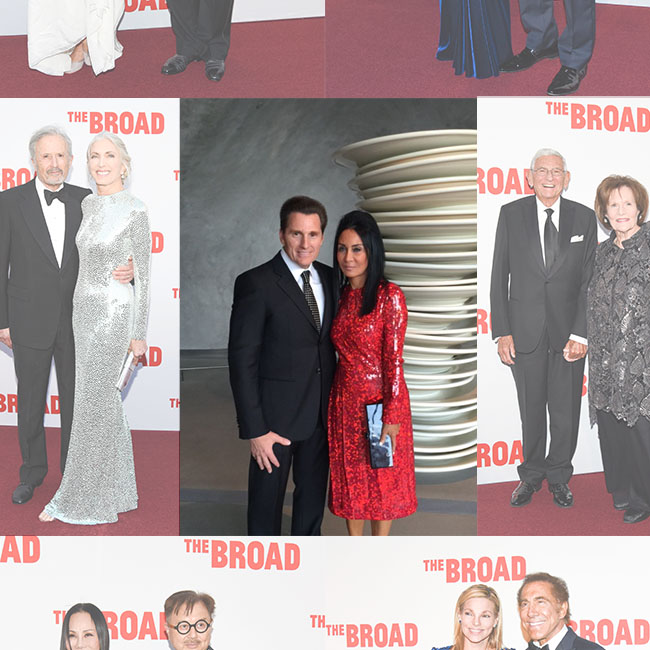 It was a double whammy inaugural celebration to toast the opening of The Broad Museum in downtown Los Angeles. Thursday and Friday night brought together a star-studded list of over 1,400 art patrons, artists, celebs, museum directors, gallery owners from all over the world, and moi to experience this special gift Eli and Edythe Broad have made to the city of LA. The highlight might have been Bill Clinton headlining Friday evening as the surprise guest and speaker. Clinton told the LA Times and the assembled revelers, "Giving this gift to people is a huge deal. I was thinking about the difference in always trying to change things in a big way and in trying just to make things better for people with the lives they have. It's really important, the idea of democratizing access to art."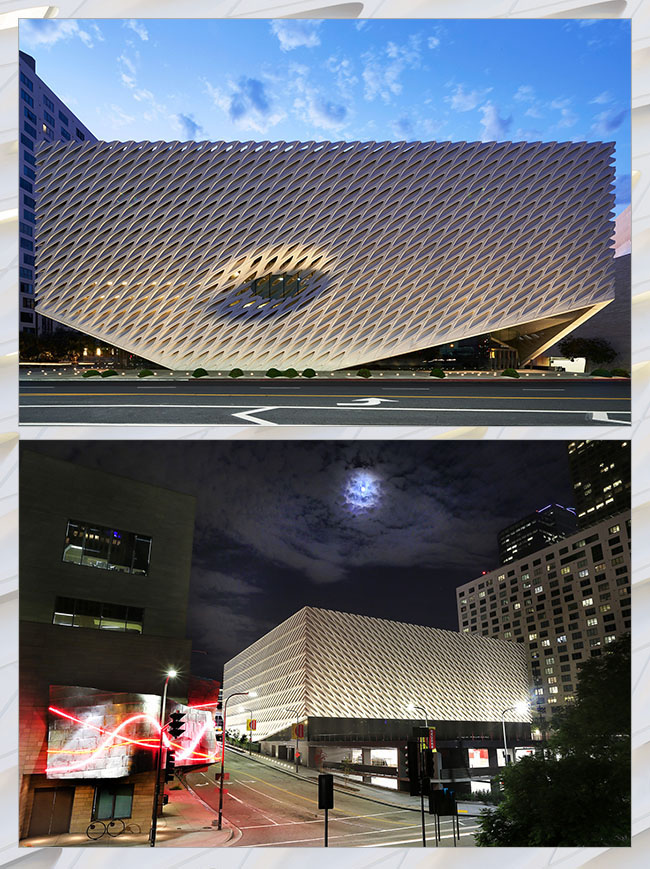 Costing over $140MM and showcasing over 2,000 works (not all at shown at one time) from the Broad's personal collection, amassed over the last 50 years, there have been mixed reactions from the press and art world critics. But, the Broads and lots of others are "Shaking It Off " as they seemed radiant on both evenings. Rightfully so. As Taylor Swift says, "The haters are going hate, hate, hate," and maybe they are just jealous, as some in the insular, elitist art world are referring to the museum as everything from "a large trophy room" to a "personal monument." I see it another way. It's a spectacular architectural tour-de-force with it's honeycombed facade of fiberglass-reinforced concrete. Particularly striking when fully lit at night, it's a monumental statement. I'm not alone. Former President Clinton, who was the special guest on Friday night, felt the same way. This is an opportunity to see great works of art from great artists of our time and not everyone has seen them or has that opportunity. Not everyone is so lucky to live the sophisticated life. Light bulb moment. That's the bottom line. Access, exposure, and education is everything. You need to start somewhere to broaden your horizons and life. And maybe, just maybe, it is ironic that the museum is named The Broad (even through it's pronounce brode) because it expands our understanding of the contemporary art world with a broad perspective.
This collection is a substantive catalog of relevant contemporary artists based on the Broad's taste and guidance from Founding Director Joanne Heyler. Over a 100,000 visitors have already booked their reservations to view the collection which officially opens on the 20th. So in the end everyone showed up (and it was by invitation only as you couldn't buy tickets) and it was an awesome two nights. Join me for a taste of the evenings and a quick tour. Book your advance reservation. It's time to celebrate. The Broad is redefining downtown LA, Grand Avenue, and a whole large chunk of the of the art world.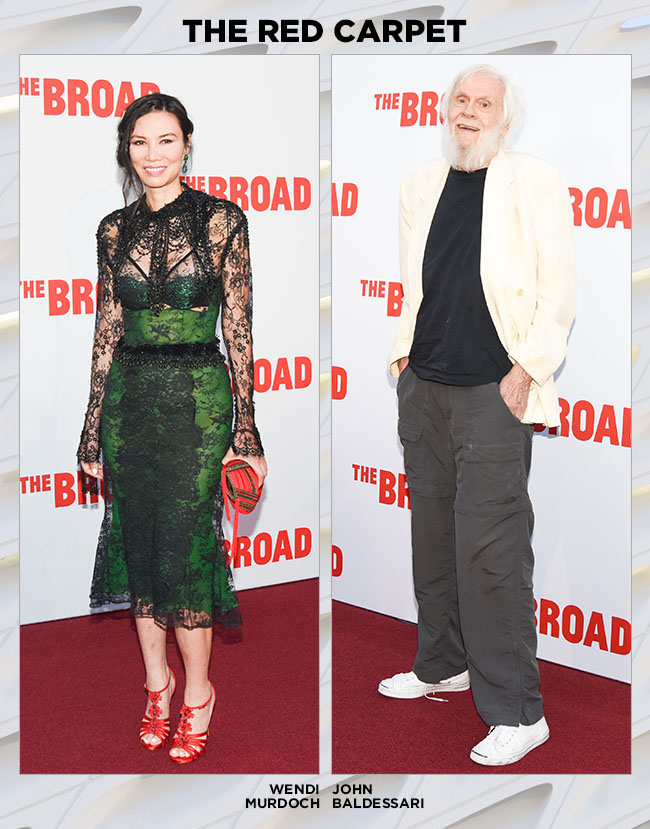 Everything starts with the Red Carpet and that was true both nights. But it wasn't about celebs as much as the art world so it was a fun, involved crowd (and you know the art community, they dressed as they pleased even if it was black tie and cocktail attire) from the patrons themselves, Eli and Edythe Broad (and Edye was the one who first introduced Eli to the idea of collecting and the art world) to artists Cathie Opie, Jeff Koons, John Baldessari, to the likes of Gwyneth Paltrow, in a subdued Monique Lhiullier white and black ensemble. Fashion note. Long pants are back. On night two, celebrities in attendance included Reese Witherspoon, Matthew Perry, LeVar Burton, Fran Drescher, Heidi Klum, Tim Allen, Larry King and Michael York, among others.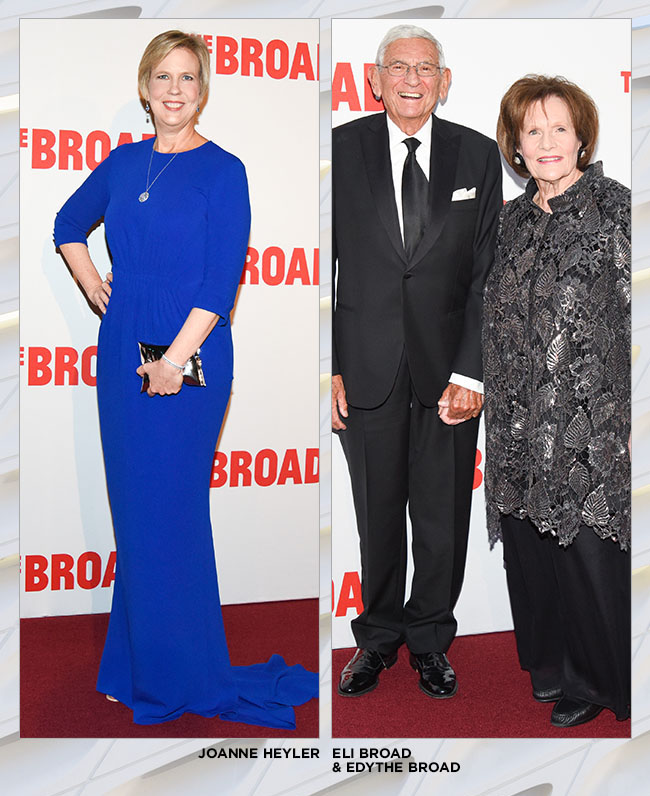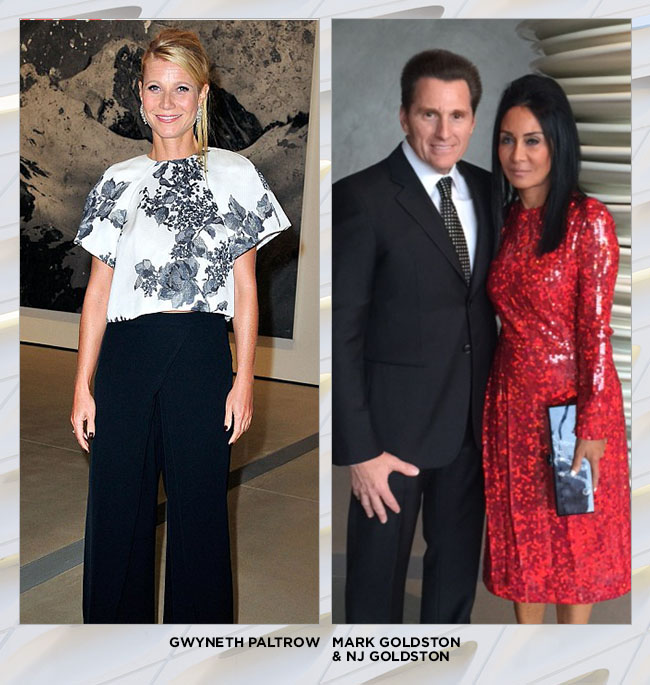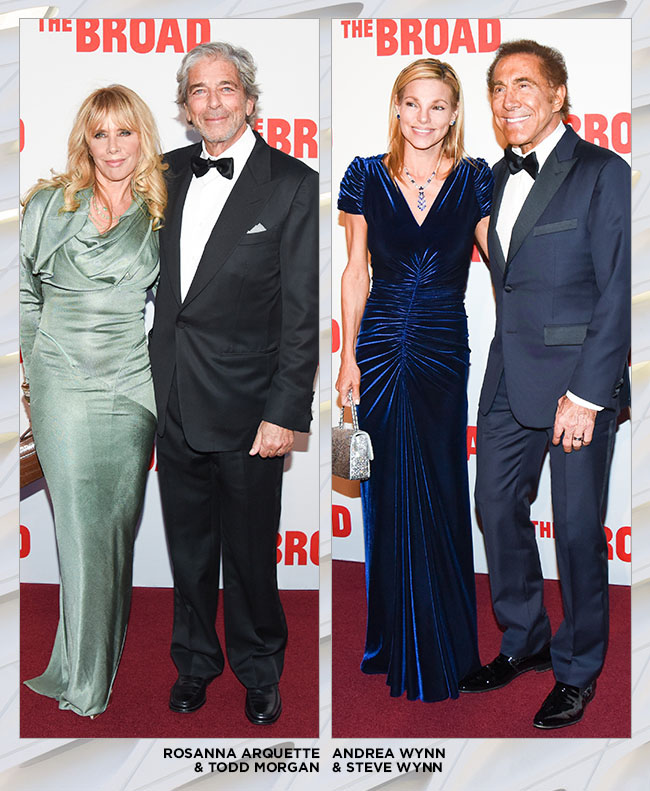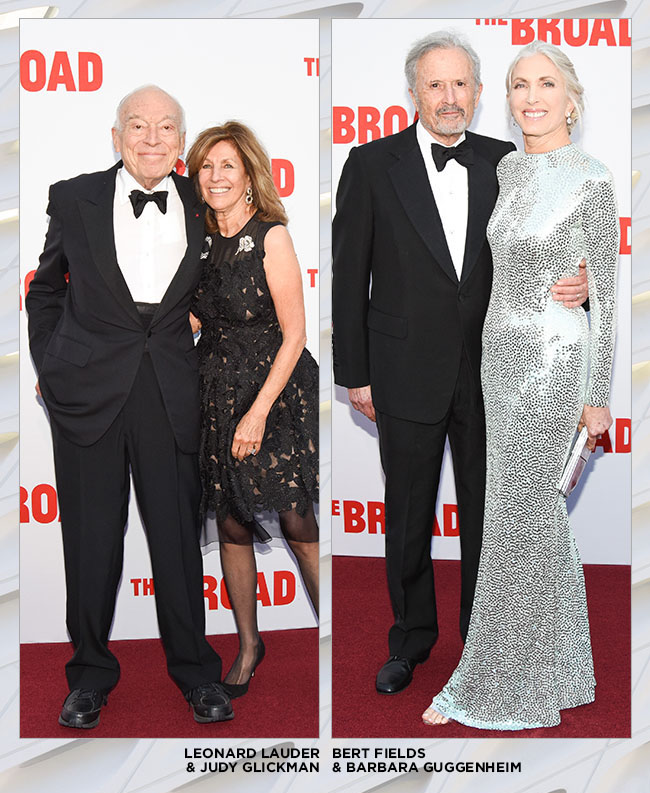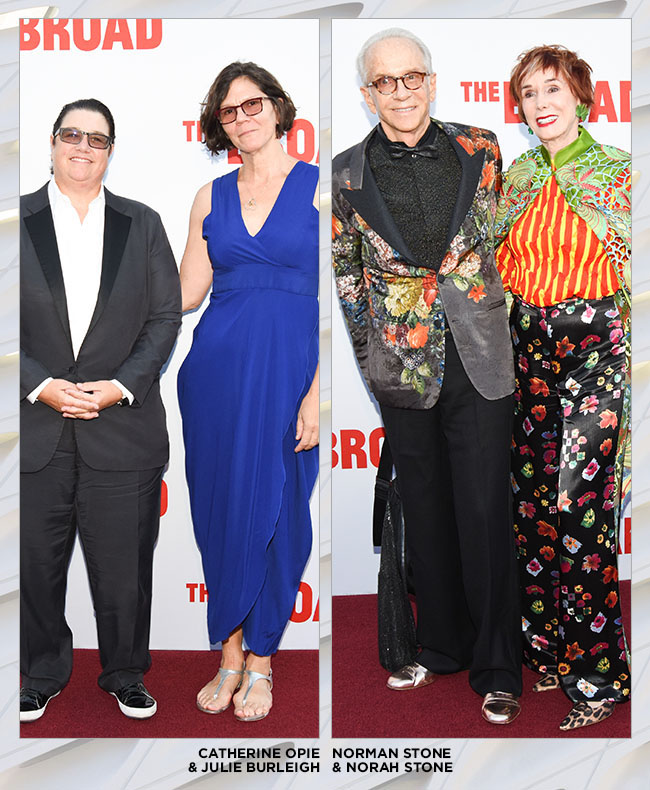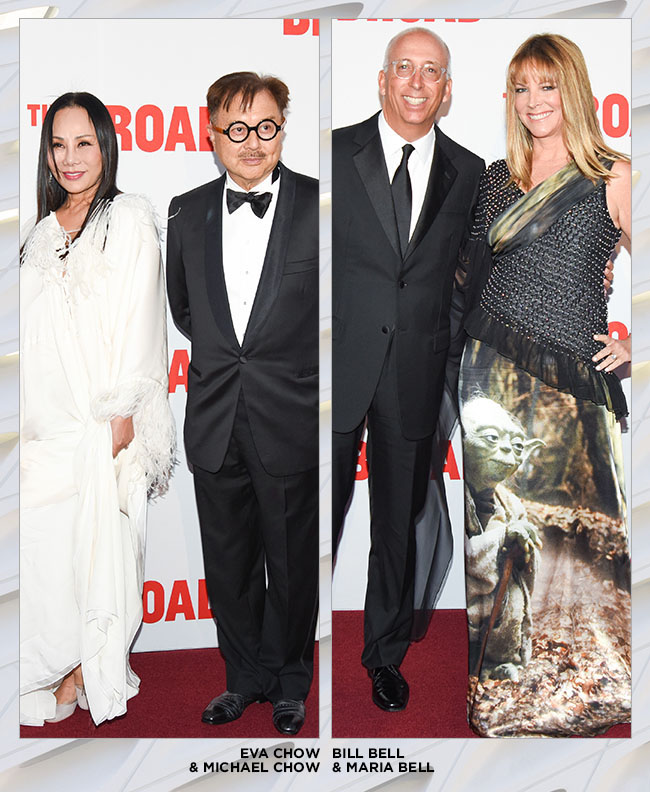 Even though the night was really about the art, I must gush for a minute about my simmering red iridescent, sequinned Nina Ricci from the Fall 2015 runway. I was inspired by the red logo for The Broad and the celebratory nature of the event and thought it might be the perfect statement dress. I accented it with my bespoke "NJ" Edie Parker clutch as it felt very pop art to me. Note to self. Wear color more often. In fact, Edye Broad said to me when we greeted each other, "Your dress is an absolute work of art! " Thank you, Edye.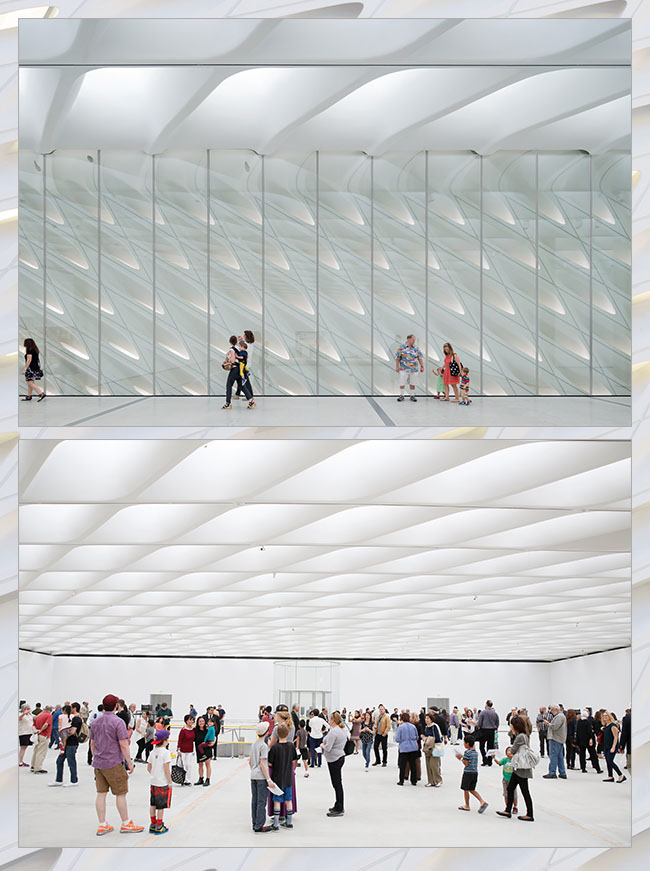 Then it was on to the galleries and the tour. We deliberately arrived precisely on time so we could lesiurely tour The Broad. We started on the skylighted third floor and recommend viewing it first if the light is getting low. We made our way through separate galleries for the likes of pop artists Jeff Koons and Andy Warhol, to a clutch of amazing artists from numerous works by Cy Twombly, Jean Michel Basquiat, Ed Ruscha, Jasper Johns, Roy Lichtenstein, Mike Kelly, to Ellsworth Kelly, and Mark Bradford—and that's just scratching the surface.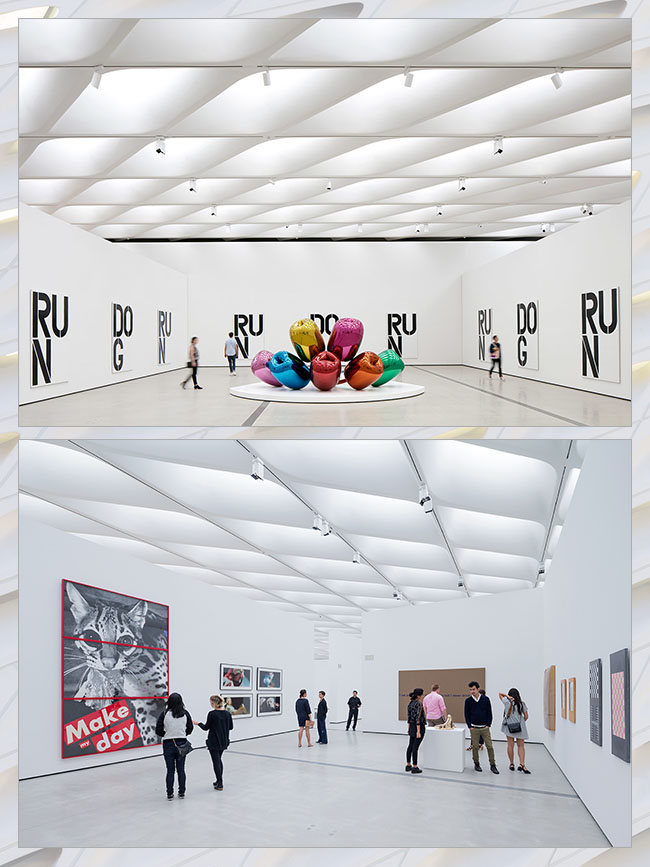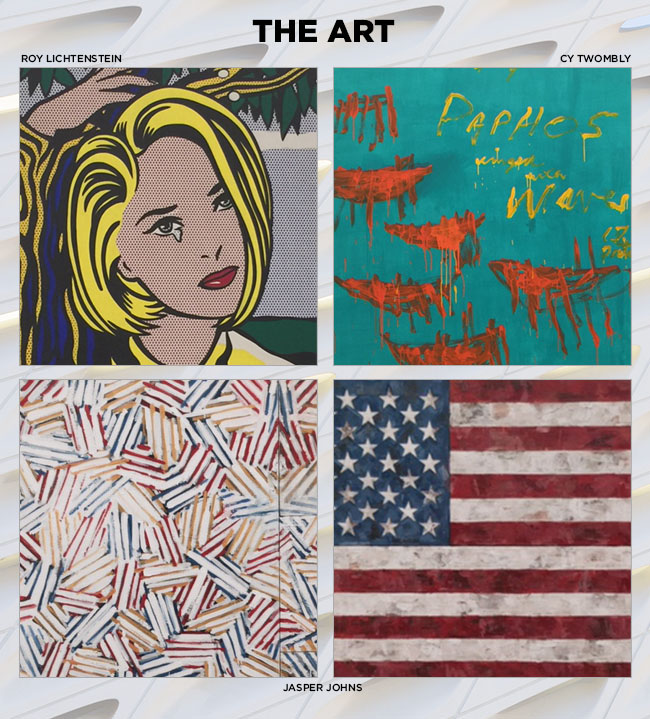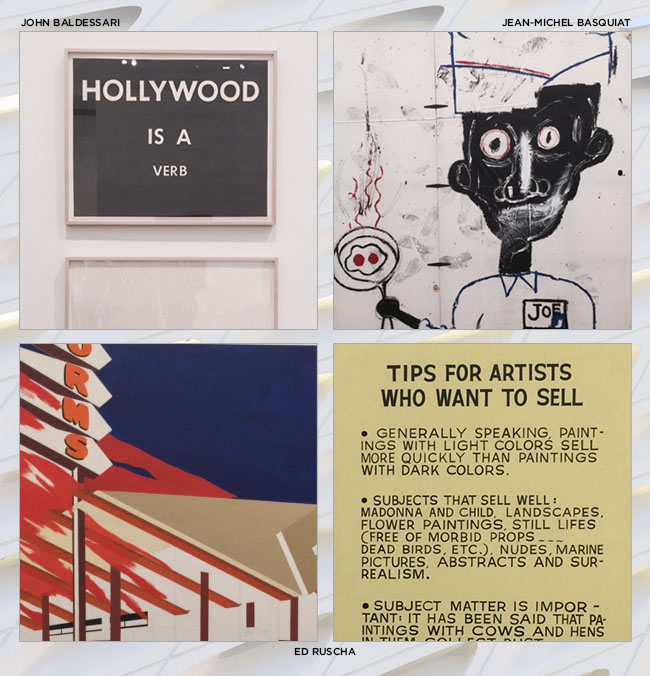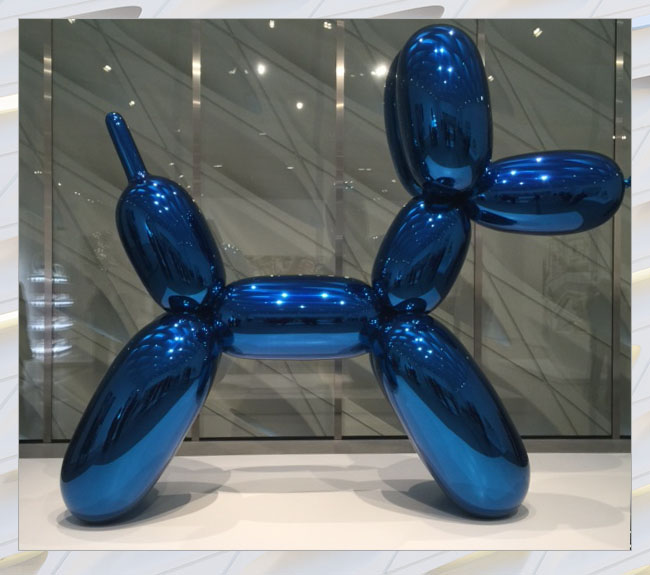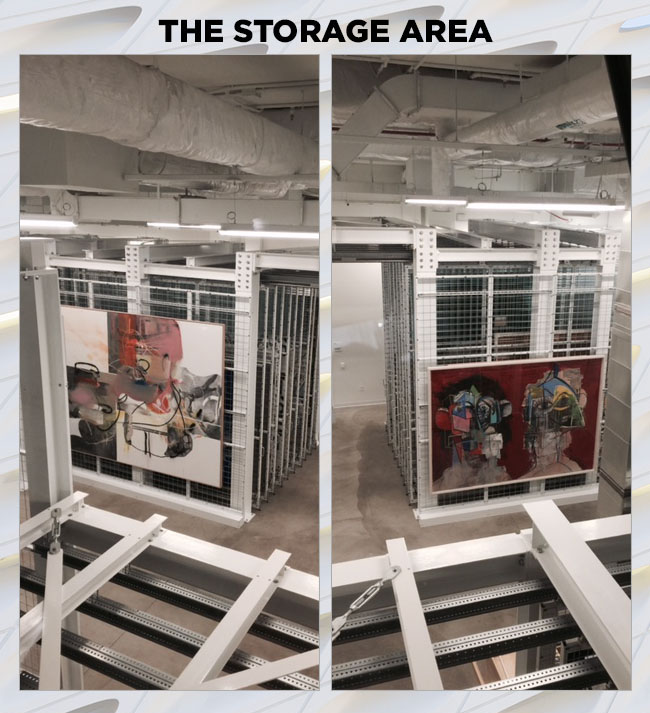 We then made our way down past the "storage area", which is the genius idea that helped win the architectural firm Diller, Scofidio and Renfro the commission,. Then it was down to the first floor where there was a long line and we waited out turn, to view Yayoi Kusama's "Infinity Mirrored Room — The Soul of Millions of Light Years Away," which only one guest may enter at a time. The room houses an endless-appearing LED light display. It was worth the wait. No worries. When you visit, you will not have to wait in line to see the mirrored room after the museum opens. Guests will simply sign in and then, five minutes before your turn comes up, you'll be alerted by cellphone.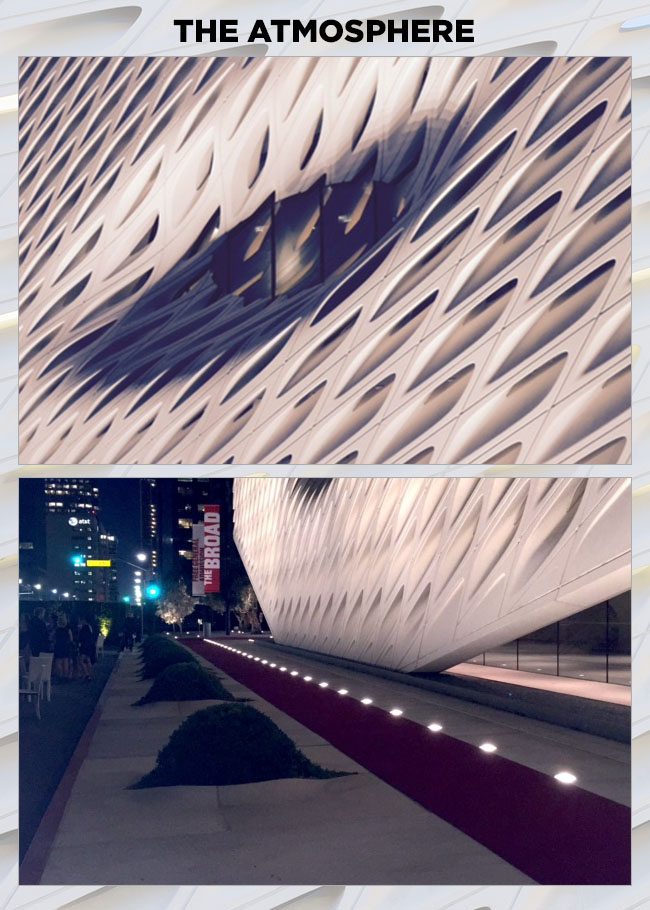 Then it was on to cocktails at a beautiful bar outside on the museum plaza. We then made our way across a lit red carpet across a closed Grand Avenue to a spectacular tent (if you can call it that) more a handsome structure for the seated dinner. Guests both evenings were treated to dinner and entertainment, beginning with a 49-piece band (assembled just for the inaugural celebration and playing everything from the theme to The Godfather to Dave Brubeck's "Take Five" and I personally wondered if this was Eli and Edye's personal playlist). Guests were treated to a stunning evening landscape in the elevated glass structure with surrounding views of arts venues from the Walt Disney Concert Hall to MOCA.
No detail was missed down to the deep grey flannel table cloths and accented by silver and white place settings which matched the color scheme of the Broad invitations. We had spectacular seats near the stage. Another thank you to Eli and Edye. However, the true genius was in the whimsical centerpieces inspired by Edye's Broad's interest in pop-up books. Cut-outs of all the major cultural sculptures where individually lit and elevated down the center of the tables. Guests then feasted on chilled melon soup and a fish course of grilled cobia with "beet, horseradish and 'everything bagel' topping. Wines were generously donated by Maurice Marciano and desserts provide by Wolfgang Puck.

Then the surprises. Former President Clinton was introduced and spoke saying, "Eli Broad walked into my life more than 30 years ago, and he and Edye have been great friends to Hillary and me virtually ever since," he said. He added that the museum is "a gift for those who believe that ordinary people of modest means still have dreams and imaginations … they want to feel what you feel when art fires your imagination."
"Try to imagine the kind of people who will pass the building, go in, see things that would otherwise never have encountered. In the end, that is the greatest gift," Clinton added. "So I ask all of you to join me in a toast to Eli and Edye." We all did to a standing ovation. Then the curtains drew back once again to reveal Chrissy Hynde. The night was young and we all rocked on.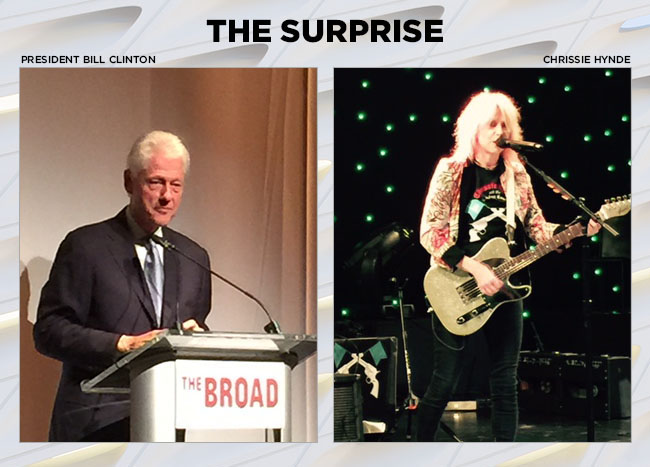 Thank you to Eli and Edythe Broad for this special set of evenings and this special gift to the city of LA. To visit, just click on our link to The Broad to book your reservation or browse the collection online. Finally, don't forget to head on over to MOCA, right across the street, after you visit The Broad. LA life and downtown has just been transformed. Join the celebration.
With Love From The Broad,
NJ Goldston, The Brunette
Photo Credits: Owen Kolansinski/BFA.com and NJ Goldston, The Blonde and The Brunette