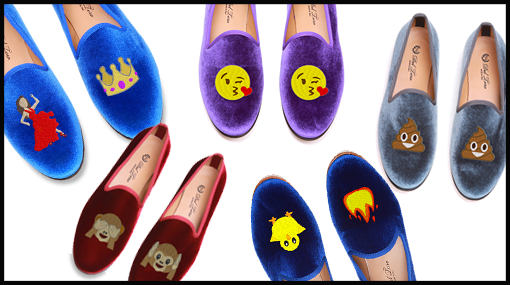 It's a fact, everyone with an iPhone has a favorite emoji, or maybe even a top five. That little cheer team that you put under every Instagram photo, the classic kissy face in reply to a sweet text, or the heart eyed kitty cat when you see something you love. They basically express your emotions for you, without you having to use words. Now, instead of keeping these emotions locked up on a keypad, you can wear these emotions or rather… emoji's, on your toes!
Wondering who put this clever collab together? The Miami-based shoe pros Del Toro have done it again by teaming up with Moda Operandi for an exclusive summer 2014 pre-order.
If you missed the exclusive online Trunk Show, we thought we would give you one last chance to order. Reach out to Moda Operandi stylist Rachel Bowens and let her know which pair makes you oh so emotional.
Xx. NJ Goldston, The Brunette & Jadan Huter