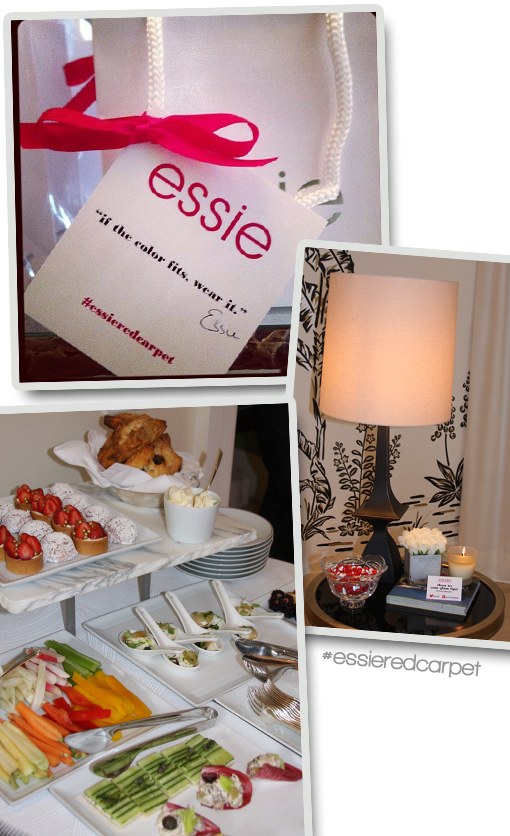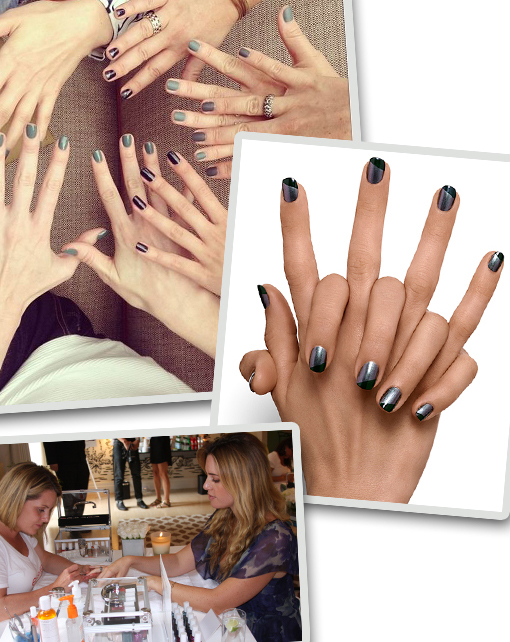 Hands down the Essie Emmy Awards Suite is always our favorite. This year, Essie took over the poshest suite at the Bel Air Hotel and transformed it into a glamorous indoor/outdoor nail salon. It's LA. Why wouldn't you do that. By invitation only, celebs arrive in the AM to be privately pampered by a crackerjack team of Essie manicurists. Next up, select beauty and fashion editorial guests gather for their appointments, champagne, afternoon tea (and we ate two of the most delicious macaroons we've ever tasted), mingle with all the guests, and get to know the Essie team, who fly in from New York. How else are we going to get all our nail scoops all year long?
How It Works: With every color and look available, this is the time to experiment or dive into the new Essie Fall 2013 Collection. Textile-inspired, the Fall 2013 collection colors take cues from rich flannels (and so right-now plaids) for day and hints of lace for evening— piling on the luxe and amping up the chic. However, because the Emmy party circuit and Red Carpet is so demanding (meaning your polish choice has to do triple or quadruple duty), most of us played it a bit safer and experimented more with shades than designs.
Naturally I went with Essie in Blanc (no surprise!!) but added a matte topcoat which is the hottest trend. I'm actually wearing lots of white to all the Emmy parties this weekend (no black for me). Kathryn, who loves to experiment, went with Vested Interest. This seemed to be one of the favorite colors of the day along with Cashmere Bathrobe. We also overheard guests commenting about "The Lace Is On" and "Twin Set" as two of the prettiest shades of pink and red ever created. Another group choose "For The Thrill Of It" as a glamorous neutral. Party-goers and celebs wearing cobalt blue or black loved "After School Boy Blazer." I'm guessing, they'll be wearing lots of diamonds with that color.

While we waited for our nails to dry, we grabbed Essie red lollipops, had lots of fun in The Digital Photo Booth (I vamped it up it up with Michael), exchanged nail ideas and grabbed more sweets including red & white Essie M & M's. We finally had to make our goodbyes and loved receiving a goodie bag with the entire Essie Fall 2013 Collection. To grab your own collection, go online to Essie and use their easy store locator tool.
A very special "thank you" to Essie for the "Thrill of It All." Now let's see what sensuously seductive lacquer looks we spot on the Red Carpet.
With Love From LA,
NJ Goldston, The Brunette and Kathryn Lebowitz, The Blonde