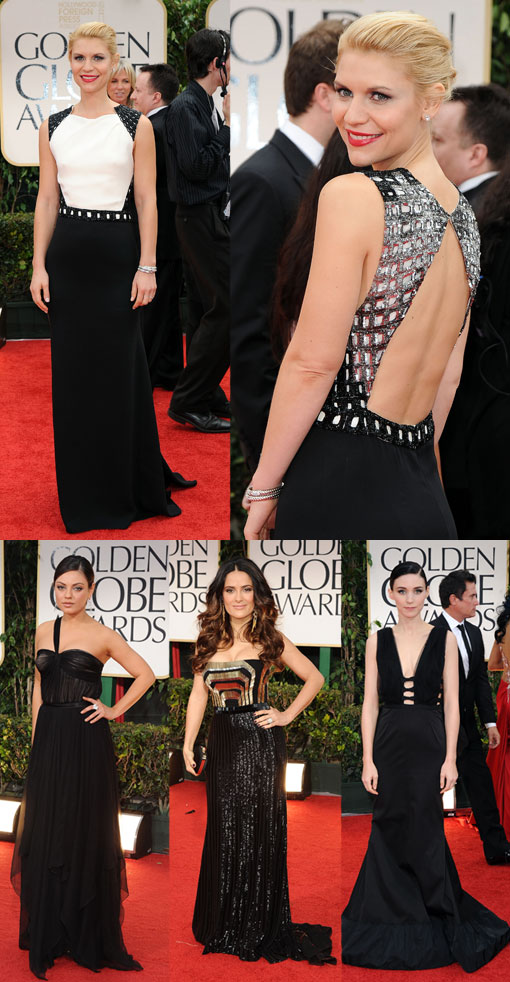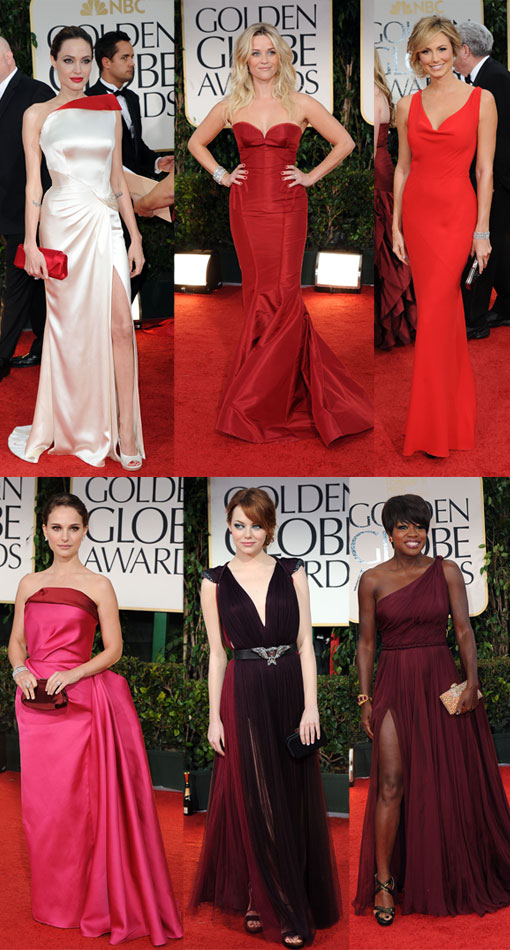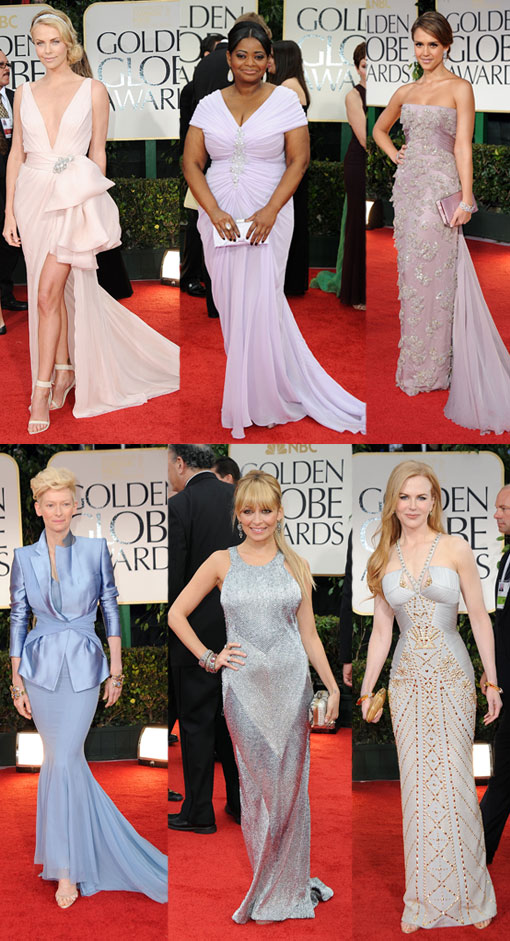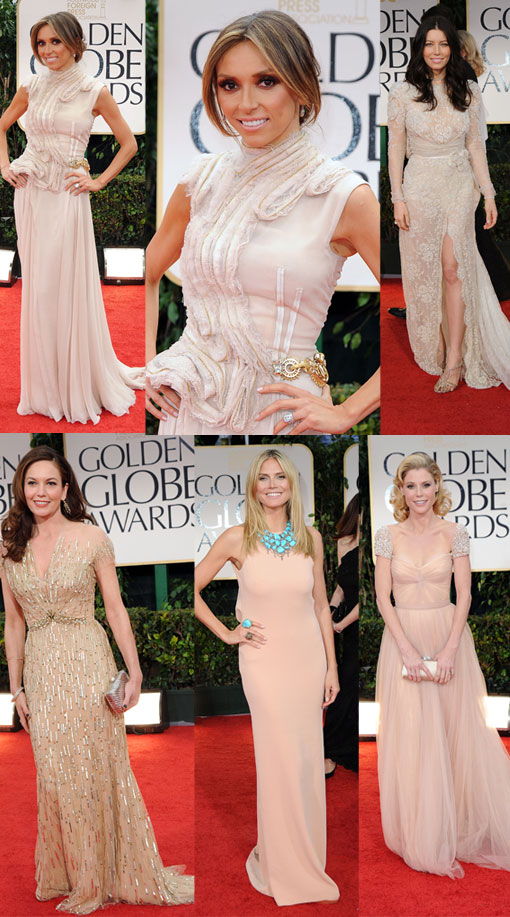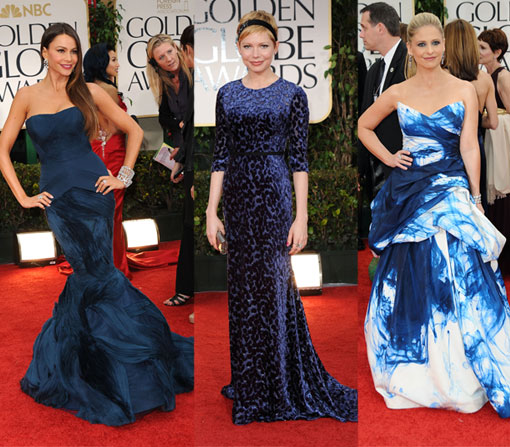 Last night at the 2012 Golden Globes Red Carpet there was a stunning array of gowns and The Blonde and the Brunette had a hard time selecting our favorites but we must pat ourselves on the back, just a bit, because we are pretty spot on with our predictions and the color choices for the evening. We rallied around choices that included dramatic or embellished black gowns worn by Mila Kunis, Selma Hayak (in Gucci of course since her husband owns the company) and Rooney Mara (in Nina Ricci and we love this gown. Love it.) to Claire Danes in black and white J. Mendel. Designers have upped their game in the once staid, tried and true option of black, as a new crop of gowns and creative visionaries are transforming the former Red Carpet "don't" to a strong elegant "do" (especially since tabloid magazines often won't publish photos of actresses in black gowns as it is considered "b-o-r-i-n-g"). Not anymore.
Other Golden Globe standouts included jewel tones in red worn by Reese Witherspoon and Stacey Keibler, and probably the dress of the night was the Versace white with red satin flap accent worn by Angelina Jolie, (and by the way there is a similar gown by Givenchy in black velvet with a red flap from two seasons again that I always adored), blushes (if you have the prefect skin tone and perfect is the key word) with Charlize Theron in a divine Dior and Giulana Rancic looking radiant. Everyone from Jessica Biel, Heidi Klum, Nicole Kidman and Nicole Ritchie selected variations in this shade including Tilda Swinton and Octavia Spencer in soft lilacs. Emma Stone (in a flowing purple and fushia Lanvin goddess gown with the signature eagle belt from the Spring Collection) and Viola Davis (in Emilio Pucci) wearing a rich shade of burgundy and Natalie Portman looked fresh in her first Red Carpet appearance since the birth of her baby. The Pre-Fall, hot pink Lanvin with red accent did all the talking.

One more note on the wide, beautiful array of lilacs, many beautifully embellished, we were puzzled that Jessica Alba's Gucci gown, being one of our favorites, didn't receive more kudos from the supposed fashion experts. Thoughts? Changing gears, several striking deep blue (more jewel-toned) gowns also caught our attention including the dramatic Monique Lhueiller "paint splashed" gown from her Spring collection worn by Michelle Geller, Sophia Vergara in a great mermaid Vera Wang gown (oh that figure and her smile which is the best accessory ever) and Michelle Williams playing it safe but elegant in what appeared to be a crushed long-sleeved blue velvet sparkly Jason Wu sheath.

Paula Patton looked radiant in her sunflower yellow gown and the emerald green contingent was beautifully represented by Zooey Deschanel in a one-of-a kind Prada gown (and they rarely make gowns so this was quite a coup as Prada very infrequently dresses anyone for the Red Carpet but Zooey must have a powerful stylist or fit the demo they are after; wait on second thought, they are gearing up for The Met Red Carpet when Muiccia Prada is getting honored this Spring) and Evan Rachel Wood presented another option in this color family with a magnificent crystal and peacock feather plunge-neck dress.
Since The Met McQueen Costume Institute Event event last year there has been a distinct trend toward long fishtail trains for big Red Carpet occasions. I like it. Some elite fashion writers don't care for it, but isn't the Red Carpet for drama? The key is not to go too ballgown with a big wide skirt and lose that youthful look. Jewelry (and it seems like the year of the diamond versus lots of colored stones) was a mix of bold statement earrings with the simpler gowns or one bracelet on a wrist with two different and large diamond ones combined on the other arm. Jeweled, skinny, pseudo-tiara-like headbands bands were also a great choice. Satin clutches or stone-encrusted ones seemed the right way to go. For a style tip, remember the simpler the dress the dressier the bag and the dressier the gown the simpler the clutch.
This was one of our favorite Red Carpets in a long time. Tell us your personal favorites. You know we love to gossip!
xo
NJ Goldston, The Brunette & Ashlee McNulty, Brunette Contributor