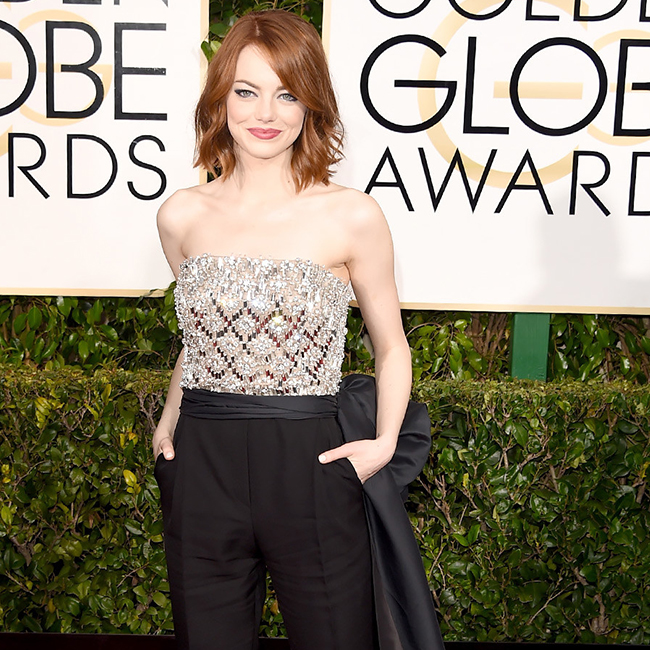 Finally! How exciting to see a Red Carpet where actresses decided to take some risk and it paid off. Emma Stone led the group with a stunning Lanvin jumpsuit and we saw a strong assortment of tea lengths, new shapes, Lorde also in pants but with a cropped top, and an stunning array of less traditional column gowns last night on the Golden Globes Red Carpet. In fact, it was one of the most showings of recent memory but I still think there's plenty of fodder for the newly revamped E! Fashion Police. First, you gotta have the bod and most of these ladies do including beautiful spray tans (many acquired at Portofino in Beverly Hills). I won't say who I spotted there late last week.
Our Best Dressed list includes a slew of great gowns from Jennifer Lopez in a caped, beaded Zuhair Murad (and her hair by stylist Lorenzo was as amazing as ever), Sienna Miller in Miu Miu, Allison Williams in Armani Privé (and the house carefully selects their celebrity mannequin), Emma Stone in an attention-getting custom Lanvin embroidered crystal strapless jumpsuit with black pant, and dramatic black taffeta sash at her waist, Julianne Moore in a one-of-kind Givenchy Haute Couture covered in silver and feathers, Jessica Chastain in Versace, perfect with her skin tone.
Other favorites included Kate Hudson, Selma Hayek and Reese Witherspoon all in contrasting white and sequined gowns that were both figure flattering along with Alma Clooney looking exceptionally elegant in Dior Haute Couture. She even wore her own white kid opera gloves, which I am not sure worked, and the best and most important accessory of the night-not George and apparently she was looking quite bored during the show-but her "Je Suis Charlie" pin attached to her Dior evening clutch. We also spotted lots of sultry waves and along with my signature "bump" on Jennifer Lopez. Also, diamonds and chandelier earrings seemed to be a girl's best friend last night. Big jewels are back! But, the most important message was about taking a style risk and we loved every moment.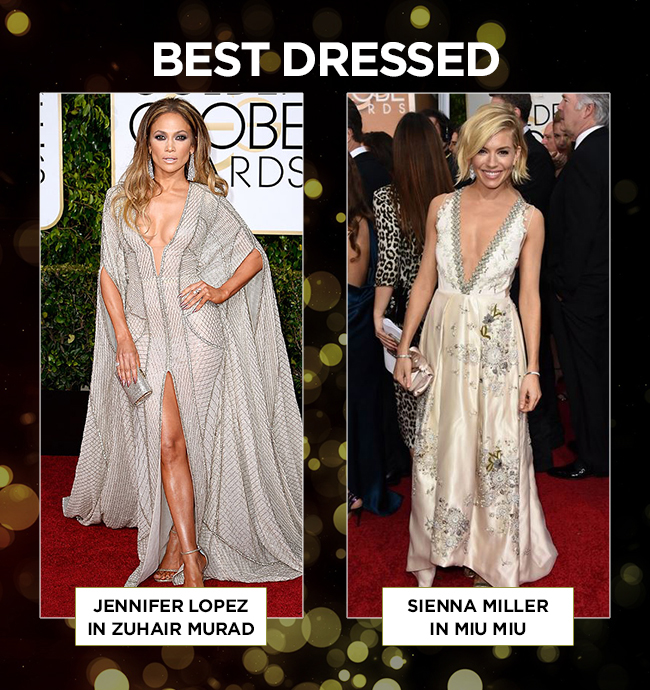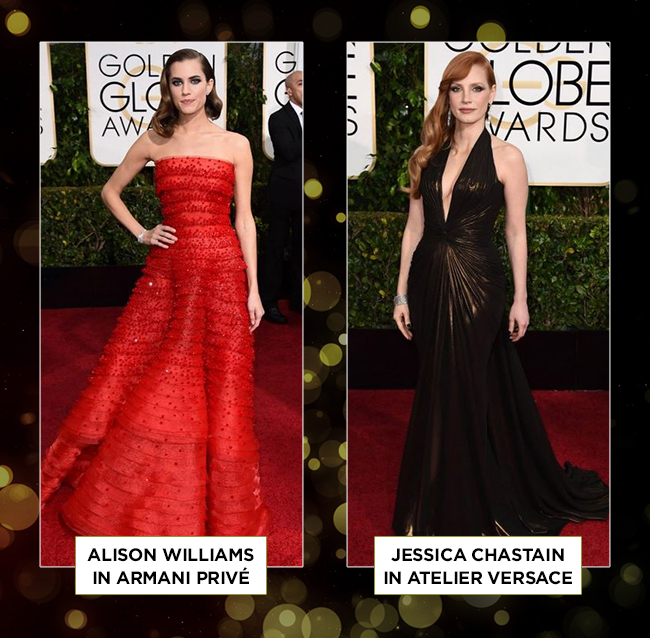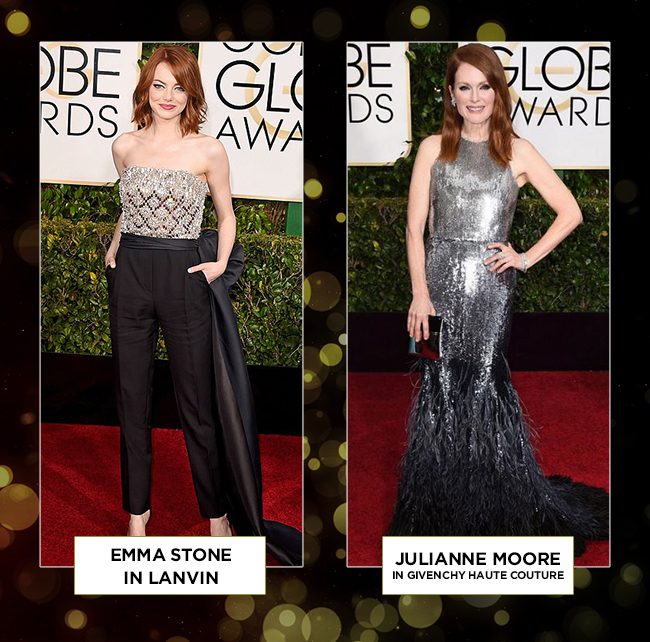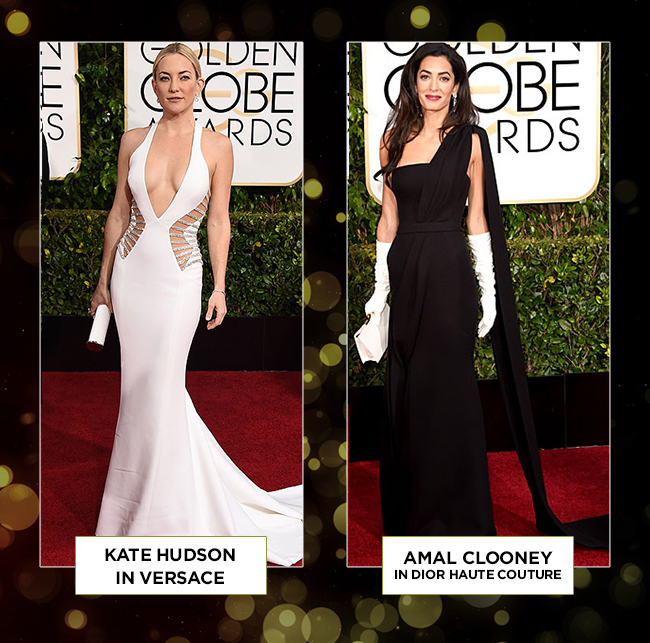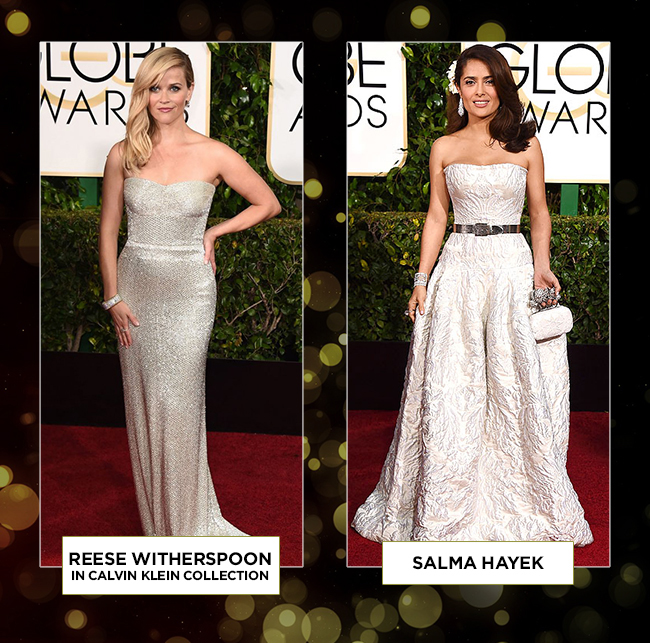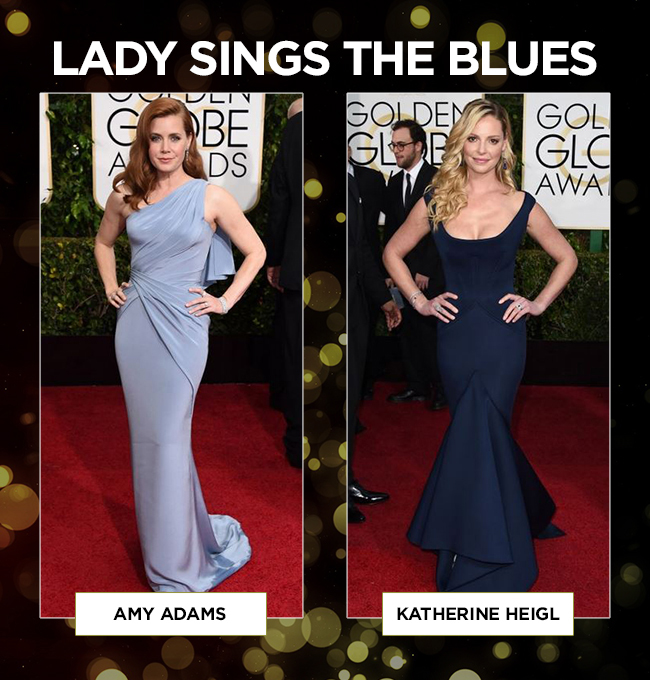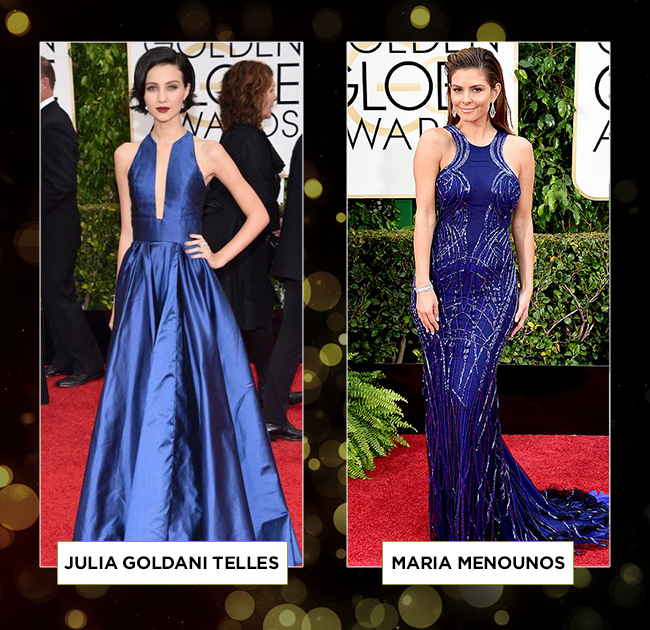 As expected, blue gowns in varying shade hit the Red Carpet and other than Golden Globe Winner Amy Adams in a single shoulder Versace bedecked inTiffany jewels and Katherine Heigel in Zac Posen, it was not a generally flattering color for Maria Menounas and Julia Goldani Telles from "The Affair." Actually it was their gowns. One looking looking a bit like satin drapes (but I really didn't dislike it as much as others) and Maria's more suited for a Vegas club.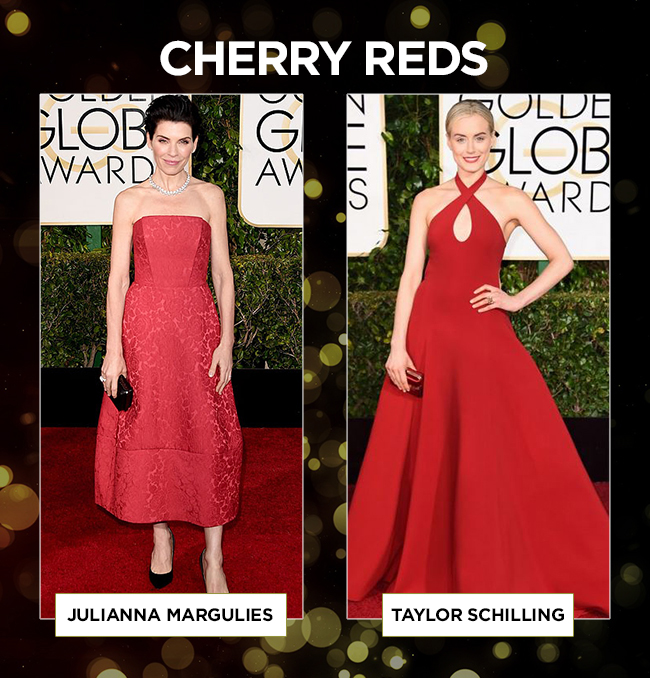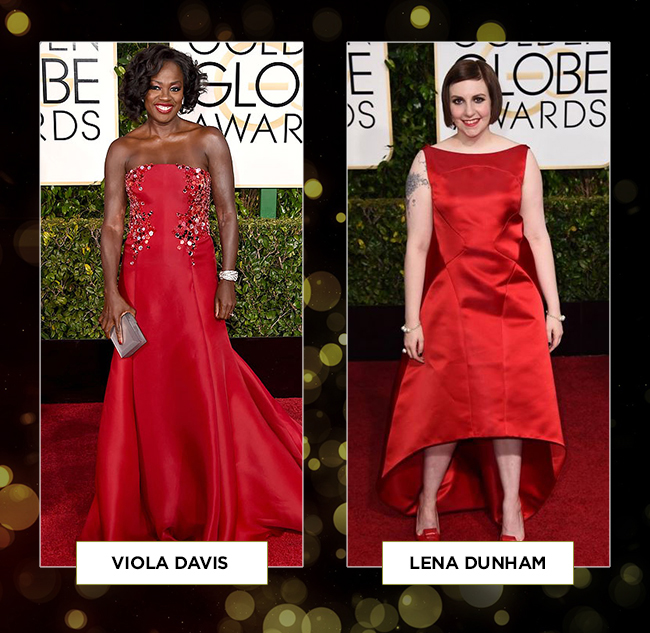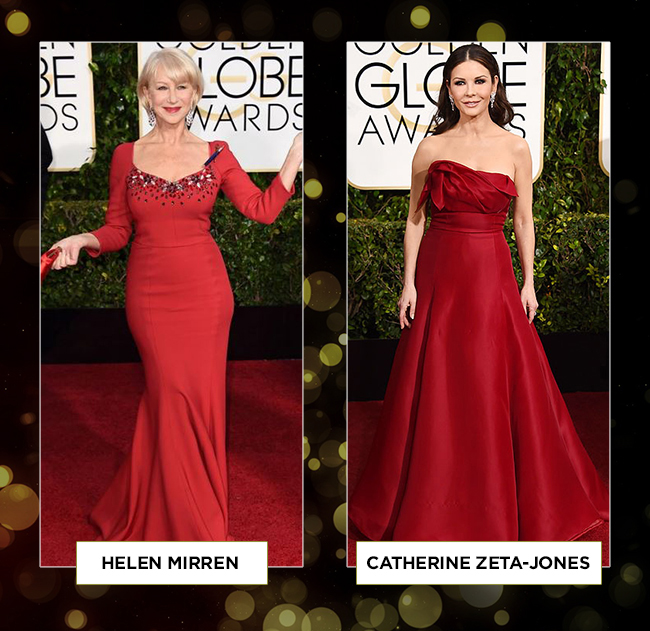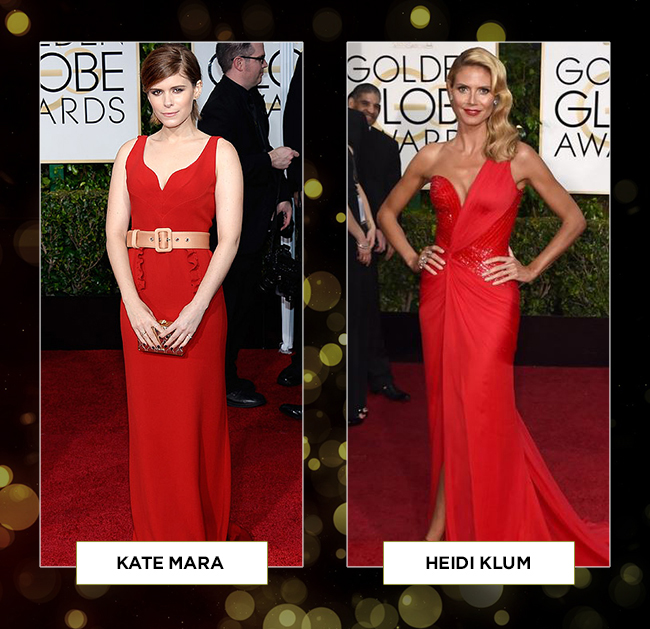 The fashion gurus, including myself, didn't think we'd see so much red again. But, we we all wrong. It was just a shade adjustment to cherry red. This bevvy of beauties proved once again that red does stands out on the Red Carpet. This time we saw more looks with sweeping trains, jeweled bodices, and even Lena Dunham pulling off a high low hem. I was disappointed with Kate Mara. I normally love what she wears but the simple column Miu Miu dress with ruffles and the satin belt seemed all wrong. I know Mrs. Prada will disagree.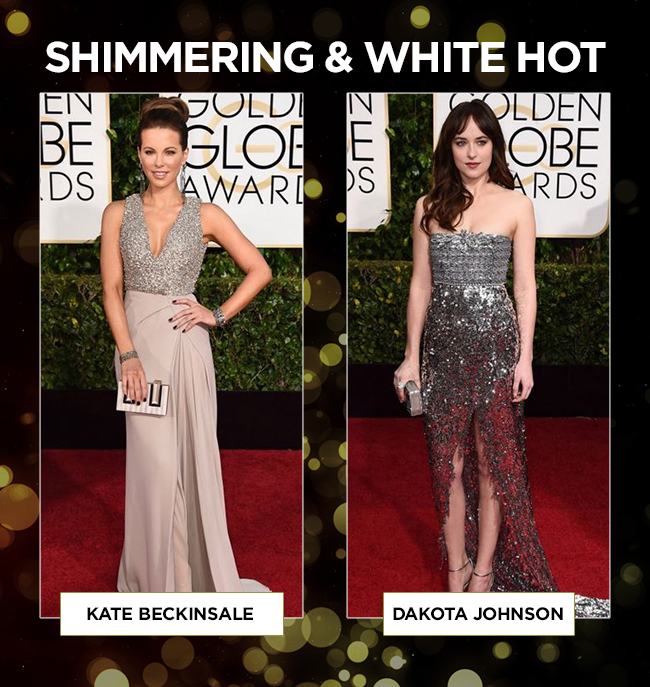 I didn't see the move towards so many silvery and white gowns coming but on second thought, the stylists all tapped into Spring collections. This was so obvious, I missed it. Emily Blunt wore one of the best of the night but the trend toward shimmery, disco ball dresses was beautifully done by Dakota Johnson in Chanel Haute Couture, Kate Beckinsale and Diane Kruger. Did I mention I love almost anything that sparkles. It was exciting to see this look take off tonight.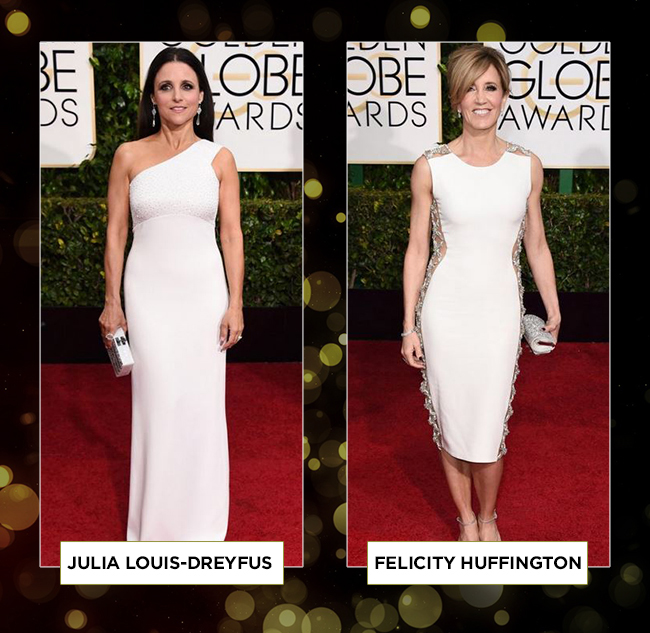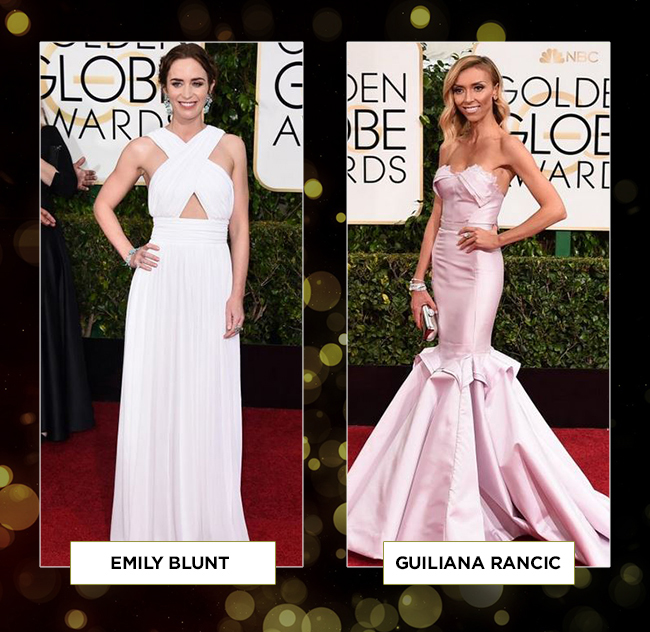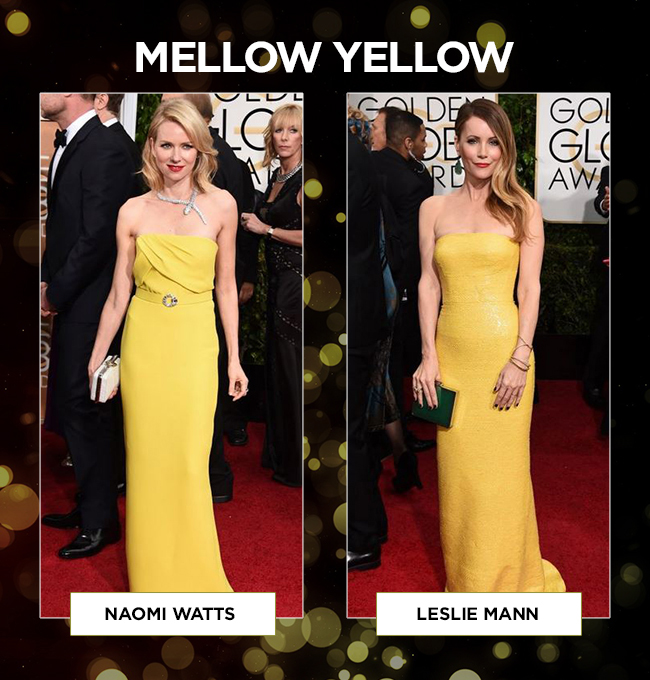 I've never been a big yellow fan because it's a hard color to wear but Naomi Watts and Leslie Mann matched the right shades to their skin tones and once again great jewels pulled the looks together.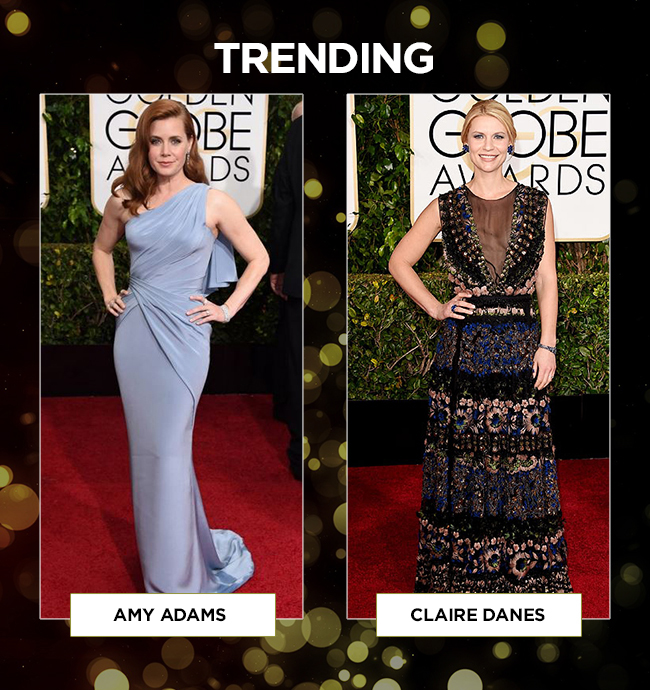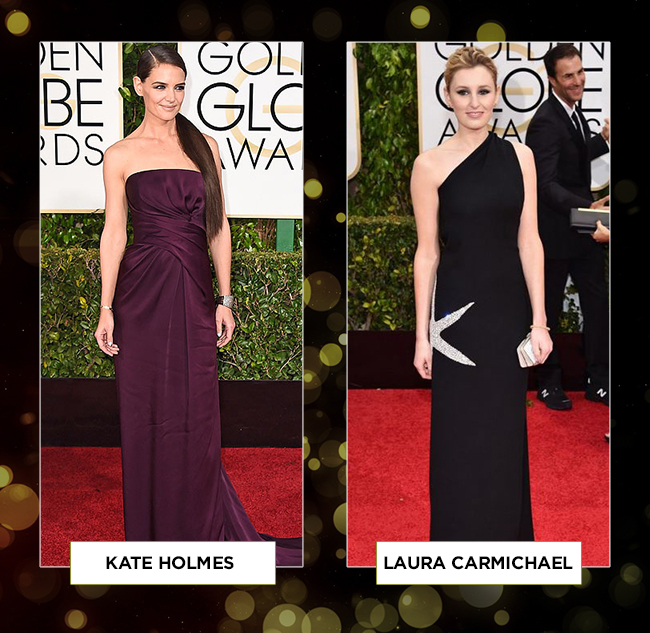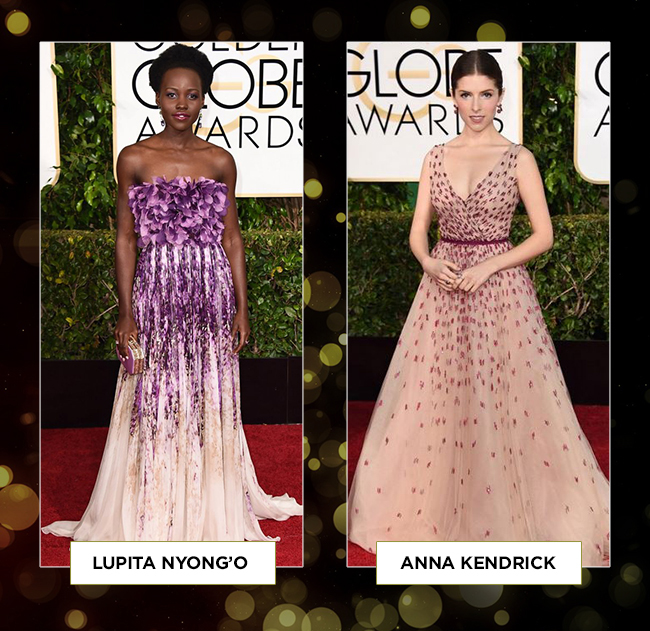 A quick note on a few trends. One shoulder and strapless column gowns arrived in force along with a drop of plum, Lupito Nyong'o in a dramatic floral number, and a smattering of feathers. Claire Danes' Valentino gown was a winner on the fashion runways but not tailored to her body. Too bad. It could have really worked with just a touch more effort.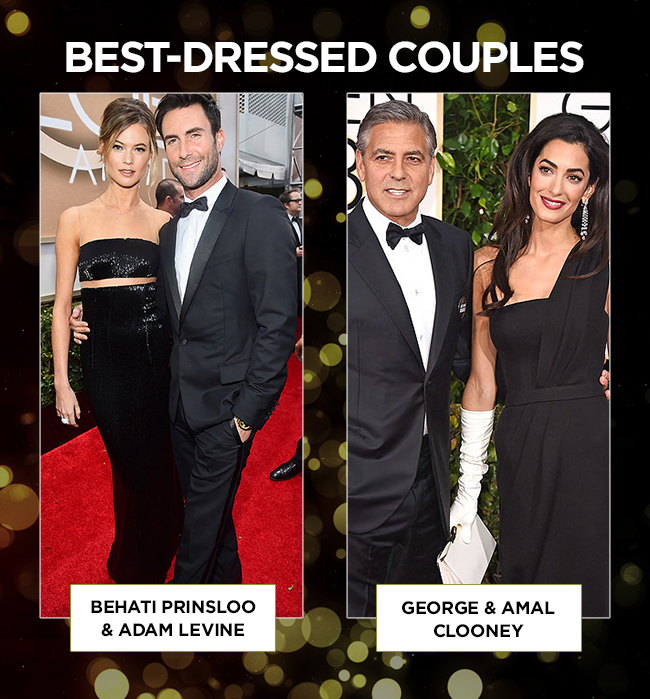 The two best dressed couples of the evening were Behati Prinsloo & Adam Levine, and, of course, George and Amal. You can almost never go wrong in a black gown when your fella is in a tux.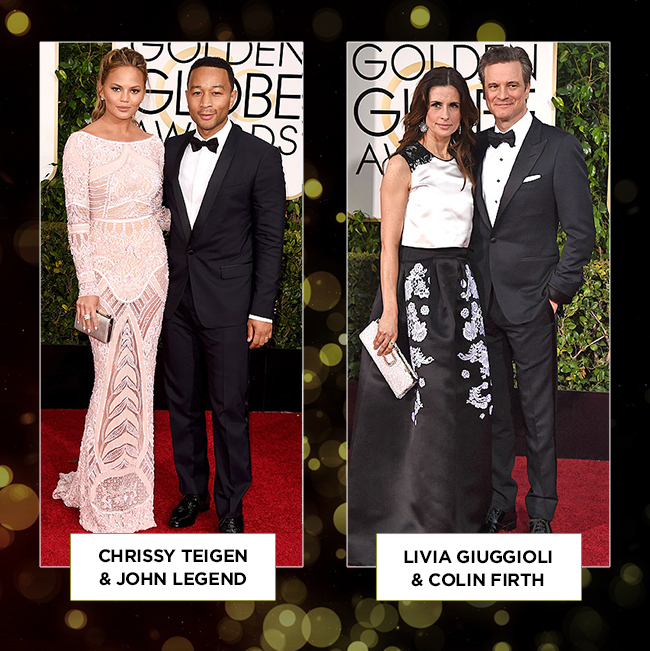 Some of our other favorites included couples we know are in love from Chrissy and John (and she cried when he won), Colin and Livia, Matthew and Camila, Tina & Amy (they can do no wrong in my book including joking about Bill Cosby on the show) , Justin and Jen, newlyweds Eddie Redmaynee and Hannah Bagshaw, and the adorable Anna Farris and Chris Pratt.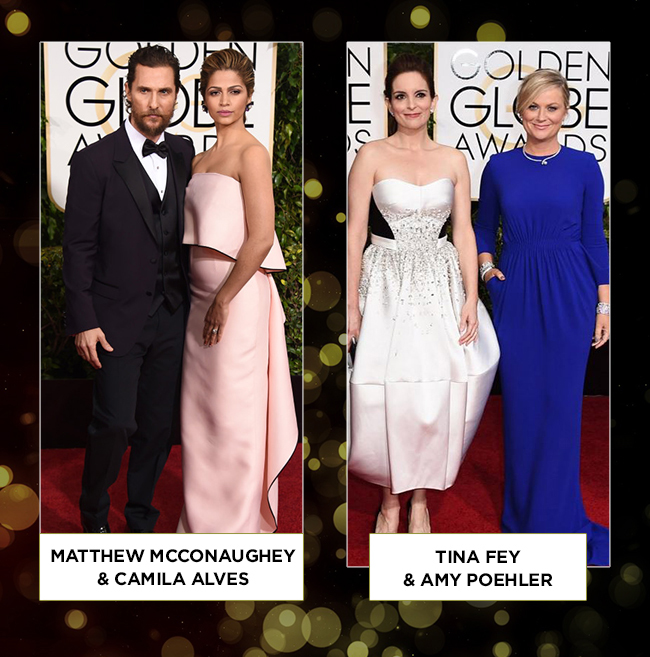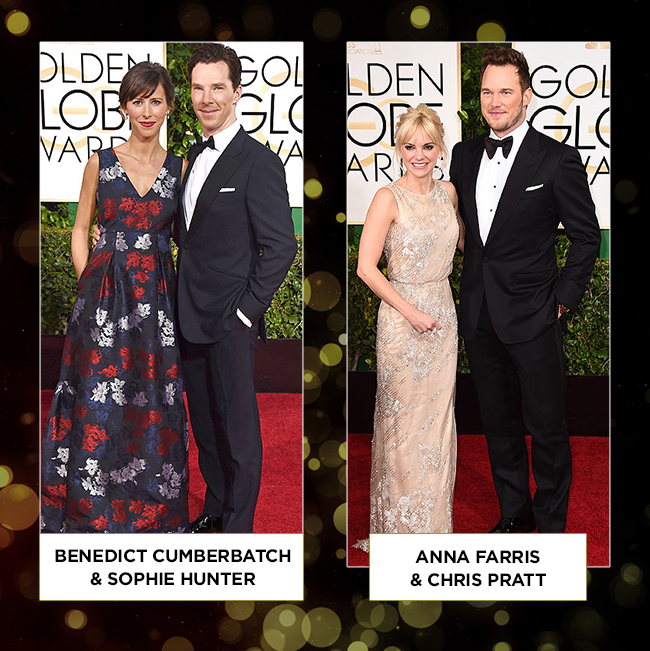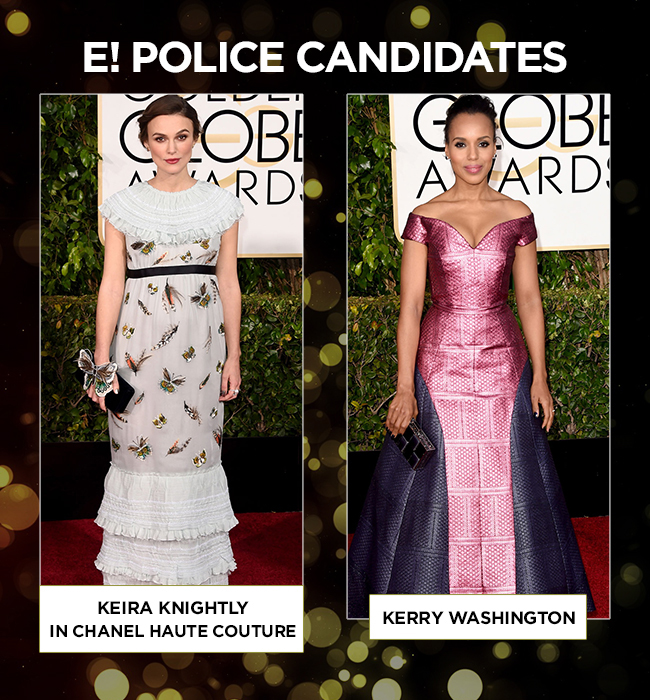 Now comes the tough part. The E! Fashion Police candidates for Worst Dressed. Sadly, and I adore Keira Knightly, but the Chanel Haute Couture gown which took 30 seamstresses,is a miss. I know she's pregnant but she's a stunning women who just looks almost school marmish. Kerry, Kerry, Kerry. Mary,Mary, Mary. I love them both. Kerry Washington and Mary Katrantzhou. This look just does not work. The two tone metallic gown cuts Kerry's figure. I could go on but I won't. I am so sad this collaboration didn't produce better results. It's just not flattering.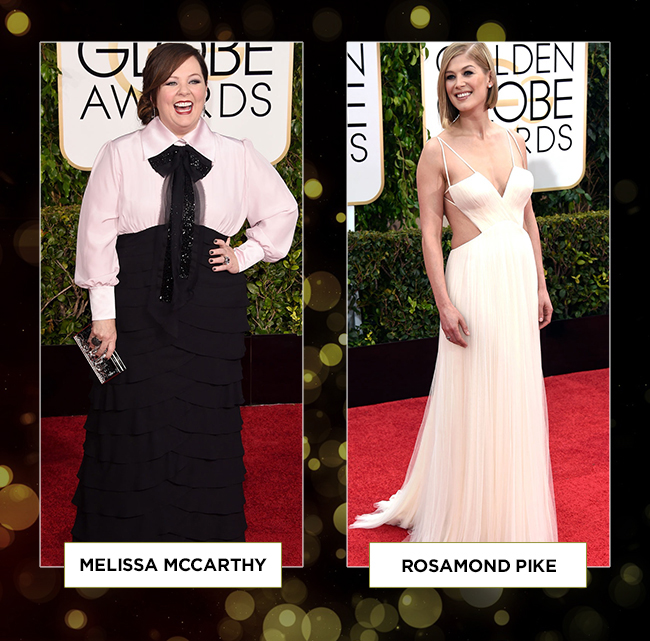 Melissa McCarty created something custom from her closet working with former E! Fashion Police host George Kotsiopoulos. She's newly svlete. What were they thinking? George is going to be on the other side of the equation this time. Take a look at Oprah. This is not rocker science. Oprah pulls it off all the time. Rosamund Pike is also someone I adore but this gown has not been properly altered and she's so pale. It's a double whammy.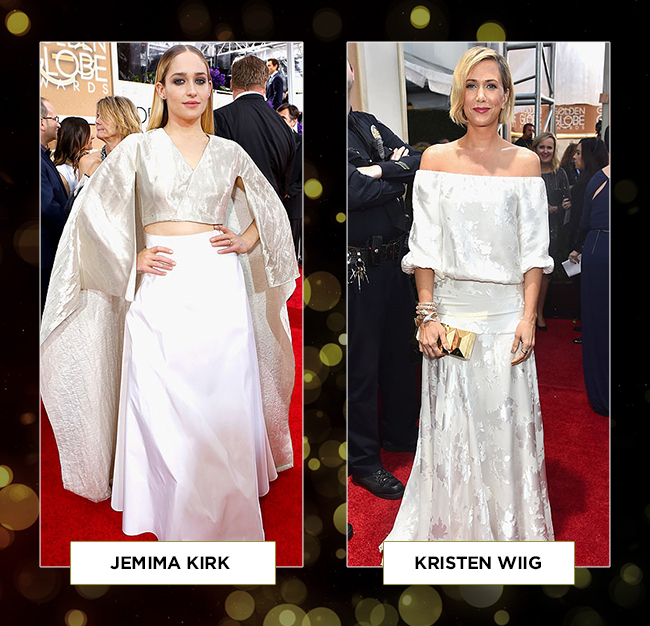 What can I say. It was capes and drapes for Jemima and Kristen.
Amanda just had a baby a month ago but the billowing lilac gown is a misstep. However as a new mom all is forgiven. Zosia. I don't know where to start. Maybe with the colors. They're just all wrong for her and her hair coloring. That's probably why she doesn't have a smile on her face.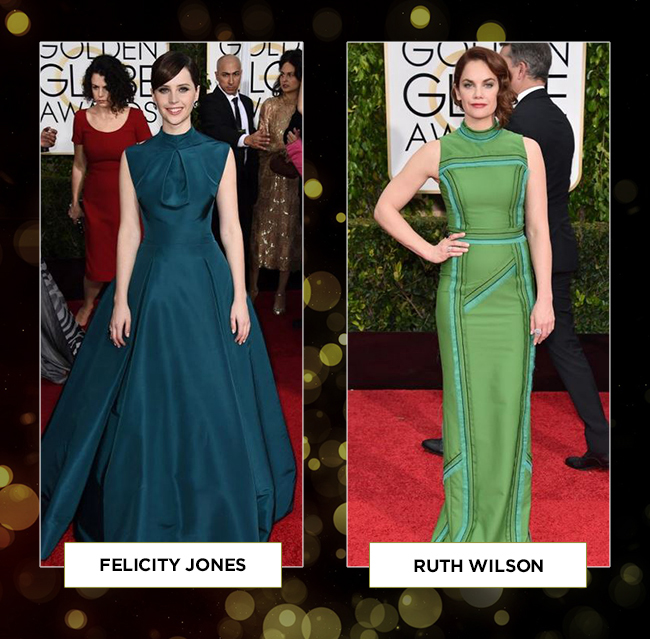 What was Dior or her stylist thinking? Felicity Jones is overwhelmed in this Dior Haute Couture dress; and, the color, as I say, "bleck!" She's a gorgeous girl. Dior has spectacular things in their vault. Don't be stingy! Moving on. I get the green with Golden Globe winner Ruth Wilson's red hair but other than that it's not the dress for a big life moment. NO. NO. NO.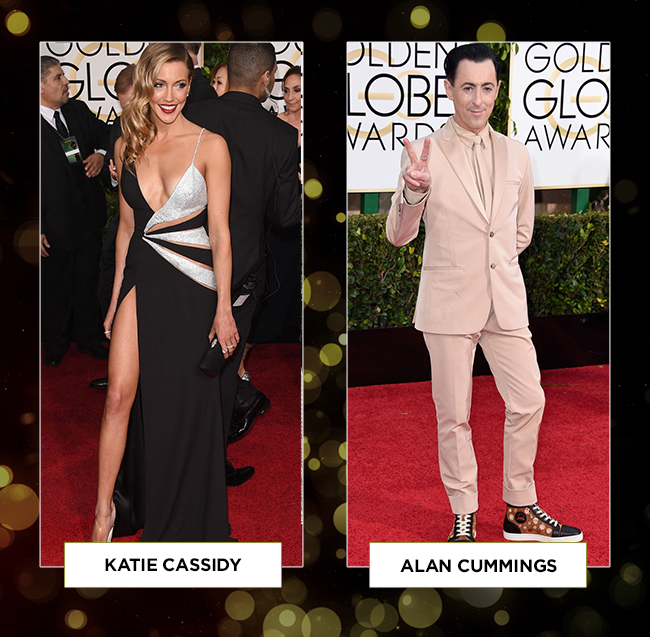 Finally, Katie Cassidy looks great but this is just the wrong venue for this dress and Alan Cummings knows better. Oh yes he does.
Live From Beverly Hills
NJ Goldston, The Brunette & David Soriano