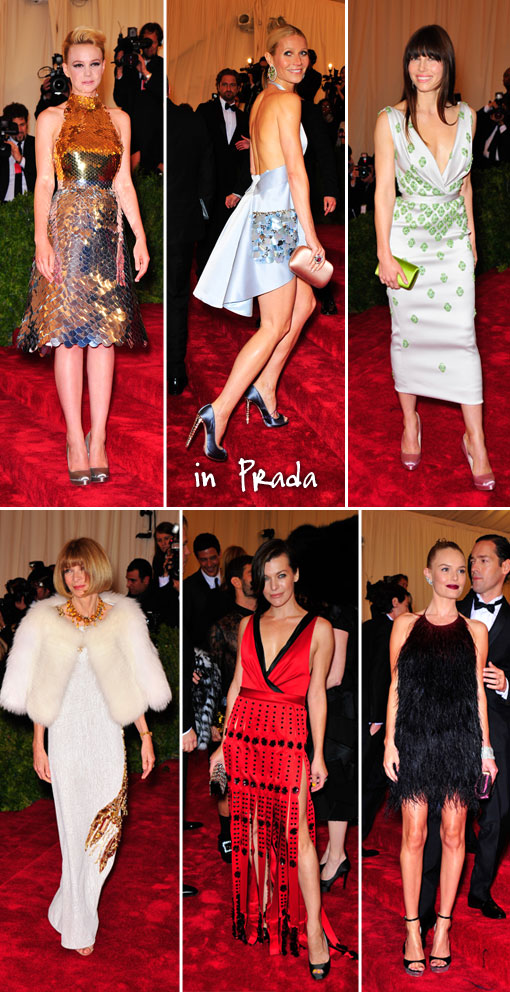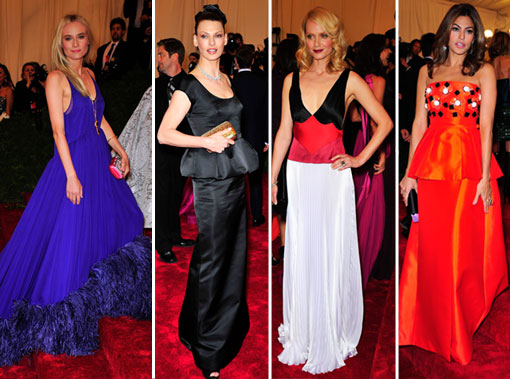 Celebrities, designers, a spattering of sports figures and all of the fashion world hold their breathe, hope for an invitation and look forward to it all year long. The annual Metropolitan Museum of Art for The Costume Institute Gala. This time, the tricky and famed walk up the red-carpeted Met steps was for "Schiaparelli and Prada: Impossible Conversations" and the mood was completely different from just a year ago (coverage on last year's Gala here). There was almost a euphoria in the air that was palpable with each arrival, and I felt it as we stepped out of the car into the night of, literally, a thousand stars.
With Anna Wintour, and Miuccia Prada hosting the evening along with co-hosts, newlywed golden girl Carey Mulligan, and Amazon CEO, Jeff Bezos, it was only natural that the house of Prada, which rarely creates evening gowns or dresses (as Mrs. Prada readily admits), decided to make an exception. One after another, an array of spectacular custom designs for the likes of Anna Wintour (which was termed a "collaboration" and a personal interpretation on Prada Fall 2012) Carey Mulligan in a gold-scaled sheath inspired from Spring 2012, to Gwyneth Paltrow, Jessica Biel, Milla Jovovich (in a custom red satin "gladiator" gown), Kate Bosworth (in a flirty ombré feather dress), Linda Evangelista (in a rare Prada peplum), Diane Kruger, Amber Valletta and Eve Mendes showcased each special creations. The dresses arrived from Milan in special "packets", approximately a week in advance at each of their homes, and additional preparations were quietly and secretly staged at the Carlyle Hotel late in the day of the event. Mrs. Prada actually wore a formal brocade-like pants outfit. Normally a lover of skirts, pants are now the new heroine of the Fall Prada runway.
Once inside, there was another check-in, more security and the magnificent 30-foot high, cylindrical floral arrangement of the Impossible Conversations icon from the Man Ray Les Amoreux painting. Celebrity after celebrity stopped for their own personal iPhone moment at this location before and after the event. Everyone then found their way to the receiving line to be graciously greeted by our hosts, who were more jovial and relaxed than I ever remember on previous occasions. Carey Mulligan was even more beautiful in person than on screen. Perhaps that's because she had literally just arrived from her honeymoon with that special "glow". Hugh Jackman made special note of it when he and Carey took the stage to thank guests and introduce the amazing Bruno Mars as the night's entertainment. The room exploded as Bruno took the stage, after Anna Wintour prompted his musical performance many months in advance, to be his own Impossible Conversation with musicians he adored. With that, he began a series of covers from his inspiration, Michael Jackson, to Sting and Jay-Z, and acknowledging the beautiful Beyoncé. The crowd was on its feet, the night was young, and the stars aligned. Here are the details: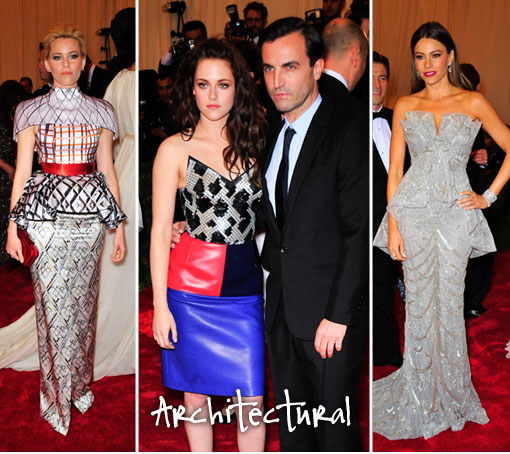 An architectural trend prevailed in many of the dresses and Elizabeth Banks in Mary Katrantzou shined in person more than in the photos, Kristen Stewart in Balenciaga by Nicolas Ghesquiere, really did look beautiful. She really did. As shy as ever, she quietly waited for her car, for over 20 minutes at the end of the evening as fans screamed her name from the other side of the street. She hid herself as best as she could. Sophia Vergara wore Marchesa to perfectly showcase her magnificent curves.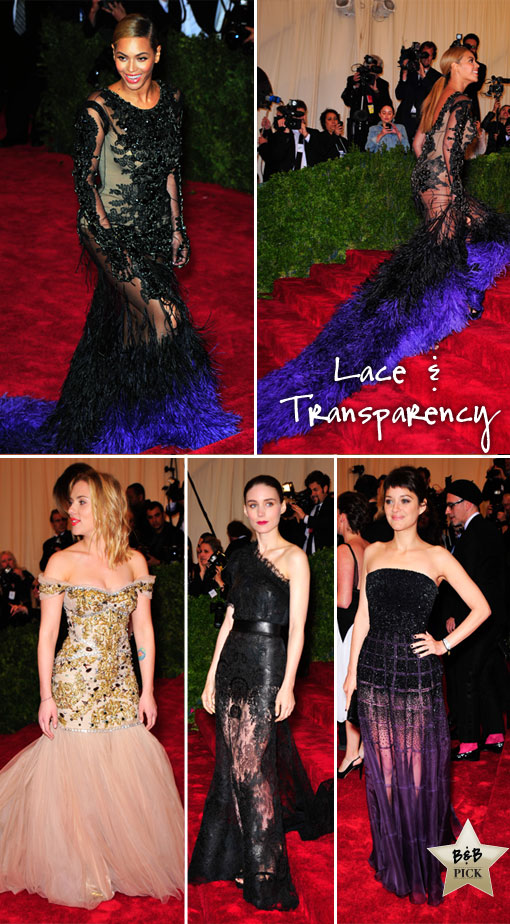 Lace & transparency turned out to be one the most beautiful fashion themes and no one showcased it better than Beyoncé in Givenchy. As we predicted months ago, Givenchy Haute Couture would be the new Red Carpet darling. With all the long trains, we were all trying not to step on each others gowns; my husband remarked to Beyoncé, among others, he was trying to avoid a "train wreck!" He did have everyone laughing. Other notables in this category included Scarlett Johansson in Dolce & Gabbana, Marion Cotillard in Dior couture (a Top Pick for elegance) with Rooney Mara also in a stunning Givenchy. There was also model after model in very gowns revealing hip bones and other protrusions.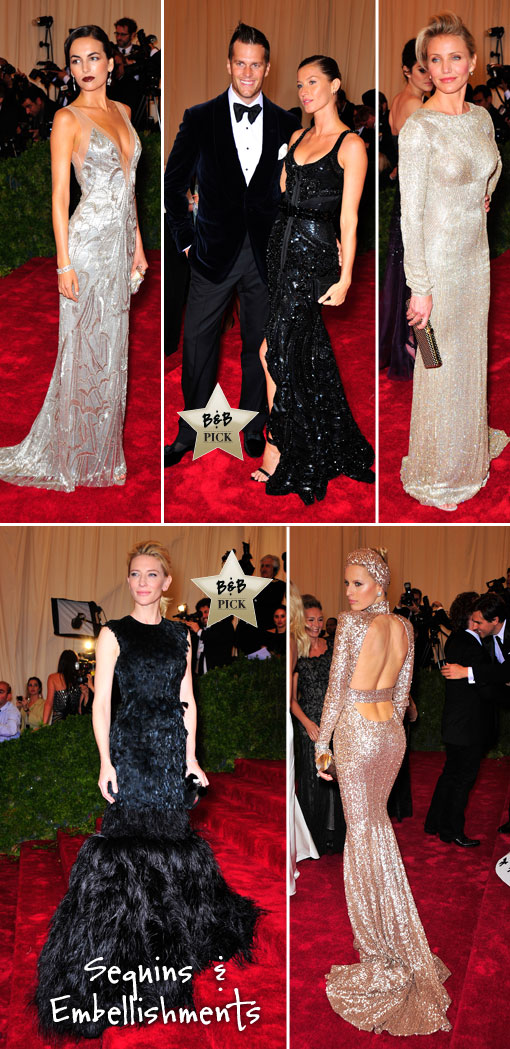 Sequins & Embellishment, as we also predicted, were back in vogue, in a big way. If you can't do it at the Met, then you can't do it. Camille Bell in Ralph Lauren was as beautiful as ever, although in person the red lipstick seemed almost too dominant, Gisele Bündchen in Givenchy (Top Pick) did it again. There are no words. Cameron Diaz in Stella McCartney (Sequins). Cate Blanchett in McQueen (Top Pick) and for me ,the theme of black gowns gave enormous credence to my final choice. Karolina Kurkova in Rachel Zoe actually outshone Rachel Zoe. But, I think that was the whole point. Many in attendance, including me, were not sure about the sequined turban but when you are that beautiful, it almost doesn't matter.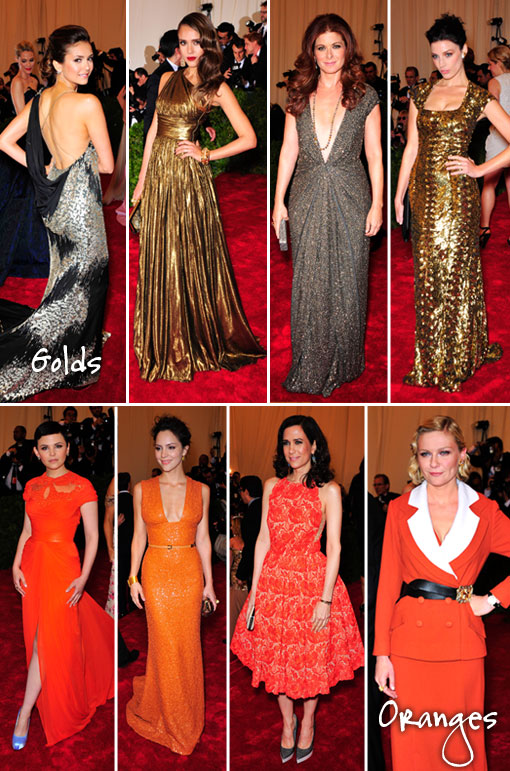 Golds were in heavy demand with Nina Dobrev in Donna Karan, Jessica Alba in Michael Kors, Debra Messing in Kaufman Franco, Jessica Paré in L'Wren Scott. Oranges (the year of the tangerine) stood out on Ginnifer Goodwin in Monique Lhuillier, Katharine McPhee in Elie Saab, Kristen Wiig in Stella McCartney, Kirsten Dunst in Rodarte,which was a bit (or very) questionable.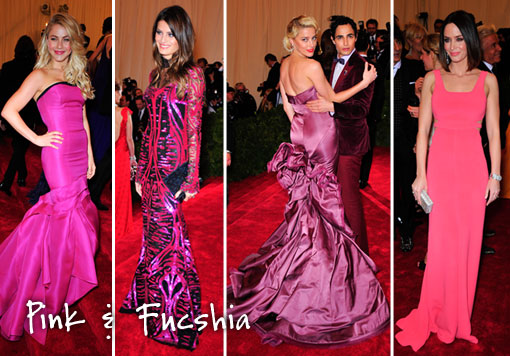 Fuchsias, as an ode and nod to Schiaperelli, turned out to be a great choice and another of our accurate predictions. Julianne Hough in Carolina Hererra, flew in with Ryan Seacrest. We chatted with them about their quick 24 hours in NYC. They were enjoying every moment and they would have loved to stay longer, but with Ryan's schedule, it was just one night in the Big Apple. Isabeli Fontana wore Emilio Pucci, Amber Heard in Zac Posen completely stood out in the crowd. The train. The train. Emily Blunt in Calvin Klein was radiant and she and John Krakowski always seem so utterly happy together.
Yellows also shone with Solange Knowles in Rachel Roy, January Jones in Versace, looking great, but not seemingly very happy most of the evening, and Coco Rocha in vintage Givenchy. Though previously owned by Elizabeth Taylor, it was not our favorite for this event. What was she thinking?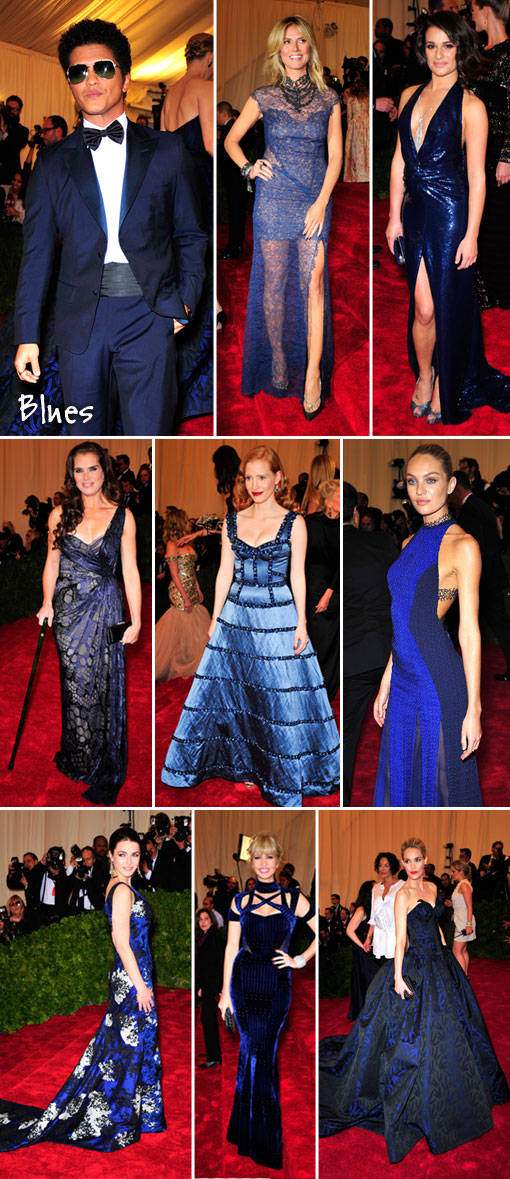 Remember us saying, cobalt blue for Fall? Well here it is. Bruno Mars in Prada. We should have known when he made his entrance that he was the performer of choice for the evening. If you don't know, it's always a well-kept secret. Heidi Klum in sheer-bottom Escada and Bulgari jewels which might have been too much with this gown, but with Heidi, more is more. Lala Anthony (with husband Carmelo) in Zac Posen. Lea Michelle in Diane Von Furstenberg. Brooke Shields in J Mendel. Jessica Chastain in an embellished Louis Vuitton. Candice Swanepoel in Rag & Bone. Anna Wintour's daughter, Bee Shaffer, also looked stunning in a blue floral gown by Erdem; it was a great example of how to rock florals. Ivanka Trump (post baby!) in blue velvet Peter Pilotto, another one of our predictions for emerging red carpet designers. GCB's Leslie Bibb in Zac Posen.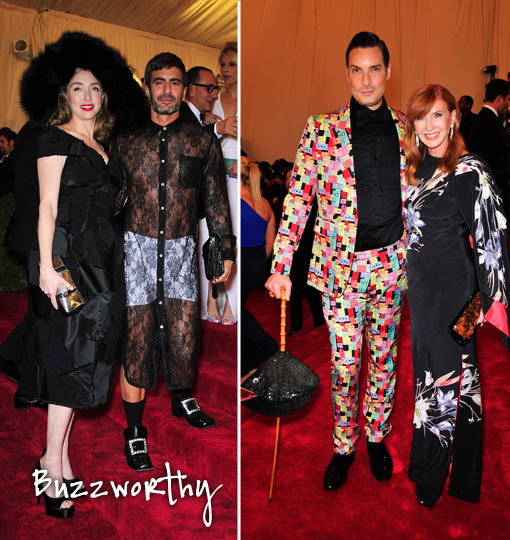 The Buzzworthy. Yes, I was standing next to him and averting my eyes. Marc Jacobs in Commes des Garcons (embracing the 'lace and transparency' trend) and Rachel Feinstein wearing a Stephen Jones hat like those worn in Marc Jacobs' Spring/Summer 2012 runway show. Cameron Silver's specially designed suit is based on a 1980s Nicole Miller print, and they were together at the event, and his cane is vintage Schiaparelli.
Finally, my dress obsession was over and the fun began. I wore my vintage black and bejeweled Prada gown from 2009 that even startled Mrs. Prada and the exhibit's curator, Andrew Bolton. It's a collector's piece and I enjoyed wearing it once again. They both did a double take. To reiterate, she doesn't do gowns.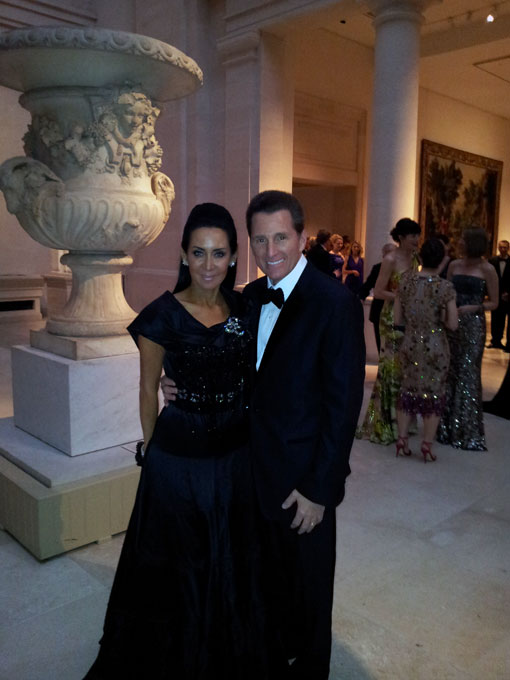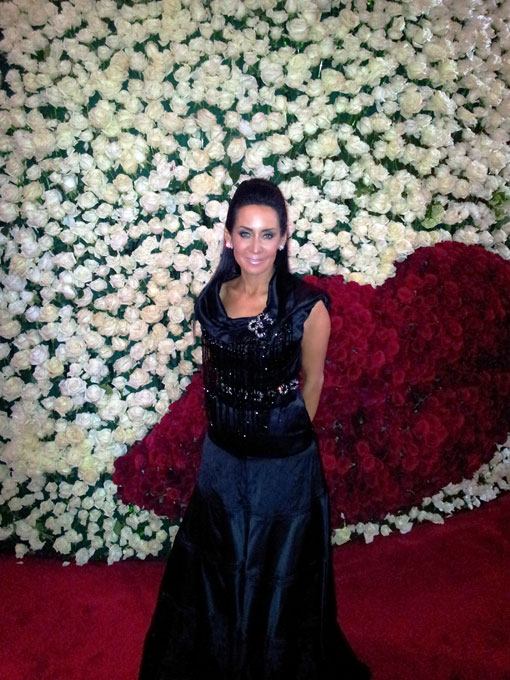 Fashion is what you make of it and I'm just glad that every once and awhile I have the chance to join the dialogue. Thank you for listening.
– NJ Goldston, The Brunette