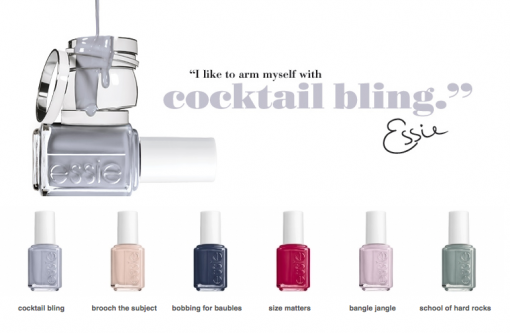 The new nail polish collection from Essie this Winter is called "Cocktail Bling". It includes 6 new soft crèmes for winter. "Cocktail Bling" is a grey-light blue, "Brooch The Subject" is a beige, "Bobbing for Baubles" is a rich navy, "Size Matters" is a bright blue toned red, "Bangle Jangle" is a soft dusty lilac, "School Of Hard Rocks" is a dusty blue green. What's your favorite? I love "Bobbing for Baubles"! It's a very original shade of navy blue nail polish.
The "Cocktail Bling" Collection is available now for $8 each at:
Best advice: always apply 2 coats and then a transparent coat on top. It lasts much longer and prevents chipping.
– Astrid, Style & Beauty Expert