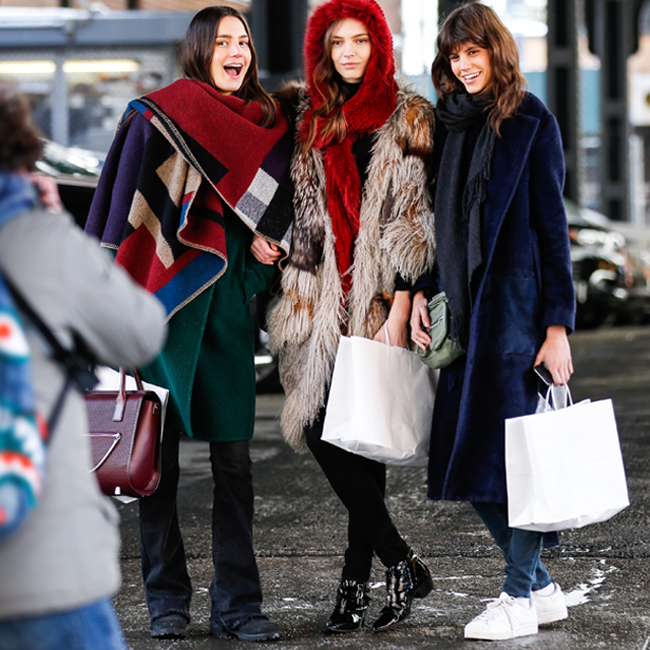 From the off-duty babes we spotted roaming the streets to some of our favorite trends we've been seeing (on and off the runways), we love the excitement and hustle that ramps up in the big city during #NYFW! Let's just say, this year the street style definitely does not cease to amaze us. Obviously, bundle up and stay warm, is kind of the theme here, so we saw lots of strong statement coats, lots of knit caps, black booties, leggings, and chic utilitarian pant suits. We likey. Just remember the girls who were getting photographed we're actually freezing. Anything for that hopeful social media moment in the spot light.
Layers, layers, and more layers! We've said it before, and will say it again. Lots of layers and a bold statement coat. Style Tip, Belted fur sash accents are really on trend for this year, and we saw lots going down the runway (some of our faves HERE)
Even the menswear has been stylish and on point this year. For the fellas, it's all about that subtly dramatic outerwear coat, standout scarves, chic gloves, and the sunnies including Adam and Ryan Goldston of Athletic Propulsion Labs (bottom right) and my buddy Cameron Silver in what else but outrageous green gloves and a matching top coat!
Of course black and white combos are still de rigeur and Fendi buggies as as popular as ever. I'm stalking the new mini-Karlito which unveiled at the Fendi store opening. Stay tuned for more #NYFW updates and trends!
Kisses from the Big Apple!
-Lauren Cheek, The Blondette & NJ Goldston, The Brunette
Photo credits: Billy Farrell/BFAnyc.com and NJ Goldston