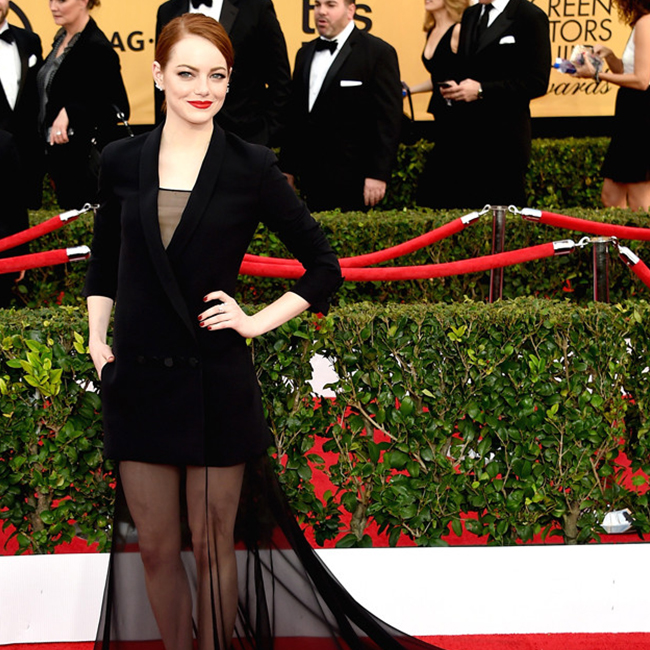 In an unusual switch, last night's SAG Red Carpet thoroughly trumped the recent Golden Globes fashion parade. It's usually the opposite but not this time. Maybe all the mixed fashion reviews (and there were so many) from the Golden Globes and everyone's general boredom with column gowns emboldened stylists and their respective stars. Finally!!!
Emma Stone is now two for two as the Best Dressed at the Globes and now the SAG Awards. Going from the Lanvin bejeweled jumpsuit she wore at the Globes, she wins our Best Dressed in an absolutely flawless Dior Haute Couture menswear-inspired tuxedo jacket over a sheer dress (specially designed for her). The addition of the edgy Repossi diamond ear cuffs have absolutely secured Stone (and her stylist) a spot as a true trendsetter. No doubt we're going to see this look of the feminine mixed with the masculine showing up at all sorts of events. She's even made black look anything but boring and reminded all of us that just the right lip and nail color pulls an entire look together.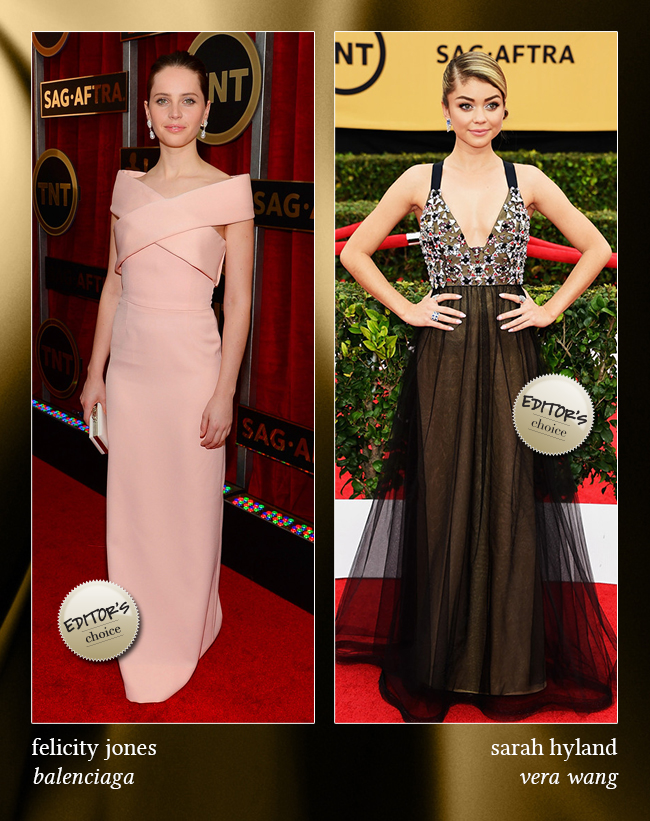 Two other looks deserve kudos for being very feminine statements but in nontraditional ways. Felicity Jones looked stunning in an pale pink Balenciaga accented with smashing vintage Van Cleef & Arpels earrings and Sarah Hyland stunned in a custom Vera Wang gown featuring large rhinestones and gems as well as a racer back and large tulle skirt. Loved it. She literally rocked it.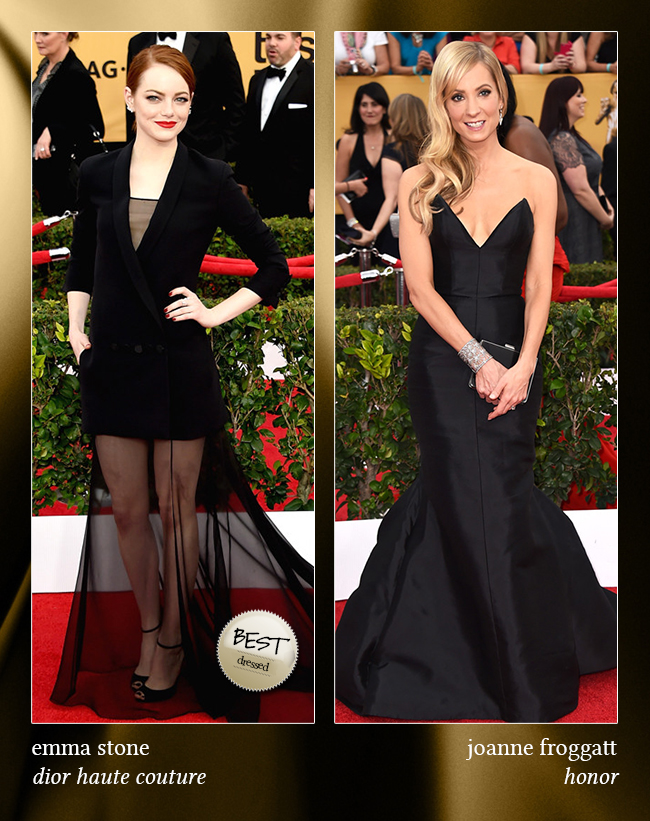 Beside Emma Stone who was stunning in black, Joanne Froggatt should be getting her due in a structural black gown from Honor. Dressed by E! Fashion Police's Brad Goreski, it was totally on point with the plunging neckline trend which is hitting the Red Carpet in a big way.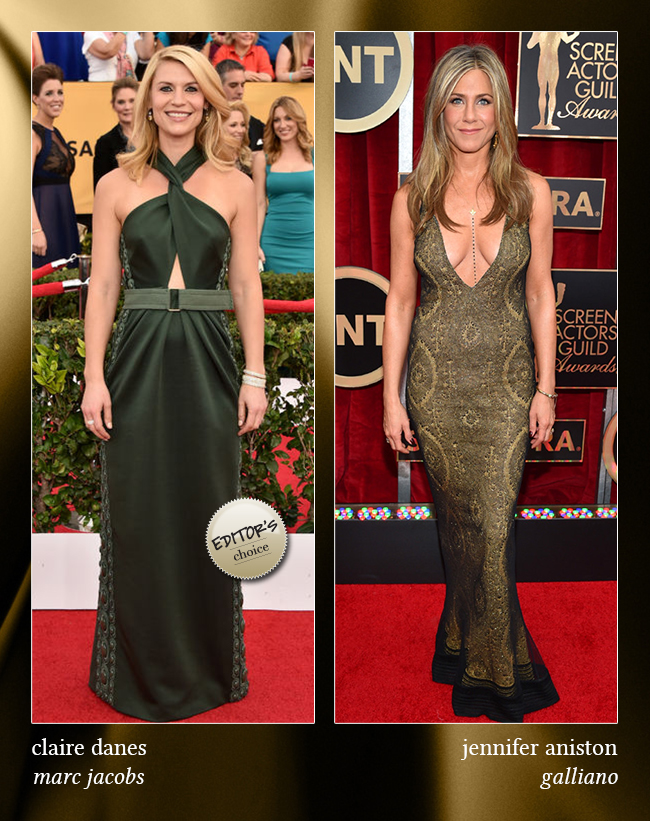 Not even remotely drab in shades of olive green, Claire Danes was back in top form in Marc Jacobs and Jennifer Aniston went for a bejeweled vintage Galliano that was perfect for her coloring. She even dared to wear the same Amrit necklace she wore to the Critic Choice Awards. When a look works, why not repeat it? That's what fashion is about. Enjoying the things you love in your closet over and over.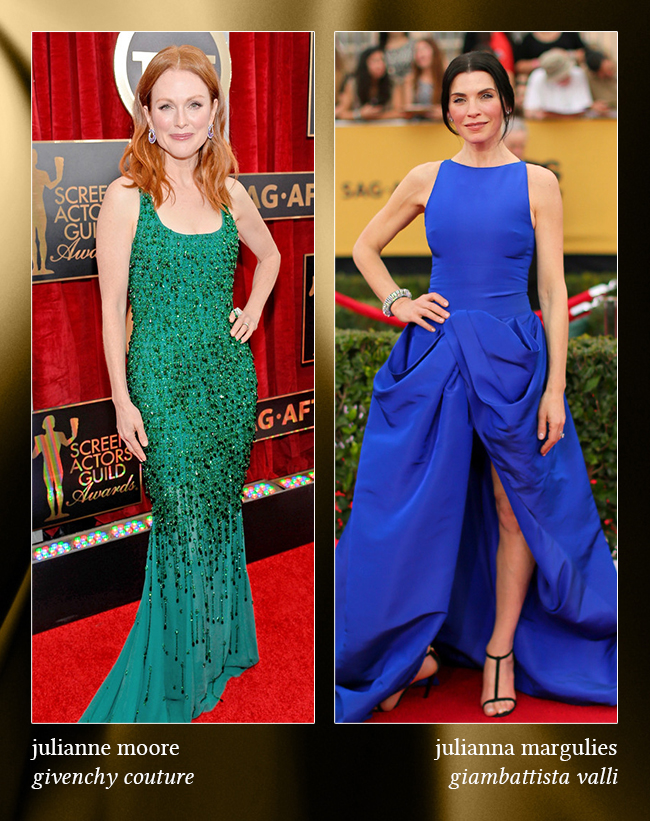 Julianne Moore was once again radiant in Givenchy so perhaps she's under contract to them (and lucky her if it is true). You do know the stars get paid to wear many of these dresses, right? Often hundreds of thousands of dollars. Julianna Margulies took the opposite approach looking edgy-elegant in a royal blue Giambattista Valli with a high leg slit which is also quickly becoming a new Red Carpet trend worthy of copying for your own closet.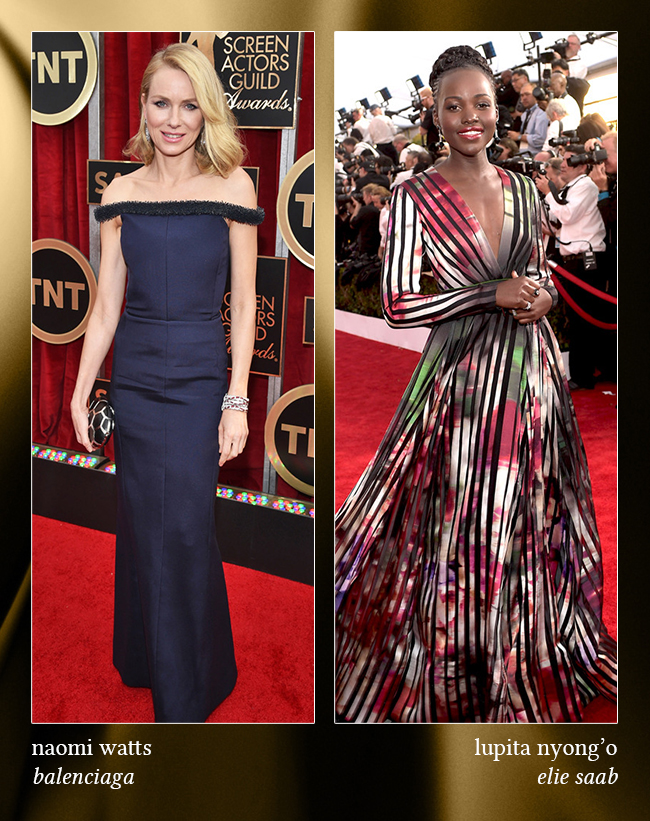 Other winning looks included Naomi Watts in an off the shoulder midnight blue Balenciaga with a jeweled neckline that was quite spectacular. Lupita Nyong'o also going for a plunging neckline in Elie Saab while Kiera Knightly recovered from her Chanel fashion disaster looking striking in a purple Erdem with, as you guessed it, a plunging neckline. Emma Rossum was the lucky actress to be anointed to wear Armani Privé.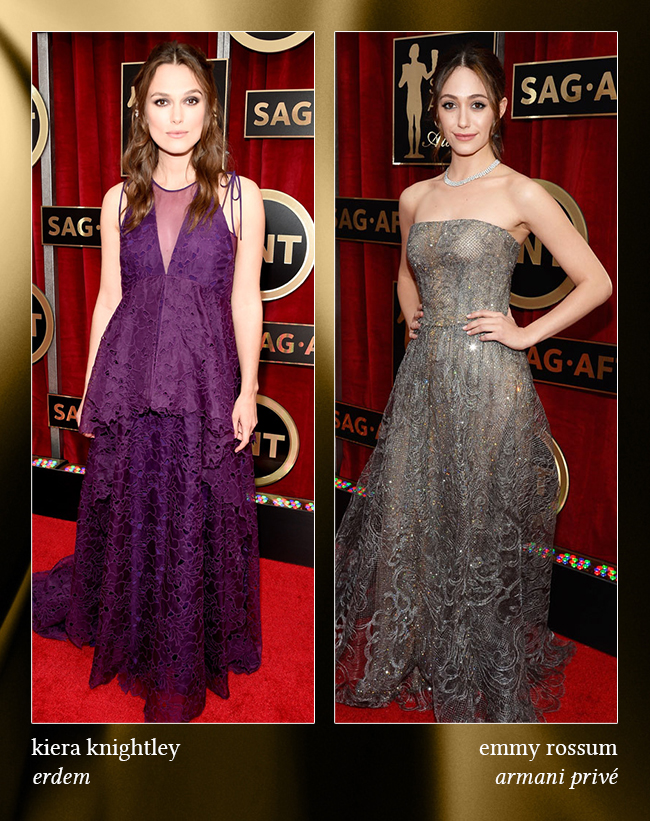 Suddenly white gowns are making a comeback. It's always a tricky look and this group of celebs pulled it off in spades.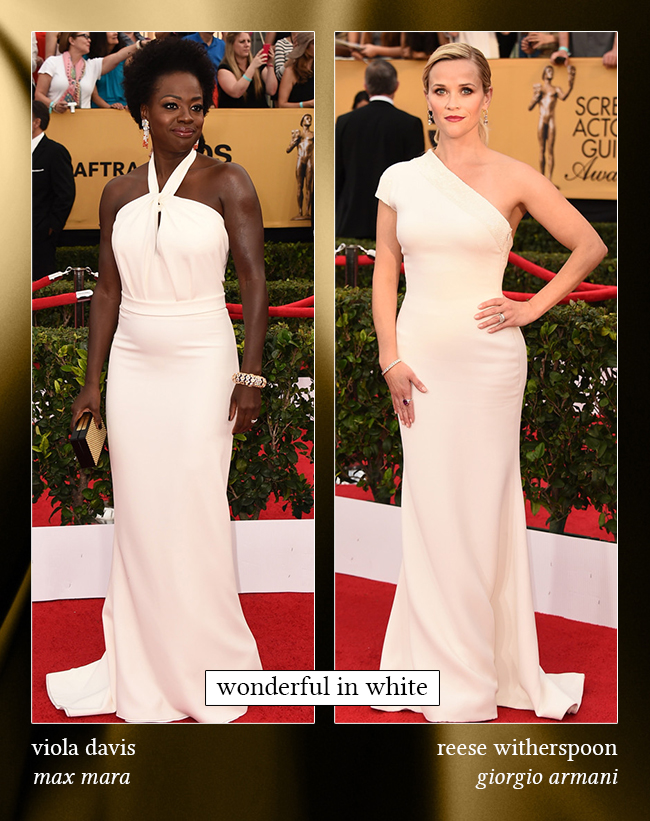 The key is a dramatic earring, clutch, smokey eyes and a defined lip. However, on closer examination, as great as this group looked, they could have done a better job of how they mixed and matched their clutches and jewelry.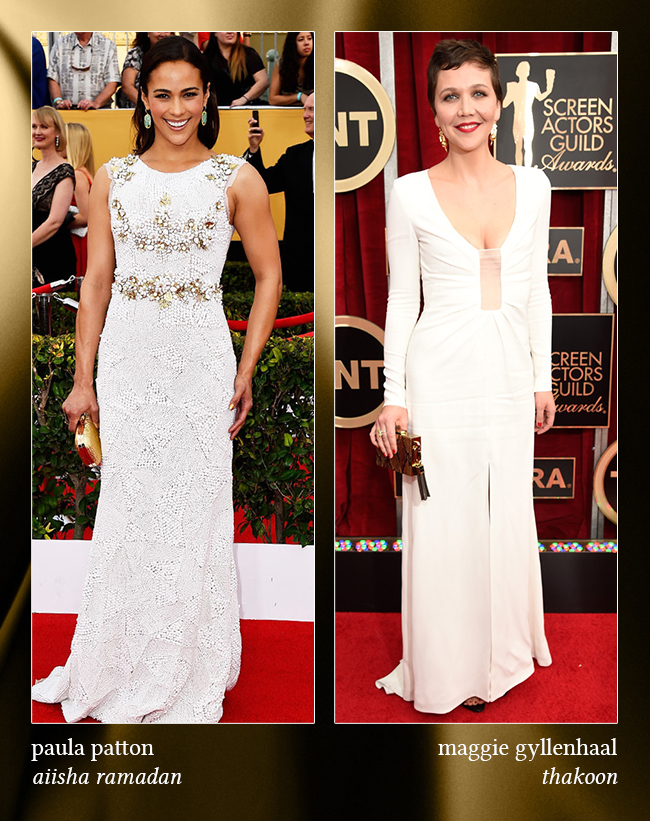 Finally, I love when celebrities take fashion risks. Rosamund Pike is one of my favorites but I suspect some fashion critics may give a thumbs down for her gown. It's a black ruffled Dior Haute Couture and takes someone as sophisticated as Rosamond to wear a high-low hem line as beautifully as she did. I might have tapered it ever so slightly but that's just me. Lorelei Linklater will probably make every worst dressed list as a take on Wednesday from the Addams Family but with the proper tailoring (the sleeves and hem should have been shorted , it could have been more on the mark. She probably is just too young for this look. On the positive side, her bright blue dip dyed hair was pulled back in a ponytail, for a young, modern touch. So she gets style points for that.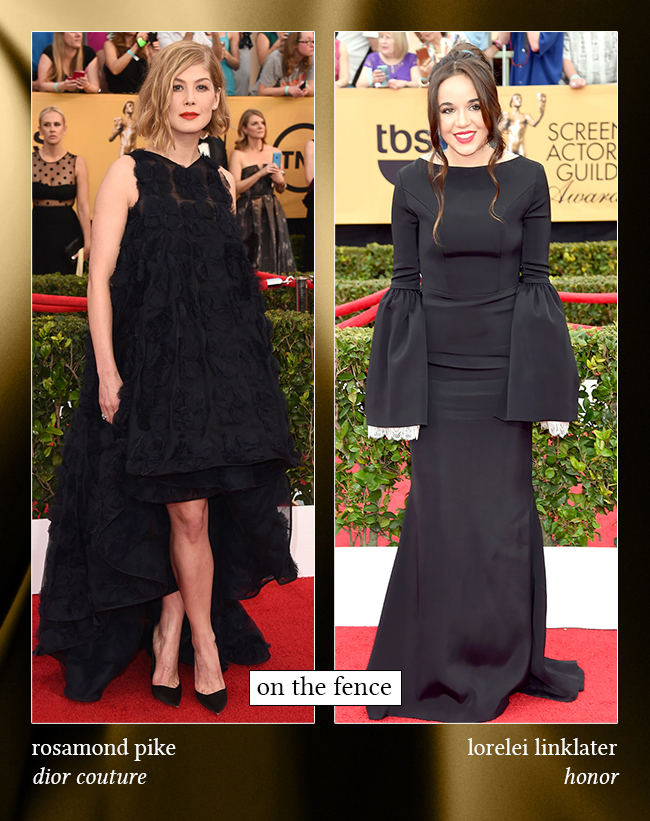 One last style note that is easy to incorporate into your own life. Soft waves, slick straight locks and sophisticated low ponytails are beautiful choices for evening do's. Give it a try. It's a quick way to update your look. Now comes the slow (or not so slow build) to the Oscar media frenzy. The couture shows are going on in Paris this week so stylists, their clients, and many a celeb will be in the front rows. We'll be closely watching the runways as the jockeying begins for first dibs on Oscar gowns. They'll be going to Keira Knightly (mostly likely in Chanel) , Rosamund Pike (who may wear custom Louis Vuitton since she is a muse of designer Nicolas Ghesquiere), Julianne Moore (maybe three times a charm in Givenchy), and Naomi Watts in Armani Privé. Emma Stone and Felicity Jones are the Wild Cards! Stay tuned for our picks.
Almost Live From Hollywood,
NJ Goldston, The Brunette