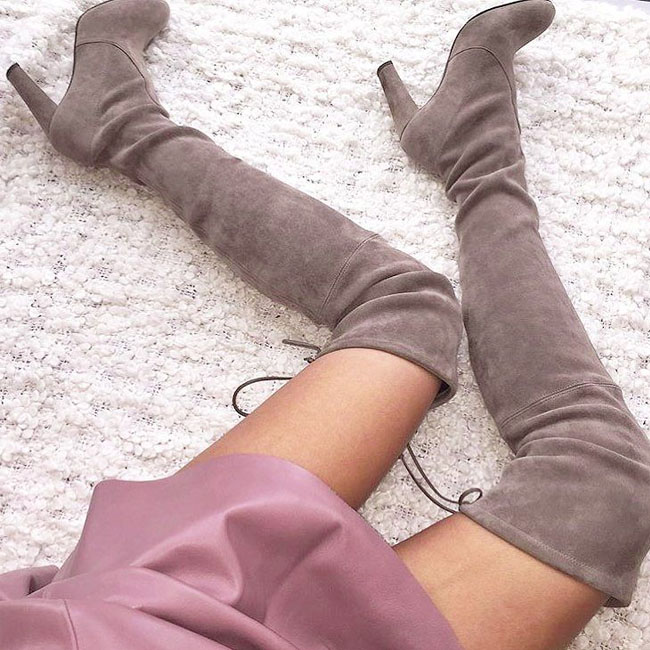 If you're on board with the current trends, it seems the colder it gets, the more our wardrobe starts to sizzle.
When it comes to dressing super sexy, what is the first thing you think of? I'd have to say, I think thigh highs. Thigh-high boots have always been the sure fire way to exude all kinds of sex appeal. Some might say this trend is too Pretty Women, and I'd say, bring it on! I'm not a big fan of fashion rules. If you can't have fun with fashion, what's the point in getting dressed each morning?
Not only are thigh highs super sexy, but they're taking our wardrobes by storm. Thigh highs have always looked fabulous with just about anything, and as the fall/winter months start to take over, we'll be seeing a lot more of them! Don't get me wrong, I was a little intimidated when I saw a plethora of thigh-highs marching down the fall runways. In years past, many women believed this sexy footwear could only be worn by bold leggy models, and were't suited for the rest of us. These days, believe it or not, we're seeing thigh highs pop up in casual attire & they've even frequently been spotted in the office environment. There's no one and nowhere you can't wear them this season!
There are so many ways to wear thigh highs, we've showcased our favorite looks of the season to give you some thigh high-spiration.
I adore these boots paired with a sweater and a skirt to combat the enclosing winter, and I'm also a big fan of them pulled over a pair of skinny denim. There are so many different varieties to choose from and so many looks to create. The possibilities are thigh high!
These boots really were made for walking' so you'd better start shopping! If you're having a hard time deciding on a pair, I've done the hard work for you…Below, are our favorite thigh highs of the season.

Xx. Jadan Huter