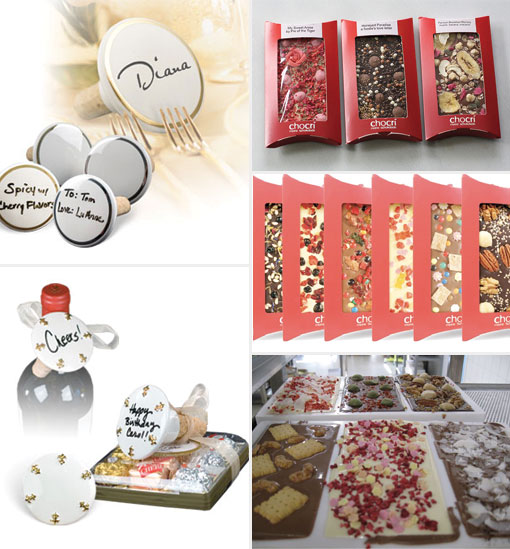 Next time you're heading over to a friend's for a dinner party, how about a little something extra than just that "usual" bottle of wine as a thank you gift. Here are a couple of my favorite ideas that will definitely have them inviting you back for years to come!
Raise the bar on the usual "chocolate & wine" duo with a Chocri Organic Customized Chocolate Bar (from $6.00)
Start by picking your base (dark, milk or white Belgium chocolate) then continue to choose from their 100+ variety of toppings. Everything from dried fruit, to jalapenos, to nuts and even real gold flakes.
If your like me and decision making is a tough process, you can also choose from their assortment of Chocri's "favorite" recipes.
chocri.com
~
Next idea to help spruce up that bottle of wine are these erasable bottle stoppers by Placetile.
Inscribe for whom the bottle is a gift to, and let your recipient enjoy it for years to come. Perfect to scribble down the date the bottle was opened, description of the wine, or simply just a fun note!
placetile.com ($13 for set of 3)
Xx. Jadan