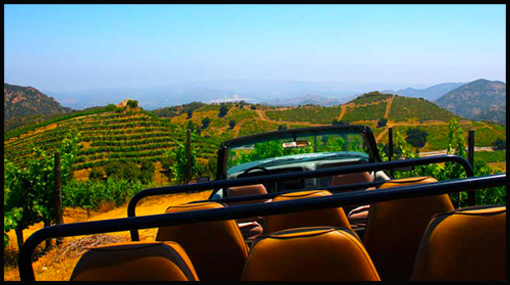 It's almost the long holiday weekend. If you're doing a staycation or visiting LA, you just might want to go on the Malibu Wine Safari.
It began operating in the summer of 2013. My close group of friends & I were lucky enough to be one of the first groups to experience the magic of a wine safari only Malibu-style!
So what is? After living on the ranch ranch for more than thirty-five years, the Semler family decided that the beauty and history of their property would be better appreciated if shared. They had a vision, but they weren't exactly sure how to execute it. The wine "safari" stemmed from a trip to South Africa the Semlers took in 2010. While riding around in an open top safari vehicle, they had a realization – this would be the best way to share the ranch so people could witness the beauty of the property. In 2011 they began by building the first custom safari truck and went to work mapping out the tour routes.
Saddlerock Ranch, the property where the tours take place is a one thousand acre property devoted to horse boarding, special events, movie locations, and most importantly producing award winning wines! Although the property began in 1978 when Ron Semler bought the first parcel, the ranch is home to history dating all the way back to the late 18th century. In fact, the property remains home to some of the best preserved Chumash Native American cave paintings.
To see the best kept secret in Southern California, as well as a selection of animals you won't find in someones backyard, don't miss out on early bookings for this summers Malibu Wine Safari!
Xx. Jadan Huter