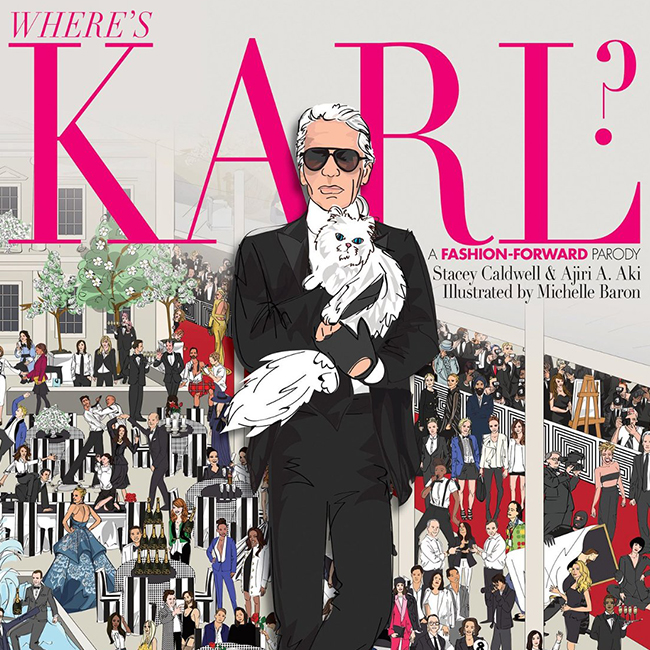 Hitting stores today, is fashion's answer to "Where's Waldo?" This time, in the form of a cheeky fashion forward hardcover parody called "Where's Karl?" The picture book follows the always on the go Karl Lagerfeld is everywhere and nowhere all at once. It' all happens as Fictional fashion blogger Florence de la Sabine (you can call her Fleur) must find him– surely an interview with him will set her website apart from the rest. We know the feeling of the chase and can relate. Between Lagerfeld's incomparable success, chic white ponytail, dark glasses, and finger-less gloves, fashion designer Karl Lagerfeld definitely always stands out in a crowd—Sabine just has to find him.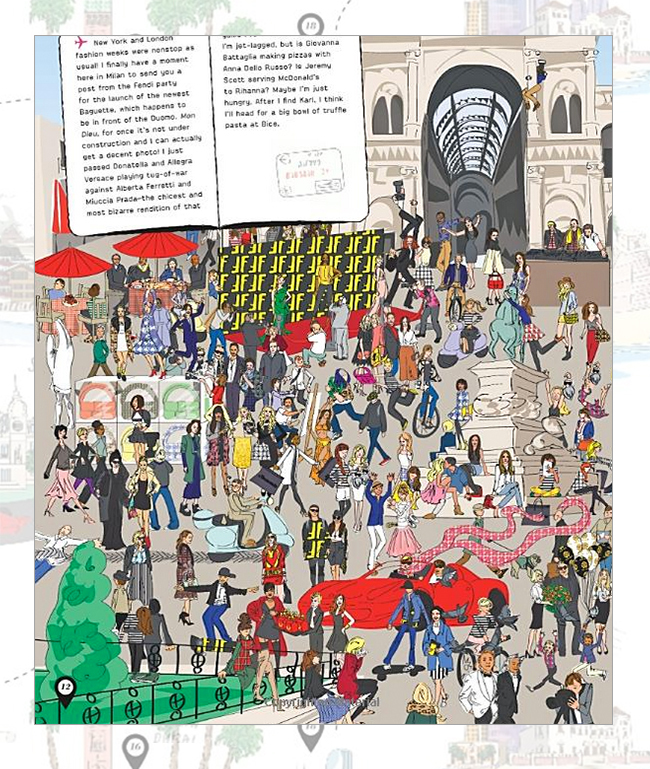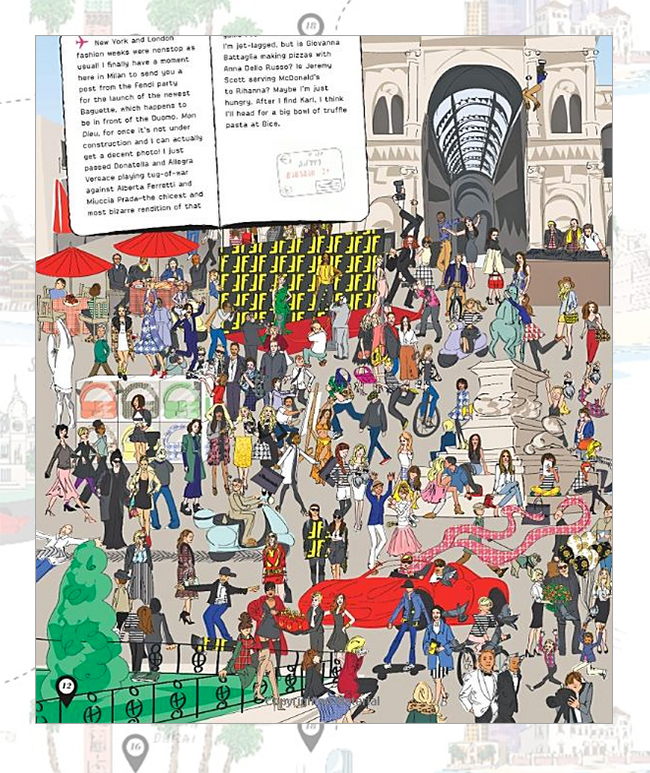 Not your typical fashion book, Where's Karl serves up endless fun!Just because you're all grown up, doesn't mean you have to act like it.Now, instead of looking for Waldo's s triped shirt and glasses, you can start looking for Karl's black suit and sunnies! The premise is, well, SO real.
The book follows the fictional fashion blogger named Florence de la Sabine (you can call her Fleur) as she chases Karl through fifteen cities in twelve months! She knows that if she can track him down and gets an interview, it will set her website apart from the rest! So, where will he turn up? From the New York City Met Gala, to Art Basel in Miami Beach, and even fitting in a Christmas vacation in Talum, can you keep up with Karl?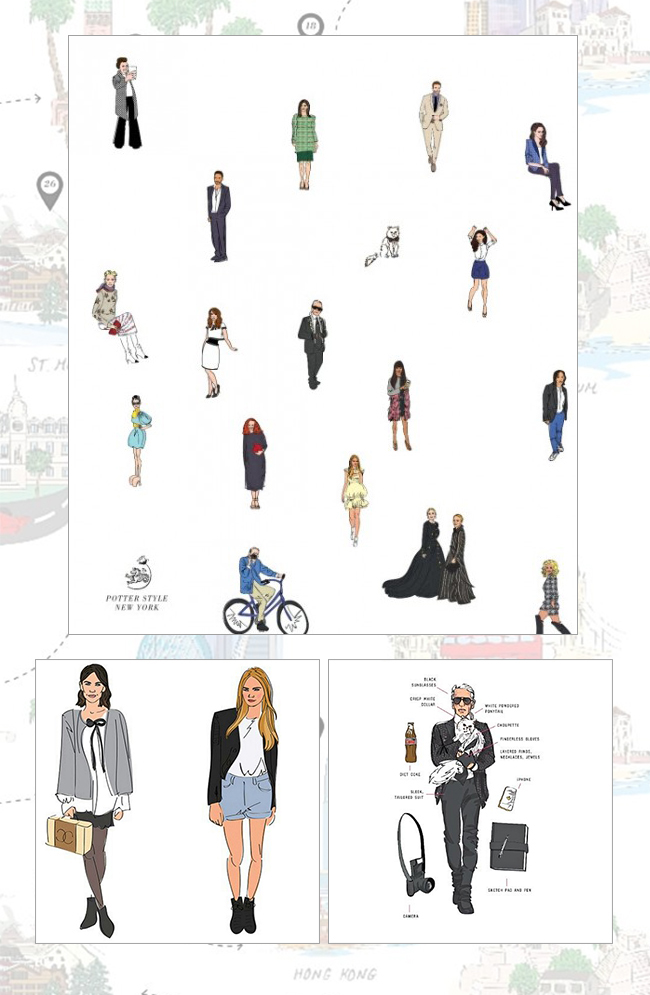 Guess who?
According to Vogue, it all started when Stacey Caldwell, vice president of global wholesale at Thakoon, had made a game of spotting Lagerfeld on her frequent trips to Paris—Karl browsing the racks at Colette, for instance—but on that particular day, she paid more attention to the giddy fans approaching the Kaiser. "They would act like they were the only ones lucky enough to spot him, and then two minutes later someone else would do the exact same thing," she says. The real fun about this book is that while you're search for Karl, you'll come across countless other fashion influencers along the way. With each scene drawn from thousands of reference photos (and our own NJ has been to many of the events depicted), it's a full on game of who's who with everyone from the Olsen twins to Cara Delevingne, Alexa Chung, Beyoncé, Anna Wintour, and even a cameo from Suri Cruise!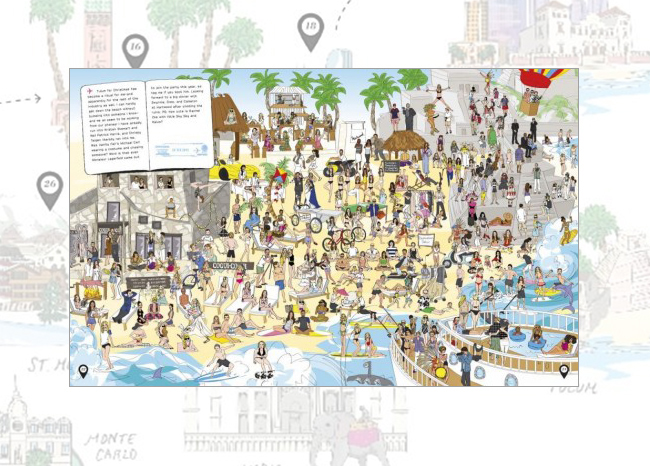 I've got my favorite page and you'll have to chose your own. It's the Tulum spread where our favorite party girl, Miley Cyrus is flying a kite, while Cameron Diaz perfects her boogie boarding skills!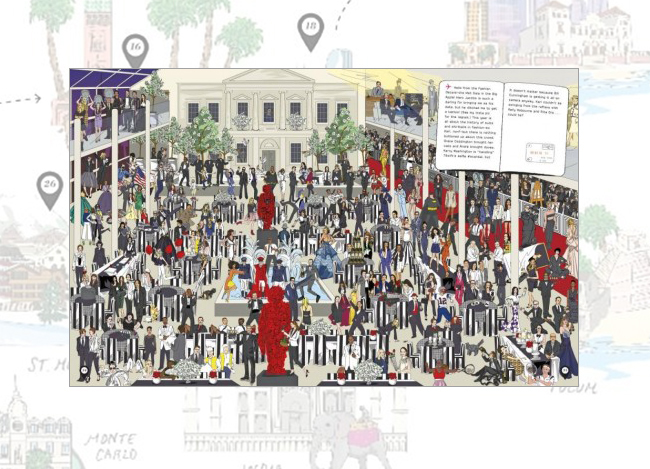 There's also lots of tiny details to shift through like Tina Fey got a piggy-back ride from Alec Baldwin at The Met Gal or the Olsen twins in their Vintage gowns (from Lily et Cie) to Barack Obama disguised as Michael Jackson dancing the night away! In Milan, Pharrell is busy painting, while Jeremy Scott seems to be serving Rihanna some McDonalds, and of course "Diddy" arrives in style!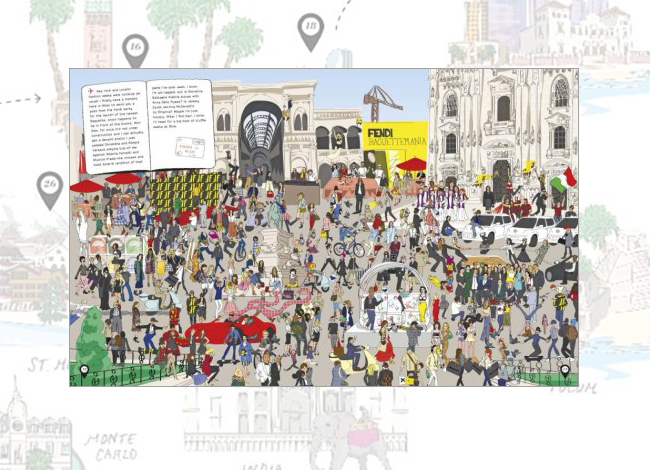 According to Caldwell and we agree, "the real fun (is)—you think you're looking for Karl, but you're recognizing all these fashion people along the way."
Where's Karl? A fashion Forward Parody
is on sale HERE today. $16 and don't forget to check out the "Where's Karl?" website.
Xx. Jadan Huter