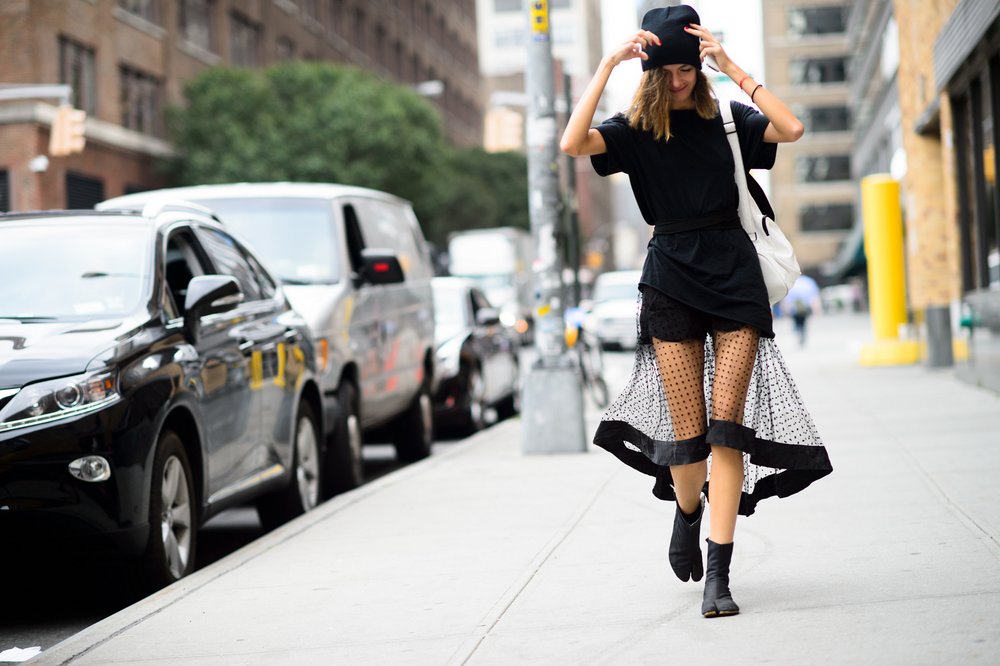 It's that time of year again, where everyone flocks to New York City for Fashion Week. Don't get me wrong, taking part in fashion week is incredible, but I also find it a bit overwhelming. If you aren't fully prepared to tackle the long days, quick outfit changes and lack of sleep, you can miss out on a lot of what fashion week has to offer.
Below is our list of 10 essential tips and tricks to get you through the week in one piece :
Always ALWAYS keep a pair of comfortable stylish flats in your purse. I can't stress this enough, blisters will be the downfall of your fashion week.
Never leave the hotel without an extra battery pack or charging chord. It's 2017, and although our phones should have a longer life at this point, I just don't understand people who don't bring a backup plan. Between your social calendar and all the instagramming, you'll probably have to re-juice literally and figuratively a few times throughout the day.
Pack an on the go makeup bag. Always have a little powder, lipgloss and liner to freshen up your look. Especially this year, while temps are still in the high 80's.
Snacks. Ok, so you'll probably have a nice leisurely brunch at the hotel, but with all the hustle, you're bound to get hungry mid day. Stepping away for a quick snack is better than getting hangry on the runway. My go to is a Quest Bar to tide me over before I can kick my feet up and enjoy a nice glass of bubbly.
In between blowouts, take care of your tresses with Essential Rinse purifying scalp and hair toner. It gently removes all the residue from your hair and scalp but never strips your hair. Use it after you shampoo and before you condition your hair to reveal a refreshed, clean scalp and shinier hair. Your hair will look revived and smell clean. The best part? It's small enough to bring in your carry on.
I live for my 24K Gold Pure Luxury Lift & Firm Hydra-Gel Eye Patches. I honestly can't say enough good things about these. They are life changers after a long night. Leave them on for 30 minutes in the morning while you're enjoying brunch, take a few 24k gold chic selfies, and voila, no more puffy eyes.
An essential part to any important event is the SK-II Facial Treatment Mask. These masks are quite pricey, so I'd save it for the morning after a particularly late night when you need to look your best. I didn't believe the hype either, but they work, they really really work.
If you don't have time to wait for the glue to dry, go with Magnetic Lashes. One Two Lash is my go-to, when I have to quickly vamp up a natural daytime look for a night out.
A necessity on every trip I take is my Playa Dry Shampoo. If you don't have time to wash your hair, which let's be honest, who does, this stuff works wonders.
Last but definitely not least, wash it all off with some Cleansing Micellar Water. A non-rinse, soap-free cleanser that originated in France, which mean it's obviously good. This water contains microscopic micelle molecules that lift waterproof makeup, oil, and other impurities from the skin with the swipe of a cotton pad, making it a powerful yet gentle cleansing alternative to harsh face wipes or alcohol-based toners and astringents.
Xo,
Jadan Huter